P!nk Thinks You're Fuckin' Perfect
Today P!nk premiered her new music video for "Fuckin' Perfect", which she's created to promote awareness of escalating teen issues such as bullying, depression, eating disorders, self-harm and suicide.
[TRIGGER WARNING: cutting, anorexia, suicide]
All are referenced in the video, which you can watch here: YouTube, VEVO, MTV.com, VH1.com, NineMSN. Note that it comes with a graphic imagery warning.
Here's a special comment from P!nk:
Cutting, and suicide, two very different symptoms of the same problem, are gaining on us. (the problem being; alienation and depression. the symptoms; cutting and suicide). I personally don't know a single person who doesn't know at least two of these victims personally.

Its a problem, and its something we should talk about.
We can choose to ignore the problem, and therefore ignore this video, but that won't make it go away.
I don't support or encourage suicide or cutting.
I support the kids out there that feel so desperate/numb/powerless, that feel unseen and unheard, and can't see another way. I want them to know I'm aware. I have been there. I see them.
Sometimes that's all it takes.
Read her full statement here.
I didn't find this video to be as feather-ruffling as Pink's blog had prepared me for, but then I'm not a young person or a parent who may be concerned that their young person might see this video. The few friends I polled had a similar reaction. I think that's probably part of the problem, though – these scenarios should ruffle everyone's feathers. Maybe they've become so common, so widely reported on and depicted on screen that we're becoming immune. Pink made this video to raise awareness, but maybe those of us who are already well aware can benefit from it too.
+
Amanda Palmer Goes Down Under – New Album & Video
Amanda Fucking Palmer has released a new full-length album, Amanda Palmer Goes Down Under, featuring songs that have been written about, or while visiting, Australia and New Zealand. I am particularly fond of this record because of its amusing references to my homeland's cultural quirks, such as "Vegemite [The Black Death]" and "Map of Tasmania". I have no idea how these'll translate overseas, but if you're an AFP fan then you're gonna love this album anyway. You can download it here for $0.69, although it'd be really cool if you could afford to pay more.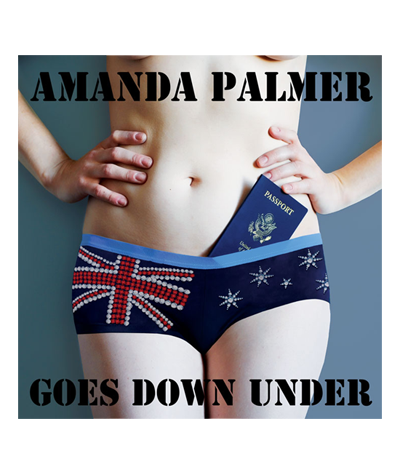 Speaking of "Map of Tasmania", the Michael Pope-directed music video has premiered on Spin.com. All I'm going to tell you is that it's about the liberation of pubic hair, you really need to see it for yourself.
+
An Horse Offer Up "Trains And Tracks"

Earlier this week An Horse released a preview of their forthcoming album, Walls. The song's called "Trains And Tracks," and it's available as a free download right here.
An Horse fans, what do you think? Has it made you excited for this album? I've been waiting in anticipation, excited to hear what they'll do next and while I enjoy the track, it's a little reminiscent of "Camp Out" and "Little, Little, Little". Regardless, Walls is remaining on my 2111 Anticipated Albums list.
+
Hunter Valentine & The Big Queer Party

Are you going to be in or near Brooklyn, NY, on Wednesday, Feb 2? If I was, I'd be going to the Knitting Factory because there's mad line up of talented ladies playing including Autostraddle favorites Hunter Valentine as well as other solid acts Vanity Theft and People You Know. It's going to be such an epic night that it needs an official after party – stick around for some DJs and dancing at The Big Queer Party. Check out the Facebook invite and get your tickets here.