BRITTANA:
Wake up people! Despite Heather Morris and Naya Rivera residing to the wonderful world of Brittany/Artie and Santana/Finn (? – I can't keep track these days), Glee co-creator Brad Falchuk has just tweeted some game-changing news.
And you know what that means….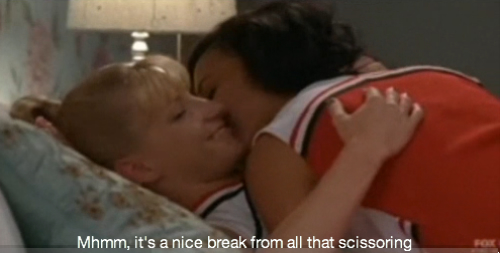 But don't get your 'Brittana forever' wrist tattoo just yet. Ryan Murphy has proven himself over and over to be a fickle little writer, often getting bored with plot developments several episodes in. What I'm saying is, have you seen Nip/Tuck? This show will eventually get a one-way ticket on the crazy train and nothing will make sense (even less than it does now), so save yourself the heartache and don't get emotionally invested. FYI, Gwyneth (Holly Holiday) is set to return sometime in March, so we shall see.
KURT & BLAINE:
Chris Colfer and our crush Darren Criss are Entertainment Weekly's coverboys headlining the Gays Teens on TV story. There's a funny quote where Chris Colfer cites the Kurt & Blaine "Baby It's Cold Outside" duet as:
"By far the gayest thing that's ever been on TV, period. Forget AbFab, forget Beautiful People and Will & Grace."
He clearly has not seen the episode of Queer as Folk where Justin spits cum on an anti-gay political poster after giving Brian Kinney a blowjob, but whatevs.
The most interesting part of the Entertainment Weekly article is the time spent with My So-Called Life creator, Winnie Holzman and actor Wilson Cruz (Ricky Vasquez). Holzman reveals that she never had a network issue with regard to Ricky:
"It wasn't even a problem with the network. The thing I got the most pushback about was in the pilot, when he puts eyeliner on in the girls' bathroom. I remember I mentioned The Crying Game, which had just come out, and Michael Jackson wearing eyeliner [to convince the network]. So they went with it."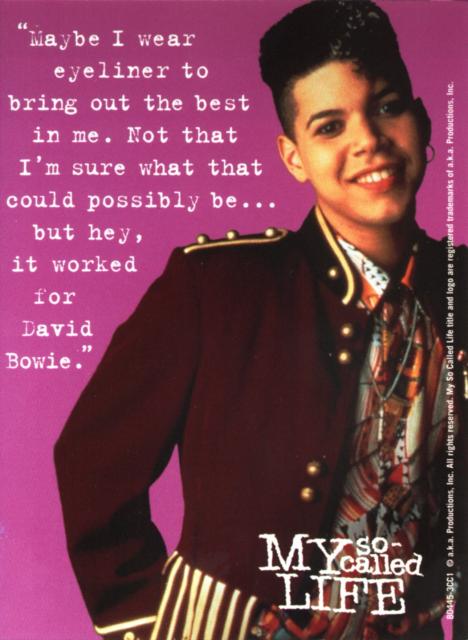 Later, Wilson Cruz chimes in on the progress of gay teens on TV:
"I think we've now reached the natural progression of what should've happened right after My So-Called Life. Do we have farther to go? Absolutely. But better late than never."
ANNE HATHAWAY:
Back in November, she  told Jimmy Fallon that:
"In my head, I've written a part for myself on Glee. In my head I've cast myself on 'Glee' and I know what song I'd sing. I would wanna play Kurt's long-lost aunt, his mother's sister who is also gay, who comes back to help him deal with his sexuality, and I would sing, "You Are Not Alone" from Stephen Sondheim's epic show 'Into the Woods.'"
Looks like she got her wish and locked down a deal with Ryan Murphy to play that exact role: Kurt's lesbian aunt. Says Sir Ryan:
"I think we'll do it probably in a month and a half or so… I have to talk to Anne about what she wants to sing. I'm sure she has ideas… I'm excited about that."
CHRIS COLFER & JANE LYNCH WIN GOLDEN GLOBES:
And in case you missed it, here is Chris Colfer's acceptance speech:
….and of course, The Lynch who can Do No Wrong: