Oh, Christmas. It's a magical time of year. I wonder what's going to happen this week on Glee, our favorite madcap caper musical show! See, every week someone tries to FOIL Glee, and then our ragtag team of unlikely heroes finds a way to save the day — usually through song! Also, some of them are gay, and some are cute, and some are in wheelchairs and some are "fat" and some are sort of stupid and some are "slutty" and some are Asian and at the end we all HOLD HANDS and sing in the wintery wintery blustery snowpantsy baby its cold outside WONDERLAND OF CHILDREN AND MUSIC AND SWEATERS!!!!!!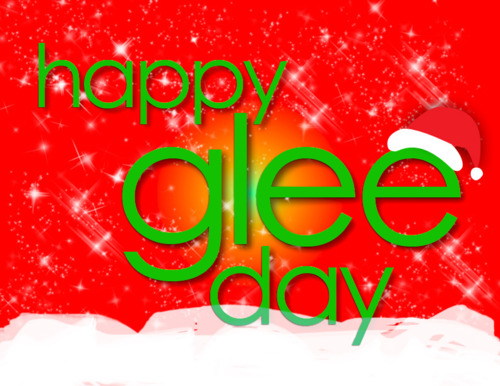 Christmas is early this year because of the Israeli Calendar. The Cheerios are celebrating by pretending to be in a Christmas special from the 70s. They're singing weird songs, dressing like a Gap ad and saying weird things that I think those wooden toys said in that one Christmas movie.
I half love Christmas and the other half of me wants to stab it in the eyes. Actually, I totally love Christmas but tend to spend it alone or in airports. Except when I was a child. Sorry, I just became Will Shoeface for a second, waxing nostalgic about my woebegone youth in the hinterlands of Ohio that nobody cares about.
You know what else is in Ohio? This show. I was really glad someone said "Lima" out loud this week so I could prove that it's pronounced like Lima bean, not like "rhymes with tina" as someone else has argued.
Want to know what happened Behind the Scenes?

A few notes:
1) My viewing companion correctly ID'ed kd lang singing "You're a Mean One, Mr. Grinch," which is pretty gay.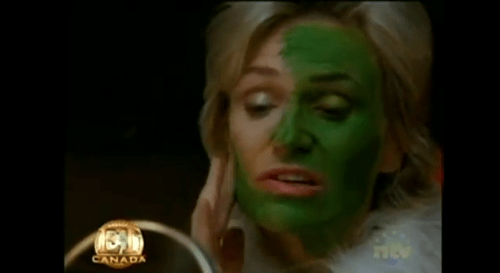 1a) Hey were you aware that kd lang performed in Pee-Wee's Christmas Special when we were children? She wore a denim dress situation, it was astounding.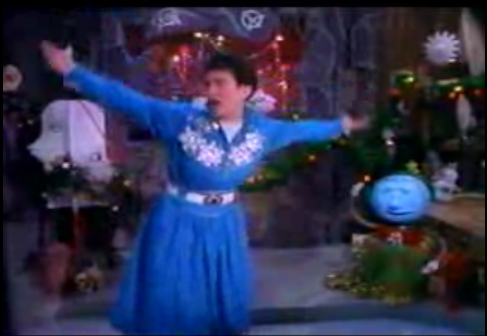 2) But not as gay as Kurt and Blaine singing a Baby It's Cold Outside to each other in like, Harry Potter outfits on the set of Clue: The Movie. Which was obviously super sweet – I felt love radiating in my own heart, culled from the hearts of every little gay boy in the whole world.
Chris Colfer sexes it up in a ratio similar to Dakota Fanning's sexualitah in The Runaways. Approved.
It was so gay it's gone all the way past gay and back to straight again. Rolling it forward.


3) I'm a big fan of The Christmas Special, like, as a genre. I had to remind myself halfway through the episode, 'Riese, think of this as a CHRISTMAS SPECIAL.' Because it gets really special.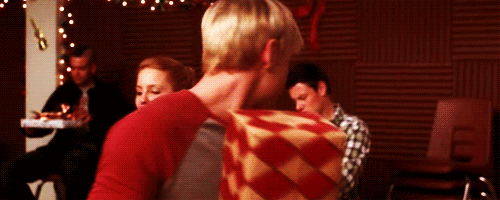 There are "moments" and "sentimental speeches."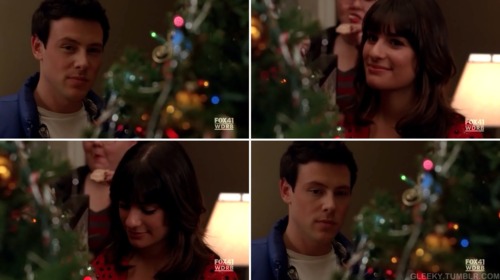 4) When are the following couples going to MAKE OUT ALREADY:
a. Kurt & Blaine
b. Brittany & Santana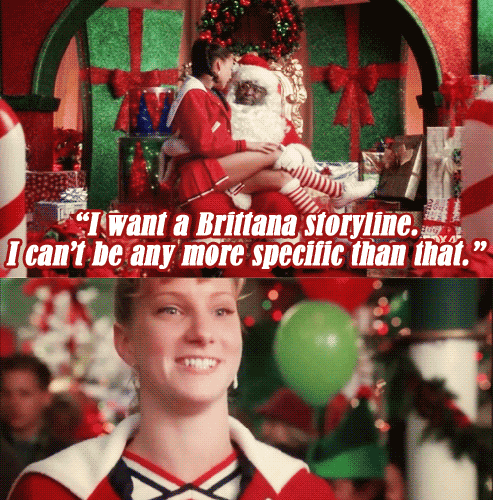 And no I am not being selective and only picking the homogays. Everyone else who really ought to kiss already HAS, I mean look at the trouble it's gotten poor Finn into! Oh, Finn. Your dopey grin will keep Broadway's Lea Michele warm all winter long, until February when the show returns.



5) MOTHERFUCKERS WHY DIDN'T ANYONE PLAY ALL I WANT FOR CHIRSTMAS IS YOU. FINE DO I HAVE TO DO IT MYSELF:
+
Remember this part:
Brittany: "last year i left my stocking up over christmas vacation and an entire family of mice started living in it. their christmas gift to each other was rabies."


6) This episode was probs a big enabler for Eddie Bauer addicts.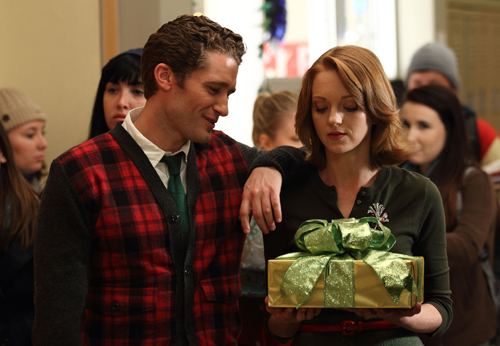 7) Why were we robbed of a Mr.-Shoeface-and-Kurt-Go-to-the-Mall montage? They could have sung "All I Want For Christmas Is You."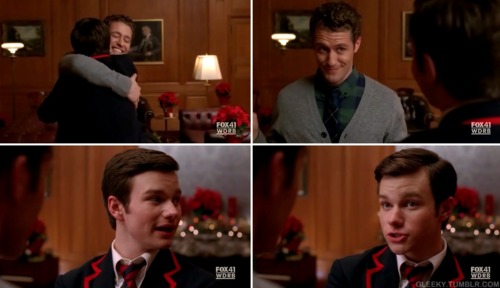 8) I also want sweet potato fries.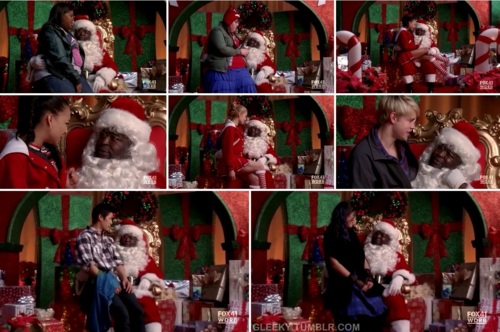 MERCEDES: I've been a very good girl, Santa. I want a pony, and a doll that laughs and cries, and… one of us smells like McDonald's.
LAUREN: I would like Puckerman to love me. He's a fox. I would also like sweet potato fries.
SANTANA: I want bling. I can't be any more specific than that. Okay wait, hold up, please tell me that is a roll of Certs in your pocket.
QUINN: Do you have anything for stretch marks?
SAM: Chapstick. Lots of chapstick.
MIKE: I want Channing Tatum to stop being in stuff.
TINA: When does Asian Santa arrive?


9) I thought for sure Brittany & Artie were going to break up because Glee characters love getting self-righteous about the dissolution of their relationship based on some abstract moral platitude, and I thought Artie was gonna be all like, "she doesn't love me for who I am, she loves me for who I am but not in a wheelchair," but that didn't happen.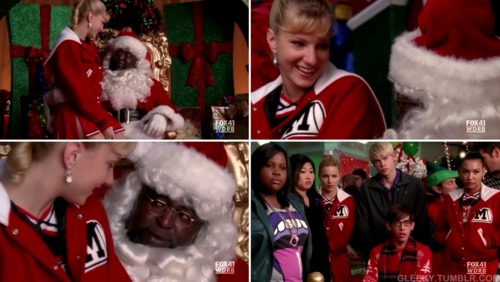 Instead Tiny Tim got his legs back:


10) Seriously, lambs worked overtime to make all the wool necessary to outfit this episode of Glee.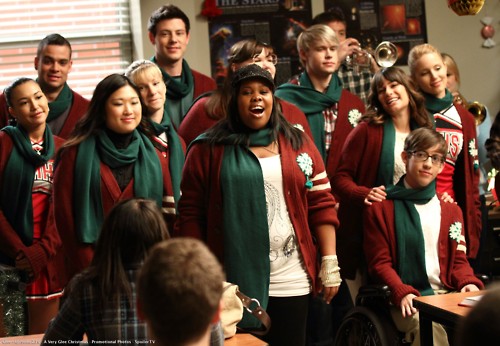 It made me want to go to the mall or something.


11) Cindy Lou Who. EXCELLENT CHOICE.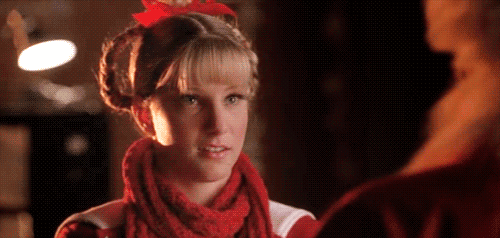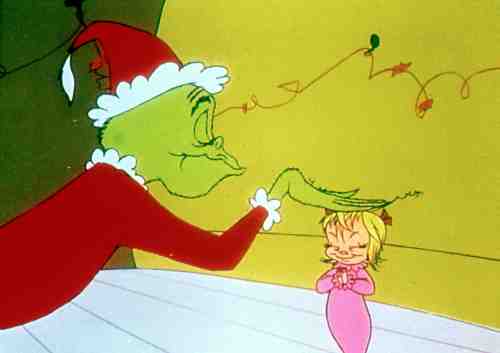 12) Okay I lied, I had to bury my head in my pillow for a lot of this episode because it was so corny and special I thought I was going to die in a cheesestorm. But in retrospect, it was excellent. Sue Sylvester was on point! I'd share some of her quotes with you, but to be honest, I have to go to sleep!
DISCUSS.