On Monday January 17th, the United States of America's Very Own Skins television program premiered on MTV, the network responsible for I Want a Famous Face and My Super Sweet 16, but also for My So-Called Life re-runs and True Life: I'm Addicted to Plastic Surgery.
Awakening this morning from their innocent teenaged slumber, fans all over the world were relieved to discover that the premiere of Skins MTV did not, in fact, result in the spontaneous combustion and irreversible corruption of the original Skins. The original is still available on Netflix, at your local video retailer and via a number of online video stores.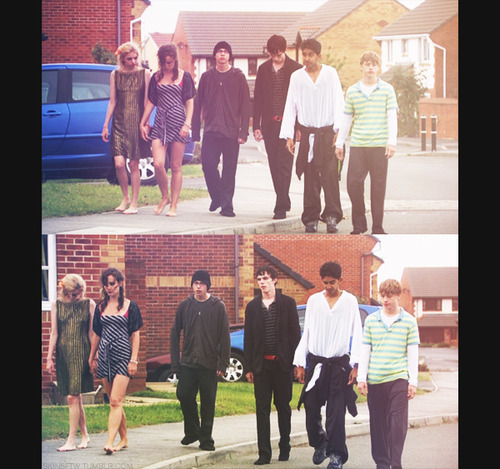 I watched Skins MTV with a Canadian who's never seen Skins before, and after an informal poll of 3-4 of my friends and a few kids on formspring, I've determined that she and I were the only ones who enjoyed last night's episode of Skins. She also correctly identified Toronto as the filming location and didn't believe me that Tony wasn't gay, so. I mean I have a few questions for the guy who plays Tony.
Here's the emails I had in my inbox this morning:

Televisionary Carly: "I only watched the UK version this past weekend — I'm a bit behind on pop culture, as evidenced by the fact that i also watched the girl with the dragon tattoo & whatever the 2nd one is called yesterday — so it's still fresh in my mind. This US version is a joke right? There was no charm or… anything! I also felt even pervier watching the US one than I ever felt watching the UK one (I'm about halfway through season 2 on the UK one at the moment). It was just missing something. I will keep watching because of the lesbian and because I have an uncanny ability to withstand large quantities of teen programming without faltering."

Crystal: "I really really wanted to like it, but I didn't. I thought for the most part the acting and the dialogue were horrible, it was like a cheesy British pantomime based on the original version. They even beeped out the swearing, for fuckssake. I was hoping that if it wasn't going to be amazing then it'd at least be terrible/amazing, like Rizzoli & Isles or Home & Away. But no, it's just terrible.
I thought Tea and whoever plays the new Jal were good, on the bright side. But the US Effy broke my heart. Overall I think I'd hate still it even if I didn't have anything to compare it to, you know?"


We'll do a real recap next week because IT'S THE LESBIAN EPISODE, but for this week lets just go over the main plot points and major feelings.
1. What the Eff
We open with Eura/Effy, who apparently has been up all night dumpster diving, shooting heroin into her lips and rubbing her eyeballs in a vat of liquid liner. Also Taylor Momsen called, and she wants her look back.
+
2. The Long-Distance Talker
The young rascals of Baltimore awaken on what I believe is a school day. Michelle is taking a nice leisurely bubble bath, as we so often have time to do before 6:30 AM Social Studies, Daisy is blowing her horn, and Stanley apparently was masturbating earlier by looking at several pornography magazines at the same time. It's an ADD thing. Kids these days!
I hope none of Tony's friends have the same commute Tony does because they're all going to be late. He took more busses, sidewalks, streets and alleys than poor New York underemployed hipsters take to get to the JFK airport on a Saturday. (It's a lot). This show is set in Baltimore so I imagine he's attending school in the Virginia area.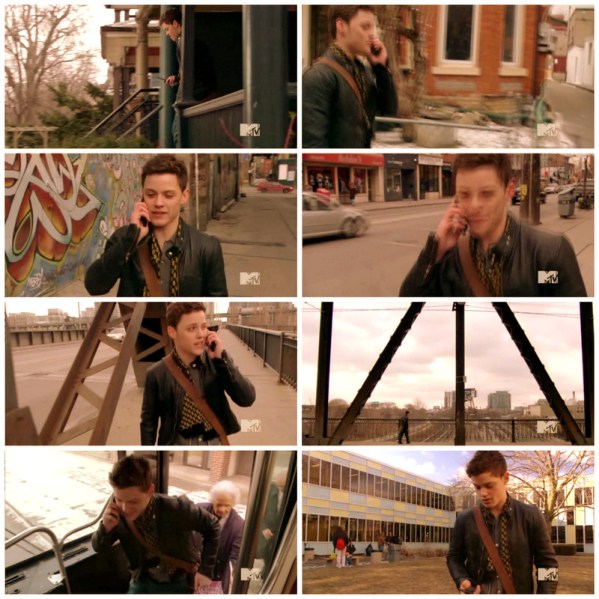 The impetus of today's episode is that it's Stanley's birthday and Tony wants to get him laid. I didn't like this plot in the original and I didn't like it this time, either!
BUT OH THE GLORY OF THIS…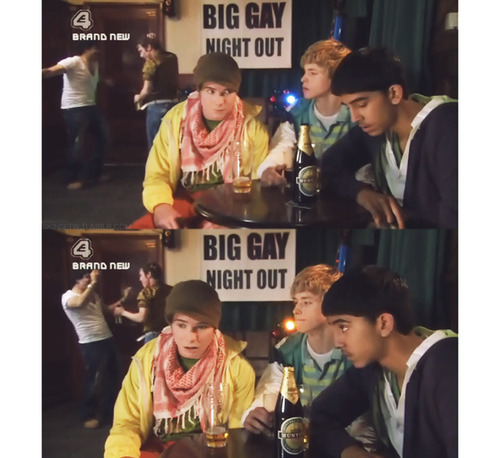 Becoming this:
Abbud: "Me and Chris promised we'd go to Tea's Big Gay Lezorama Night."
Tony: "Is Chris gay?"
Abbud: "No."
Tony: "Are you gay?"
Abbud: "No. It's girl-on-girl man, it's like live porn. And Chris says we can probably convert them and then it'd be like girl on girl on dudes."
The other plotline I loathed from Skins UK — partially out of disbelief, partially out of 'why the fuck who cares this doesn't really matter' and partially out of sorrow for so much weed being wasted — is repeated in this pilot episode: the drug deal.
Tony suggests that Stanley acquire $900 of marijuana from a scary-looking drug dealer, which Tony is certain they'll sell at a party later on that night.
This seems so much more difficult than just smoking a bowl, I have no idea.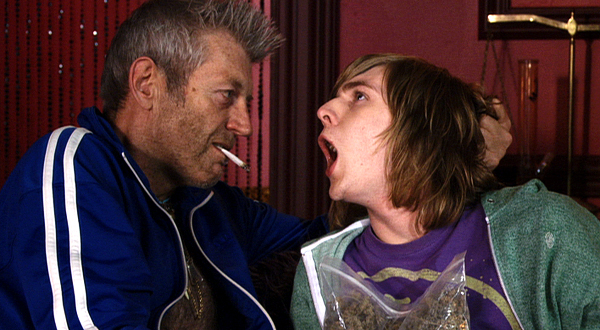 Is there anything about that image that appeals to any of your senses? Me neither.
+
3. Tea Party
When Tony rings Tea, she's in the middle of cheerleading practice. Already like five stereotypes have dissolved into the warm sweaty air of the high school gymnasium in which an un-apologetically gay lady hops, jumps and shows off her abs while chatting on her bluetooth device.
Tony: Forget the big gay night out Tea, we need you.
Tea: Sorry, promised Chris and Abb I'd take them on a voyage of wonder and discovery.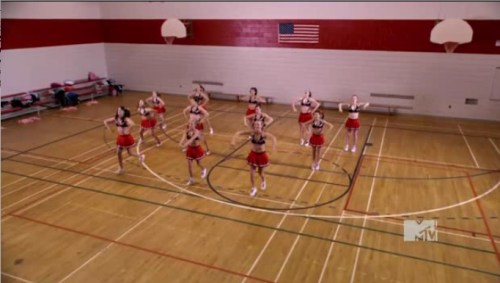 Tea is going to carry the show and then lesbians will get equal rights.
+
4. Cold for Teacher
We then visit a high school classroom lead by a teacher who will almost definitely have an affair with Chris, and hopefully also show us her boobs. Daisy is reading a handout about depression, because subtext is tedious.
Who is this actress/character. I think she wandered in off a Season Five episode of Saved by the Bell and Slater's gonna offer to carry her books and Jessie's gonna get real jealous and feministy on him.
There was clearly an error which I've taken the liberty of correcting: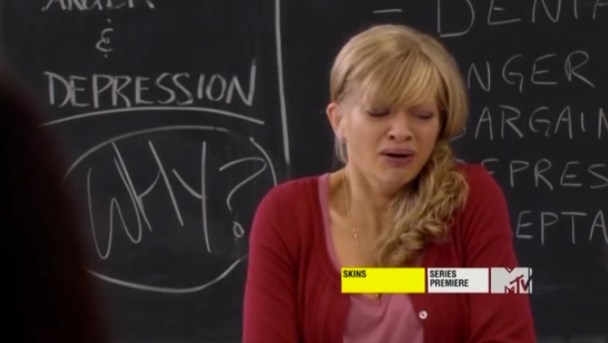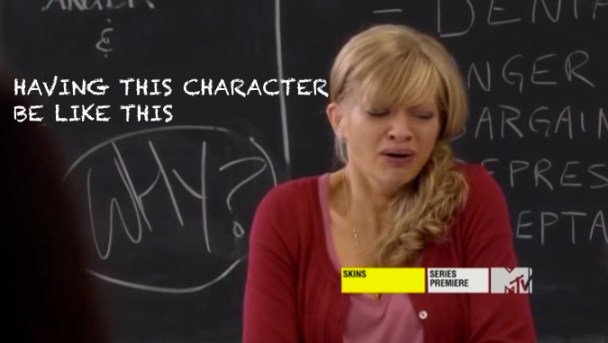 +
5. LEZORAMA BANANA WHAMMA WHAMMA DING DONG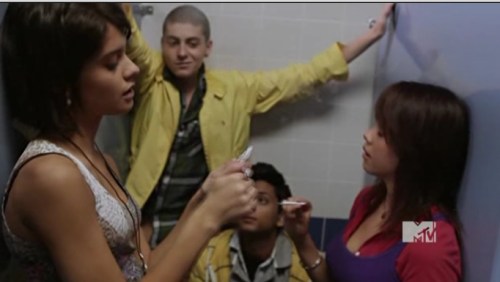 All of the best quotes were about Lezorama.
Tea: Who's telling him we're not going to his lame-ass Gossip Girl party?
Later that night, Tea & Daisy & Abbud & Chris head over to the rich girl's party Tony got them all invited to via one girl from a nearby prep school who has a crush on him. The rich girl talks like a psychotic illiterate bunny, I don't even know. Why oh why did they leave Lezorama?
Abbud: Well that's the last Lezorama I ever go to, it sucked.
Tea: Quit moaning.
Abbud:They don't even look at you, it's like you don't exist. And to top it off they don't even make out like proper lesbians!
Tea: Proper lesbians?
Abbud: Yeah, like in films right, when they [something] a man for 60 miles, and foxy foxes gotta make do? That's real lesbians!
+
6. Team Party Crash
The highlight of this week's episode, in my humble and clearly unpopular opinion, was the party-crash.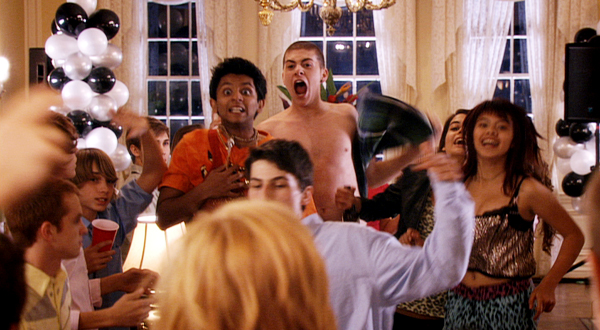 The comradary  between characters was palpable and believable, and class consciousness was made apparent in a way I never noticed in the original (which could just be 'cause I'm from the US). You know that accidentally beautiful girl in the blue hoodie watching the monied blonde glamourpuss try to steal her man. You know the misfits who know how to dance and they sex/drug it up and everyone is horrified and it's lovely.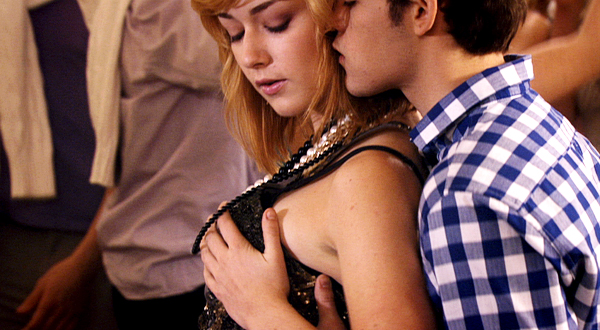 When the Blonde Dumb Girl screams "too Urban! Too Urban!" it's ON, and the whole crew jumps into action with their streetsmarts. This viscious catfight gives Tea an opportunity to punch someone in the face while wearing a leather jacket.
7. Cadie
This is all we have to work with so far: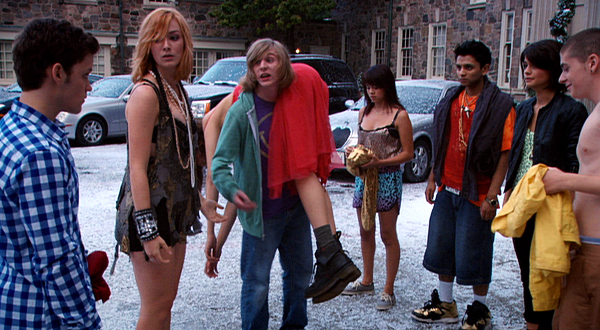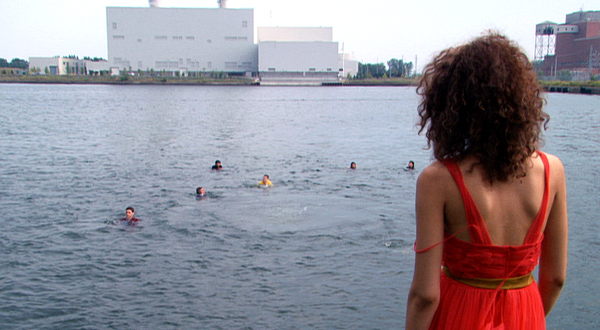 So you know. Who the fuck knows.
+++
In conclusion, if I judged every show by its pilot… actually to be honest I wasn't crazy about the first episode of First Gen Skins UK, either. But next week looks fucking kickass.
Even in this muted, occasionally imperfect episode — I still felt, at times, that I know these kids better than I've known the kids on any other American high school TV shows. Watered-down Skins UK is still more authentic than South of Nowhere or anything appropriate for network television.
This is owed in part to the age-appropriate casting, a technique also employed by the creators of Canadian teenaged tv program Degrassi. See, other shows have REALLY OLD ACTORS. Bianca Lawson, who plays Maya on Pretty Little Liars, is 32. Luke Perry was 24 when he played 16-year-old Dylan McKay on 90210. Cory Monteith and Mark Salling, who play high school students in Glee, are both 28.  But the Skins kids are all in their teens.
I was these kids. High school is a battlefield for your heart in which only two major cliques are immune from social judgment/torement/excursion (and instead subjected to their own in-crowd destruction and other personal problems)  — the popular athletic disproportionately attractive rich kids and the popular drug-indulgent badass kids who don't give a fuck and somehow end up being cute/hot in an alternative/unexpected way. This is high school told from the fuckups point of view, and to be honest, where else do we ever see that? High school TV seems obsessed with rich, traditionally popular and incredibly good looking — or else, occassionally, the geek's POV. But the fuckups usually don't get their own show.
I think Skins UK is so raw that it's spoiled us, we forget what the world was like when it was fully populated by Dawson and his creek and also by the fine young children of Beverly Hills, The O.C. and the Upper East Side of Manhattan.
What did you think?