In theory, we were going to have Autostraddle Read A F*cking Book Club Meeting #2 on Wednesday. I had really high hopes of that happening on time. But 2/3 of the editorial team had still not obtained copies of The IHOP Papers and according to our Amazon affiliate statistics only like three of you have bought it, and also we are all deeply flawed human beings who frequently find ourselves completely paralyzed by our own inadequacy.
So! We're having a quick little chat instead, just so everyone is up to speed. Think of it like when you were in like tenth grade and you had a really hot English teacher and you only wrote like a page and a half for your five page paper on The Old Man and the Sea because you were up too late having feelings and you walk into class thinking you're fucked but then Hot English Teacher is like "Surprise! I'm actually going to collect these on Friday, and today in class we'll go over the major themes of the book so you guys will feel better about writing this paper." Did you ever have an English teacher like that? I really sincerely hope you did.
ANYWAYS. Here is an excerpt from this book. Doesn't it make you want to read it RIGHT NOW?
It's a pain in the ass to get soup, salad, or hot tea for a customer. You have to assemble a meal instead of just picking a plate up from under the heat lamp. Putting a doily on top of a plate and then setting a spoon next to it, or getting a lemon wedge and coaster for a customer, is psychologically exhausting. But nothing is as bad as making an ice-cream sundae. The ice cream is so old and hard, it's like trying to scoop a sundae from a headstone and the whipped cream cans are usually flat because Tim and Kirsten suck the gas out of them to get high. I forget my coworkers are primarily drug addicts until it's too late and I end up spraying flat whipped cream on a sundae. It's a disgusting sight, runny cream dripping over the ice cream. Then you have to make the sundae all over again, the whole time hating Tim or Kirsten or whatever graveyard Goth employee who couldn't afford real drugs sucked the whipped cream cans dry…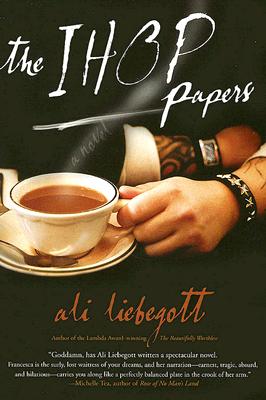 "Make sure the soup's hot. If it's not hot I'll send it back," the really pregnant woman threatened.
"Touché," I said, walking away.
I love when people say to make sure the soup is hot because then I can put it in the microwave until it bubbles up into a boiling, festering sore.
"It's microwave time," I said to Molly, ladling the soup into a white bowl.
It takes nothing to get Molly excited about ruining other people's lives. She smiled evilly, grabbed the bowl from my hand, put it in the microwave, and punched in three minutes. After thirty seconds, a bowl of soup is steaming. A minute passed and it bubbled  and boiled over the edge of the white bowl.
"I hope it burns her frickin' windpipe and goes straight into the womb and scalds her little fetus's forehead," Molly said.
My brain flashed on images of graphic anti-abortion posters, but I couldn't help but laugh.
"She's a frickin' bitch. We'll make her frickin' soup hot," Molly ranted.
The bowl turned in circles inside the microwave. I was beginning to feel scared by the bubbling volcanic mess. When the timer went off, I reached for the microwave door but Molly blocked my way, punching in another three minutes.
"Jesus, Molly."
She crossed her arms and stood in front of me, daring me to try and stop her.
"Molly. God. Take it out. She'll never eat that."
There was practically no soup left in the bowl, it had bubbled over the paper coaster and the bottom of the microwave, gurgling up like a broken drain.
"Go get crackers and a spoon," Molly ordered.
Am I revealing too much about myself if I say "Everyone can relate to that, right?" I like this passage because it touches on a lot of major/my favorite themes about this book:  menial food service jobs, the feeling of constant humiliation and resentment that comes from being young and queer and female and poor, the way that we take care of each other and also the ways we hurt each other and how sometimes the line between those two is weirdly blurred.
Really, what's not to love.
ALTHOUGH actually speaking of things not to love, it has been pointed out to me now that the editorial team has started reading instead of just vaguely remembering this book that a lot of it is probably super triggering? Or at the least upsetting? Basically, we feel we should let you know that this book contains frequent explicit references to alcoholism and cutting, and if those things are going to be triggering or harmful or detrimental to you in any way, please don't read it! We're sorry! We will pick something less divisive next time!
Also, here's what Eileen Myles had to say about it. Which is really all you need to know.
Like who hasn't waitressed? And had nightmares every night like feeling kept back in school. The good news is there's definitely a renaissance going on in female writing – for instance, a deadpan writer named Francesca arrives on the evening shift in a filthy punked out IHOP uniform exactly like the poet Ali Liebegott who makes us almost want to go work for cold pancakes and lousy tips she makes us laugh so hard at how profoundly sad and awful everything is. With even swiftness Liebegott makes the darkness grow and then it starts to get really light at least. Oh, just pick up the check and read it. That's no waitress, that's a poet.
So you see, even if you don't listen to me, when Eileen Myles tells you do read something, then girl you head right over to our Amazon affiliate link and you do it. We are reconvening on February 7th, which should be more than enough time for you to get this done, in my opinion. Did you know that if you give Amazon a student email address, ANY student email address, it will give you a year of Amazon Prime aka free shipping. Just saying. I love you. I wanna read this book with you. I will hold your hand during the sad parts. Okay? Okay. See you in three weeks.