What a relatively pleasant week to be homosexual!
In Washington DC, the U.S. Supreme Court announced Tuesday that it won't be hearing the ridiculous and baseless arguments against same-sex marriage which have befuddled and annoyed judges all around the country since 2004. Anti-gay activists are attempting to challenge the pair of laws D.C. passed in 2009 — one recognizing gay marriages performed outside of DC and another allowing same-sex marriage to be performed within D.C. According to the Washington Post, "The high court declined without comment to hear the case, six months after the the D.C. Court of Appeals had narrowly upheld the law."
Also today, Hospital Visitation Rights for Gay and Lesbian partners take effect across the country: "Patients at nearly every hospital in the country will now be allowed to decide who has visitation rights and who can make medical decisions on their behalf — regardless of sexual orientation, gender identity or family makeup — under new federal regulations that took effect Tuesday."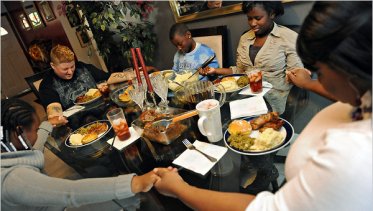 Speaking of gay families (don't you love these seamless transitions?), The New York Times has a great piece about gay families in the South.
Apparently, new US Census data shows that child-rearing among same-sex couples is more common in the South than in any other region in the country. Also, Black and Latino couples are twice as likely as whites to be raising kids:
The pattern, identified by Mr. Gates, is also notable because the families in this region defy the stereotype of a mainstream gay America that is white, affluent, urban and living in the Northeast or on the West Coast.
"We're starting to see that the gay community is very diverse,wp_postssaid Bob Witeck, chief executive of Witeck-Combs Communications, which helped market the census to gay people. "We're not all rich white guys."
Experts theorize that these numbers reflect the fact that many Black and Latino couples grew up "in the church" where disapproval of homos was way more popular than their actual wants and desires — so many gays and lesbians currently raising children birthed their children in prior heterosexual relationships:
"People grew up in church, so a lot of us lived in shame,wp_postssaid Darlene Maffett, 43, a Jacksonville resident, who had two children in eight years of marriage before coming out in 2002. "What did we do? We wandered around lost. We married men, and then couldn't understand why every night we had a headache."
Someone should print "We married men, and then couldn't understand why every night we had a headache" on an apron or something.
However the article points out that these families are more likely to have economic struggles than their white counterparts and "advocacy groups argue that their children are some of society's most vulnerable, with fewer legal protections and less health insurance than children of heterosexual parents." Some children have to keep their parent's orientation hidden at school for other reasons, and without same-sex marriage protections in Florida, only some adults are lucky enough to get employers who offer domestic partnership benefits. But with domestic partnerships, couples end up paying higher taxes, so you know. There's always new ways for gays to get effed.
But hope is ALIVE:
But that kind of financial difficulty does not dampen enthusiasm for coaxing along acceptance in this conservative city [Jacksonville, FL] of more than 800,000 people. A recent billboard supporting gay and lesbian youth drew no public scorn or boycotts, and gay pride parades have been held for several years.
Ms. Williams compares the community's efforts to the struggles of the civil rights movement.
"Slowly but surely, all this will pass,wp_postsshe said. "I truly believe that."
Even in Jacksonville, y'all, even in Jacksonville.