Inspired by how happy you are that ob tampons expand all around to custom-fit your body, Autostraddle's "a custom fit" article series will tackle how to make all the other parts of your life expand/adjust all around to custom-fit your life/self. Today Laura's gonna teach you how to tailor stuff from the men's department to actually fit! 
---
Bois and grrrls, is there anything sexier than a woman in "menswear"? I'm inclined to say "No." Masculine or feminine, curvy or narrow, tall or short, a lady in a perfectly-tailored oxford makes me weak in the knees. But grown women looking to sport a masculine fashion can find shopping in the men's or boys' department to be an incredibly frustrating experience when nothing you like seems to fit your body right. Sure, you can settle for a boxy or otherwise uncomfortable adornment experience, or you can take matters into your own hands!
Good news: the only thing standing between you in your sweatpants and you as a vision in vests is a pair of scissors and a sewing machine.
+
Tailoring Menswear To Fit Your Body
First up: T-shirts.
There are just too many boys' t-shirts covered in witty slogans, cool graphic designs, and dinosaurs to let a little thing like fit get in the way.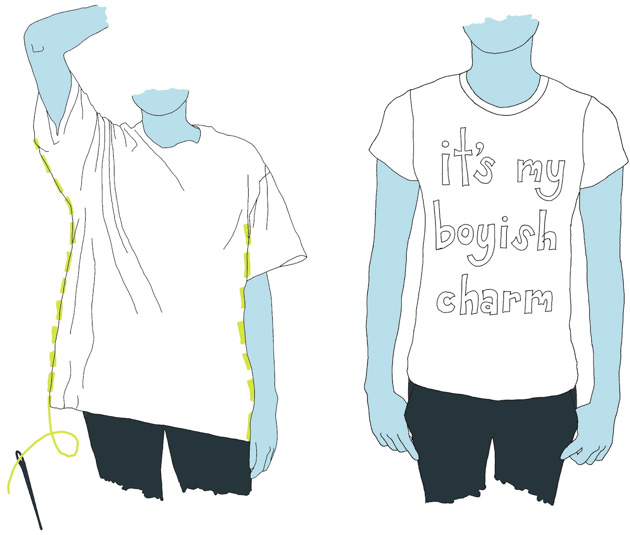 The real trick to getting a t-shirt to fit you right is all in the sleeves. If you start by picking a size that fits you in the shoulders, you've only got to worry about the sides. Put the shirt on inside-out and find yourself a big mirror. Does it fit you throughout the body? If you like your t-shirts to hug you a little tighter, grab 3 pins per side and start making (educated) guesses at where to put them–I usually start one inch in from their seams.
Once you've got a rough idea, carefully take the shirt off, straighten your pins, flip it inside-out and try it on again so you can make any adjustments. They say "measure twice, cut once," but I extend that to "measure twice, sew once" because seam-ripping is almost as fun as pulling your toenails out. When you're all set, sew a straight line through your carefully-placed pins, cut off the excess fabric, and try it on again.
Last but not least, take a second to take a little tuck in the sleeves so they don't stick out and give you that triangle-armed look that's so popular among the gym-class set.
Second Up: Button-downs
Next we're going to talk about button-downs. Or button-ups, if it suits your fancy. You might be thinking, "A button-down is pretty much a button-down. Why would I want to alter one when I could just go to the store and buy one?" My answer to you, my friend, (besides pointing out that you can buy perfectly decent cookies at the store but everyone knows homemade ones are better) is that the perfect oxford is an elusive creature. They're always frilly or too short or just plain made for someone other than me in mind.


If you can alter a t-shirt, you can fix an oxford. Just like a t-shirt, you'll want to find a shirt that fits you in the shoulders. If you can find one that has the right length sleeves as well, you should immediately stop what you're doing go buy a lottery ticket. Don't worry if you can't; finding a button-down with adequate sleeveage is a nearly-impossible feat. Just remember that sleeves at your wrists are obnoxious and that rolled-up sleeves give off a carefree sense of joie de vivre.
The main difference between fixing a t-shirt and this project is that you've got an under-arm seam to contend with. When you go to sew along the side, you will want to continue sewing up along the sleeve, but you will have to stop yourself. You will want to, trust me, but I've had the experience of wearing 3 lazily-tailored shirts and I'm telling you: don't do it, it's not fun! Instead end your seam when you reach the end of one side, reposition the shirt at a 90-degree angle, and then start sewing your sleeve.
Last we're going to be turning a massive jacket into a vest-type fandango.
Lastly: The Jacket to Vest Conversion
This time we get to avoid sleeves altogether because we're cutting those babies off before we start. You should decide how thick you want your vest straps to be and then cut accordingly, remembering to leave an inch extra so that you can hem them later.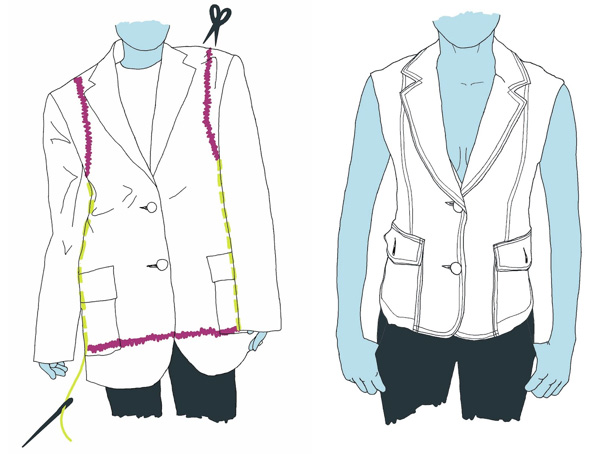 This time, you're going to take all your knowledge from t-shirt and button-downs and apply it to fitting your vest. Just like the other two, measure, sew, and cut the sides first and then move on to the sleeves. To hem the sleeves in, fold the fabric under once and iron it, then fold it under again and pin it in place. It's best to start sewing under where your arms will go because when you work with thicker fabrics the beginning and end of seams have a tendency to veer toward ugly.
Now you can shape the bottom of your vest. You can cut it angled, curved, or straight across, but make sure to leave a seam allowance so it's not too short. Sew it up just like you did the sleeves and you're good to go.
As you can see, when it comes to the right fit, it's never impossible and it's never too late to get it just right.