The same night that 61% of North Carolina voters passed an amendment banning already illegal same-sex marriage, Rolling Stone came out with an article reporting that the lead singer of the political punk band Against Me!, has come out as transgender and will start to go by Laura Jane Grace.
Grace has hinted at her gender dysphoria in songs like "The Ocean" ("And if I could have chosen/ I would have been born a woman/ My mother once told me she would have named me Laura/ I'd grow up to be strong and beautiful like her") and "Searching for a Former Clarity" ("And in the journal you kept by the side of your bed/ Confessing childhood secrets of dressing up in women's clothes/ Compulsions you never knew the reasons to"), but had not even shared her secret with her wife, Heather, who has remained supportive throughout her coming out. Most recently, Grace performed a new song called Transgender Dysphoria Blues at a solo show.
From a fan's perspective, many are wondering how this might affect the future of Against Me! Things seem to be business-as-usual; the band is heading out on tour with The Cult at the end of the month. As for Grace's iconic, growling voice, Rolling Stone writer Josh Eells says, "So far the only kind of medical thing she's having done is hormones. She says the estrogen doesn't affect your voice. If she goes ahead with some of the cosmetic things – like tracheal shaving, which whittles down your Adam's apple – there's a possibility that might affect her voice. But she's really hesitant to do that because of that." Laura is beginning the transitioning process by taking hormones and undergoing electrolysis treatments.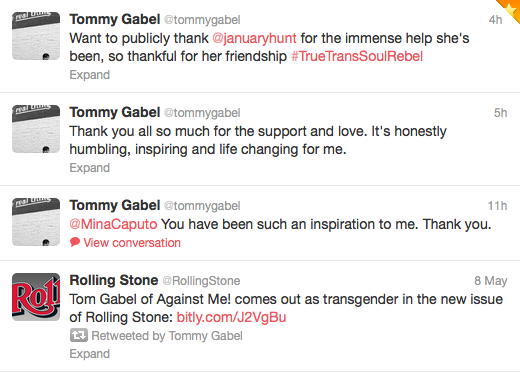 A major rock star coming out as trans would be huge news anywhere, but Grace's coming out in the often male-dominated punk scene is especially significant. The scene can sometimes be an unwelcoming place for women musicians and fans, not to mention those who are trans or gender nonconforming. At the end of the day, though, punk rock is about being true to yourself and not being weighed down by anyone else's expectations. Hopefully having someone as prominent and well-liked as Grace come out will be a huge step in accepting an increasingly diverse punk community.
Plus, something tells me Laura is going to make a smokin' hot, badass frontwoman.