Last night, North Carolina's Amendment One, was passed by 61% by the state's voters. Although same-sex marriage was already outlawed in North Carolina, the state constitutional amendment outlaws marriage once again, as well as revoking legal recognition of civil unions and possibly domestic partnerships. The specific language in the bill refers to "domestic legal unions," which isn't a term that's been used previously in North Carolina, and the legal ramifications of which aren't yet clear.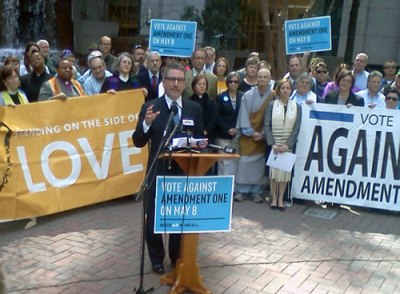 North Carolina had been the only Southern state without a state constitutional amendment banning gay marriage, and roughly 39% of voters tried to keep it that way, but despite the fact that a state statute already made same-sex marriage illegal, North Carolina's constitution will now reflect the ideal of marriage as between one man and one woman as well. The last time North Carolina amended its constitution to change marriage laws was in 1875, when it banned interracial marriage. Last night, an impromptu gathering of disappointed North Carolinans formed at the Vance Monument to mourn Amendment 1's passage. At the end of the night, Amendment 1 passed with a 22-point margin.
While the passage of Amendment 1 is undeniably disheartening, and it won't cease to be shocking that anyone feels the need to create a voter referendum and constitutional amendment just to express displeasure about something that's already illegal, it's worth noting that 40% of voting North Carolinans opposed this measure, and many of those want to continue working to make North Carolina a safer, more accepting place. Barry Yeoman of The Independent Weekly says "I have never seen a community mount such a forceful, unified, creative response to a collective threat. I have never had so many neighbors tell me, "Your battle is mine too." Especially considering Obama's same-sex marriage support announcement, it's possible that this vote could prove a rallying point for North Carolina and the southern queer community.
The North Carolina Democratic Party has announced that they'll continue fighting for equal rights in their state. In the meantime, the state's citizens (and the rest of us) may do well to remember the Faulkner passage that Council President Carol Bellamy read before a 1981 vote by the New York City Council to decide whether to outlaw discrimination against lesbians and gay men:
 Some things you must always be unable to bear… Some things you must never stop refusing to bear. Injustice and outrage and dishonor and shame. No matter how young you are or how old you have got. Not for kudos and not for cash; your picture in the paper nor money in the bank either. Just refuse to bear them.