This is the type of vegetable stir fry that looks (and tastes) much more impressive than it actually is. In other words: this is the best kind of stir fry.
The Type of Vegetable Stir Fry that Looks (and Tastes) Much More Impressive Than it Actually Is
Ingredients
1 Tbsp vegetable oil
1/4 tsp chill oil, or to taste (optional)
2 smallish onions, sliced into thin wedges
1/2 tsp Chinese five-spice powder
2 cloves of garlic, thinly sliced
1 red, yellow, or orange bell pepper, sliced lengthwise into long pieces
2 zucchini, cut in half and then sliced lengthwise into long pieces
2 cups smallish broccoli florets
2 cups snow peas, trimmed
1 3/4 Tbsp oyster sauce
1/4 Tbsp soy sauce
2 Tbsp fresh basil leaves (or a sprinkle of the dried stuff, but really, it's spring, get thee to the produce section)
1/4 cup roasted unsalted cashews
udon noodles (optional)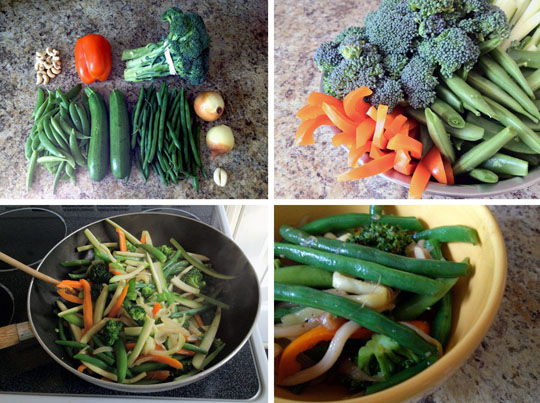 Directions
1. Heat a large non-stick frying pan over high heat. Add the oil(s), onions, five-spice powder, and garlic, and cook for two minutes or until the onions start to soften. If you do not currently own five-spice powder, go get some immediately, because it is delicious and useful and you are Missing Out. (Maybe turn the stove off first. While you're out, get some more oyster sauce for later. You can substitute it entirely with soy sauce, but it's better if you don't.)
2. Add the broccoli. When it starts to feel tender, add the pepper, zucchini, and snow peas. Stir-fry for about five minutes, until tender. If you want to add some sort of noodle situation, now's the time.
3. Remove from heat and toss with the oyster sauce and basil. If you don't expect leftovers, sprinkle the cashews over everything and serve. If you do expect leftovers, sprinkle the cashews over your individual plate — the sauce will make them mushy by lunch the next day. Serve.
Adapted from Donna Hay's salads + vegetables.