Since moving in with a (mostly) vegetarian friend I've had to learn how to cook meals that do not contain meat, yet still seem 'meat-ish' enough that the carnivore in the house won't complain. It's a challenge that's resulted in many errors and more than a few polite comments like "it has a unique taste, doesn't it?"
But it hasn't all been failure. This tofu and basil stir fry recipe is one of the meals that I've gotten right, it's a people pleaser that requires very few culinary appliances or skills. Most of the effort is in the grocery shopping and the chopping up of stuff, once you've done that it basically cooks itself.
Even though this is a fairly basic meal to make, it does require a couple of ingredients that you may not already have in your pantry. My advice is to not leave these things out. If you like this dish then you'll want to cook it again and again, so forking out for that bottle of rice wine vinegar will seem totally worth it.
This recipe will serve 4 people, however I recommend adjusting the quantities to whatever you think can be safely accommodated by your wok or fry pan. As with all stir fries, overcrowding won't have an awesome result.


Ingredients
1 cup of coconut milk
2 tbsp soy sauce
3 tbsp rice wine vinegar
2 tbsp fish sauce (or more soy sauce, for vegetarians)
1 packet of firm tofu, cut into 1-2cm cubes
1 brown or white onion, sliced
1-2 tbsp fresh ginger, grated
3 garlic cloves, crushed
2 cups of sliced mushrooms, I like shiitake or oyster but any type will do
2 zucchinis, sliced
1 red capsicum, sliced
A bunch of fresh basil leaves, roughly chopped
1 tsp dried or fresh chilli (optional)
Olive oil
Rice (to serve)
1. Combine the coconut milk, fish sauce, soy sauce and rice wine vinegar in a bowl and set aside.
2. Heat a wok or fry pan on medium heat and add the oil. Once it's hot throw in the onion, garlic and ginger and then stir until soft. Add in a little more oil if things start to stick.
3. Add the tofu cubes and flip them around until they're brown on all sides.
4. Throw in the coconut milk concoction and stir until about half the liquid has been reduced – or slightly less if you like things a little saucy. If you've decided to add chilli then do it now. My flatmates usually just sprinkle it on top once it's been plated up, apparently that's just as effective.
5. Add in the mushrooms until they're cooked. You can also throw in the zucchini, capsicum and basil at the same time, although I tend to delay it for a few minutes because I like for them to have a little crunch.
6. Done! Now just serve with your preferred type of rice.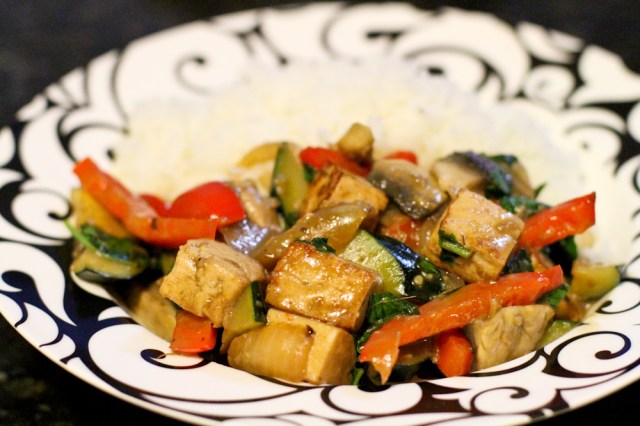 Thanks to Kate for the photos.