Greetings squirrel friends! Well it has been quite a week, what with all the gay marching and TV weddings and pseudoephedrine overdoses and coming out and all. In news, ABC gave full-season pickups to Flash Forward, Modern Family, Cougar Town, and The Middle (3 of those are awesome, you can guess which!). In Dollhouse news, ratings are getting better because of DVRs! And check out this cool article from Geek Buffet about how intellectually engaging Dollhouse really is.
As always, don't forget to read my Glee recap for episode 106, Vitamin D! And this just in: Fox is thinking about having a Glee tour next spring!
And now…
The Carlytron Television Awards for the Week Ending 10/11/09!

The Adorable Award – How I Met Your Mother
Episode 503 – Robin 101
This episode was really cute. Barney, afraid of losing Robin, takes lessons from Ted about Robin. It's creepy, sure, but mostly cute. She thinks he's cheating on her but they work it out in the end. Overall I'm happy with how HIMYM is handling their relationship, making it fit into the group dynamic, etc. Long live RoBarney! Also, this is very true and the quote of the week (Lily is a little bit Liz Lemon, I think):
"Robin Scherbatsky is many things: friend; confidant; occasional guest star in some confusing dreams that remind me a woman's sexuality is a moving target, but she is no crazy, jealous stalker-bitch." – Lily
Everyone is adorable in this episode, especially Marshall, who has to get rid of an old barrel so he puts it outside in the Bermuda Triangle, a spot on the sidewalk outside Ted's apartment from which things just vanish. I had a similar experience living in Orlando once, I put an entire dining room set outside and it was somehow gone almost instantly.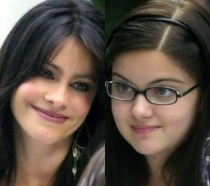 The Awesome Family Model Award – Modern Family
Episode 103 – Come Fly With Me
I really love Modern Family because it is able to capture real family dynamics in a funny and heartwarming way. In this episode Al Bundy finally accepted his son-in-laws and little kid Alex continued to prove herself to be me at a young age. Excellent.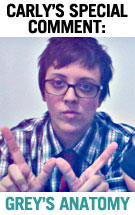 Special Comment: Grey's Anatomy
Episode 604 – Tainted Obligation
Merger craziness continues, as Cristina freaks out on the Chief and Callie freaks out on Arizona and then gets her job back. Arizons puts Callie in her place, calls her her "girlfriend" a lot, and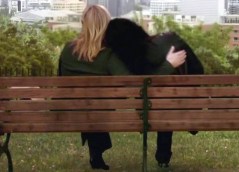 they share a cute moment on a bench (but OF COURSE it's during lunch, the least sexy meal EVER). Yawn. Overall this episode was good, Sandra Oh's acting was awesome, Meredith didn't annoy me, and I found myself somewhat moved by the Thatcher plotline. Can't wait to see who's getting laid off next week!
And if some lesbians don't start making out soon, I'm gonna get back to shouting!


The Dollhouse Award for Dollhouse
Episode 203 – Belle Chose
Hey, Dollhouse, this was a vast improvement over last week, so bravo! Echo's initial assignment is totally lame but gets awesome when she stabs the professor in the neck! Things get even more awesome when Victor accidentally gets imprinted to be a female college coed and dances his little ass off at the club. It's super gay, and he nearly gets gaybashed, so that's great.
Also this gives me hope for the future.


The Dumb Episode Award – Gossip Girl
Episode 304 – Dan De Fleurette
"By the way, sandals are not shoes." – Blair
This week we learned that Blair hates hippies as much as I do, Tory Burch can't act, somehow Anna Wintour knows Serena, Dan is still an idiot, Vanessa's hair is still a disaster, and this episode was mostly very, very dumb. For an amazing rundown of the stupidity read Jacob's recap over at Television Without Pity. All I can say is that next week will be better because Georgina is going to DESTROY the Rufus/Lily nuptials (hi Lily! So glad you're back!). Also Tyra Banks chewed scenery like there was no tomorrow. And for more on our other special guest star, please see the Hot Girl of the Week, below.
The FINALLY Award – The Office
Episode 604 – Niagara
This episode of The Office was an hour long because OMG JIM AND PAM FINALLY GOT MARRIED AHHHH! It was super adorable and though some moments made me cringe, by the end of the episode everything was excellent. Can't wait to see what happens when Pam realizes that Michael hooked up with her mom! There was also this:

The Most Improved Show of the Year Award – Parks and Recreation
Episode 204 – Practice Date
This episode was a close runner-up for Gay Moment of the Week, as Leslie went on a fake date with Ann to prepare with her actual date with that cop guy. Amy Poehler should submit this episode for her Best Actress in a Comedy Series Emmy consideration because she was amazing in it. Also, I am totally loving April's character. She's amazing. And Duke Silver!? Are you kidding me?! This show has totally turned it around this season and I'm really loving it. Rashida Jones is a genius.


The SNL Sketch of the Week
Drew Barrymore hosted this week (yay!) and SNL finally made a funny digital short this season!
Unfortunately the show wasn't really that great, and by that I mean that there were no sketches about Ellen Page, lesbianism, or roller derby. Lame. The opening monologue was great though, I couldn't stop laughing!
A chance to make fun of "A Doll's House?" I am so totally there.


The Hot Girl of the Week Award

I wasn't sure who to give this to this week, so I asked Robin for some ideas:
Carly: who should hot girl of the week be?
Robin: Well, Carly, I think since Hilary Duff was on Gossip Girl this week, she should be hot girl of the week, and i'll tell you why
Carly: … Her?
Robin: As a star of both screens and as a pop music sensation, she's both multi-talented and adorable. Plus gays love her.
Carly: I said "hot" not "bad-acting."
Robin: Oh c'mon, she's so cute.
Carly: Hmm.
Robin: I like her hair.
Carly: She kept wearing hats during the episode of Gossip Girl. What was with the hats?
Robin: Yeah the hats are sort of Blossom. Very mid-90s.
Carly: Yeah.
Robin: I like that song "So Yesterday." Don't tell anybody.
Carly: So you like that song and Miley's "Party in the USA," how old are you again?
Robin: 12.
Carly: Ew, my girlfriend is 12!? Uhhh… I gotta go.
Robin: I'm a mature 12. It's actually probably legal in some states…
Carly: I don't think that's correct.
Robin: More states than gay marriage is legal, probs. Ok listen, I'm not actually 12, Carly. Let's get back to Hilary Duff, stay on topic. Hilary Duff is super cute in person!
Carly: Have you met her?
Robin: I photographed her at the GLAAD Awards one year, seriously, she is hot! I'm telling you.
Carly: Hmm, interesting.
Robin: Do I need to send you photos?
Carly: Yes. I need proof.
Carly: I love that you sent me a bikini pic of Hilary Duff.
Robin: She's cute!
Carly: Ok fine, Hilary Duff can be the Hot Girl of the Week. YOU WIN.
Robin: YAY!!! I hope others agree. Ok coming back to the other room now.

The Gay Moment of the Week
Uh, I dare anyone to show me anything gayer that happened than this:

Honorable Mention
Heroes: I give up. DNR.
Flash Forward: Was silly this week, but I'm still hooked!
Cougar Town: Totally deserves its full-season pickup, this show is really funny.
It's Always Sunny in Philadelphia: Intervention episode! Obvs a Tinkerbell shoutout. I love this show.
Don't forget to watch the season premieres of 30 Rock and Ugly Betty on Thursday and Friday, respectively, later this week! 'Tron out!