ANYONE BUT ME: That cute lesbian web-series with those cute girls in it is returning to your computer screen this winter, and there will defo be lesbian kissing, probs also heavy petting.  Anyone But Me's second season will DEBUT IN YOUR FACE on December 15, 2009. Also, in related news; what are you doing this Thursday night because Anyone But Me star Nicole Pacent Wants to See You at "Relief Through Rock."
Look for the release of exciting new promos in November which feature some of today's hottest actors all gaga for ABM!
TEGAN AND SARA: Tegan & Sara's new American tour dates!
SKINS: Check out Crystal's LOLy second installment of Skins' third season lesbian storyline between Naomi and Emily! (@autostraddle)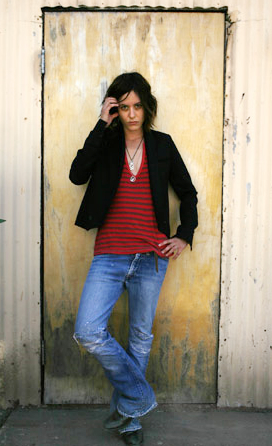 MUCH ADO ABOUT SHANE: In a new interview, Kate Moennig discusses her oft-talked about wig on Three Rivers, missing Shane, her tramp-stamp and her favorite make-out partner on The L Word. Obvs she also takes a moment to distance herself from the Artistic Atrocity that was Episode 608: "I think it was a surprising way to end the show, definitely. . . . There was a reason behind it — I'm not too sure what that reason was, but I'm told there was one. If my favorite show ended that way I'd be like, 'What?'" In other news, she got a new puppy. (@latimes)
HOLLYWOOD IN THE CLOSET: An extensive interview with a publicist who guides Male Homosexual Stars in coming out publicly.  He's currently working with a famous musician who's still closeted from the public, but who will come out next year. And the manager of one major movie star approached Bragman a year ago and asked about his client's possibly going public, but the actor still refuses to pull the trigger. (@laweekly)
TWITTER: Celebrities keep quitting twitter, like Miley Cyrus and Courtney Love. Ellen Page even polled her Twitter followers on whether she should delete her's. I'm surprised they went on there in the first place, it was one of the biggest surprises of the decade in pop culture — who would have anticipated that at some point we'd be granted free uncensored access to the mind of almost every major celeb out there? We don't even need to sit through advertisements!
SEX: Cinema Sutra – Jennifer Tilly and Gina Gershon teach you how to touch a woman. (@nerve)
KIM STOLZ: This is the first time MTV Cribs The New York Times Real Estate has done a piece on an apartment we've actually been inside: Kim Soltz's "hand-me-down apartment" on the Upper East Side. (@nytimes)
SARA GILBERT: Sara Gilbert (Darlene from Roseanne) and her partner, writer/producer Allison Adler go pumpkin picking with their cute kids. (@celebritybabyscoop)
PRESIDENT GAGA: Towelroad interviewed Lady Gaga right after she delivered her speech at the National Equality March.