It's the kind of day where anything can happen. It's the kind of day you can bust through the D.C. Metro doors, fly through the turnstiles, and run up the empty down escalator yelling "Equality!wp_postsover and over again and instead of being arrested or hate-crimed, a line of shiny happy gays will hear you from ground level and are already cheering you on.
On one of the last straggling days of summery skies and subsequent sunburns, Equality Across America lured queer freedom fighters, the out & proud, the ambitious allies and the hungover & downtrodden from across the nation — and one from across the pond who may or may not have edited the lyrics to "America the Beautifulwp_postsonce or twice — to the National Mall in Washington, D.C., site of The National Equality March for GLBTQ rights.
Autostraddle was there. We're going to give you a complete round-up, including our video from the event and interviews Cynthia Nixon and Dan Choi later this week, but while the magic is still fresh in my head and the event is still fresh in yours, this here is my mini-recap of our lesbian journey to The National Equality March.
We Would Have it No Other Way:
Riese: Do you have a dictaphone and camera for tomorrow?
Katrina: No! But! I have a notebook and very uh — very fast-moving hands!
Riese: Of course Autostraddle is the site that gave their press pass to a massively hungover punk with fast-moving hands.
Katrina: Yeah, it's like, the future?
[We found a camera]
National Equality Marches are Good for Lesbian Girls
There's one big difference between the National Equality March and the last dehydrated Autostraddle walkathon Gay Pride I noticed right away. I mean, besides the fact that one is a call to arms and the other was a streamer-infused, glitter-raining summer dance party.
If you guessed "the gay ladies showed up in full force to this one," you'd be right!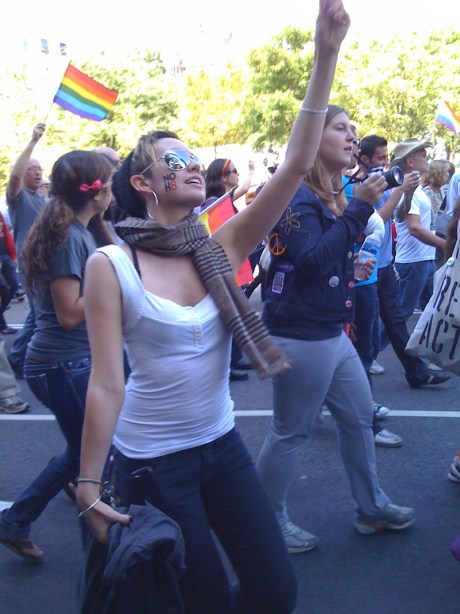 This probably was reflective of the idea that queer women's spaces tended to shy from the mainstream bar-and-club scene and toward activist and community-based areas. This also may have been an early birthday present to me, as this scene was full of activists, and activists are very attractive.
The downside to this not being Gay Pride was a distinct lack of techno-infused paper mache floats, but then Lady GaGa showed up (in suspenders, probably because she read our Fall Style Guide), and Gaga said it was good.
National Equality March Shows Strength in Numbers
The up side of this endeavor was the strong presence of solidarity. Although the march lacked a definitive goal ("equality," though totally legit, can be a bit vague), and marching on Washington has yet to successfully move LGBT legislation, the National Equality March was more a showing; it was strength in numbers.
Also we were not marching behind a proud pack of aged nudists. So there was that too.
Chants varied from the standard "Gay, straight, black, white/Marriage is a civil right" to the slightly rhetorically slippery "What do we want? Equality! When do we want it? Yesterday!" to the surprising throwback "Harvey Milk was right/Show your pride and fight!"
Some of my favorite sings included "LevitiKiss My Ass," "God Hates Shrimp" and "I like it and I wanna put on a ring on it."
Also favorable was the great bounty of high-profile activists and celebrities that we stumbled upon (like literally… sorry, Kristin Chenoweth!), including the lovely and talented Cynthia Nixon and discharged combat veteran/Knights Out activist (and Autostraddle lesbro) Lt. Dan Choi.
High (and low)lights from the Rally:
There's no secret about this: rallies are called rallies for a reason. Speakers and performers gather at the end of a march to, well, rally the crowd and ignite passion within their communities. They're supposed to make the feeling last and inspire the activists to activate.
And for a little while it did. The rally started out strong: inclusive of a spectrum of identities, respectful of and thankful to our predecessors, critical of our current administration but not radically so (with a few exceptions), and hopeful for a new generation of activists, the lineup of speakers covered every base.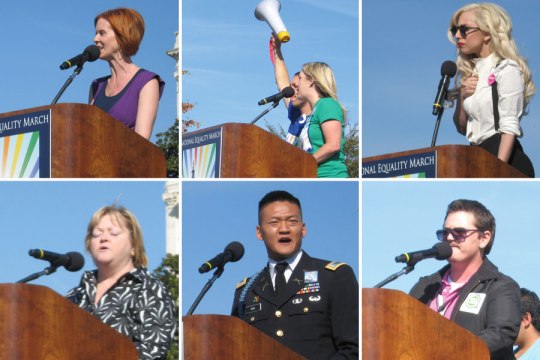 Above all they came together to offer the idea that the gay generation gap is reconcilable, that we can combine the wisdom of gay rights veterans with the energy and innovation of the new grassroots campaigners. Furthermore, there's no more opportune time to finally demand our rights. The time is finally right, they said, to be out, not because we seek validation, but because we owe it to ourselves to live the truth, and we are finally reaching a time where this kind of life is possible.
Although many of the opening speakers stressed the importance of grassroots organization, the glossy stage and big screens seemed a far cry from Harvey Milk's soapbox-and-megaphone speeches. The lineup, consisting of around 30 speakers, often seemed more a chance for face time or an audition process for America's Next Top Civil Rights Leader.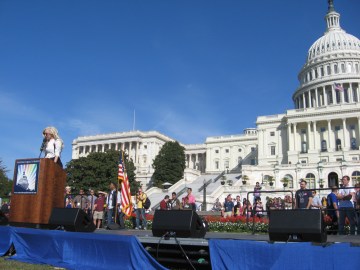 And yes, President Lady GaGa was loud and fabulous and disco stick-shatteringly close to me (I was almost forced to pull a KC Danger, hypothetically removing my pants and hurling them at the stage only to be dragged away in my lesbian boyshorts by security), but one couldn't help but wonder whether crowd members were there to rally for rights or to cheerlead for the pop star.
BUT…
In the end, it was a gathering. 200,000 people piled seven blocks deep down the National Mall to show solidarity when they said there wouldn't be. It was a chance for sign-wielding, plaid-wearing lesbians and their friends to make out in front of the White House see others support a cause once thought impossible.
Viva la revolution, eh?