Guess what it's fall. Put some clothes on! What clothes? Well, we have a few ideas, thus Autostraddle's Fall Style Guide!
But first! I know what you're thinking … isn't this your THIRD fashion & style feature if you count the Kim Stolz interview & photoshoot? Yes, along with our Top 10 Lesbian Fashion & Style Icons, we're hitting the big 0-3. Furthermore, a solid handful of Team Autostraddlers (Carlytron, A;ex, Lily, Megha & Laura) are interested in writing more about fashion & style when we get the m*therf*cking time, so if there's anything specific you'd like to hear about that isn't already covered on Alexi's Closet; do tell.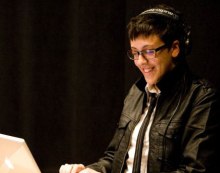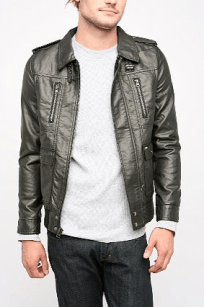 Lightweight Jacket from Obey
by Carlytron
Lightweight jackets are totally in now and great for layering. Windbreakers (I convinced my dad to give me his old black Member's Only jacket from the 80s), synthetic leather jackets (I like this one by Obey from Urban Outfitters and Uniqlo has a ton right now too, all on the cheap), or real leather jackets (if you're into that sorta thing) are the way to go. Go with a style that suits you, be it motorcycle, bomber, etc.

Suspenders from American Apparel (or made by yourself!)
by Intern Hot Laura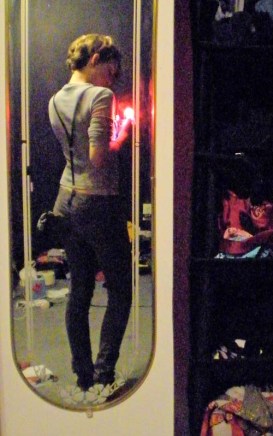 Hello college students. Let's face it, we are poor. But it's alright; we are the world!
My first and most important message to you would be to steal clothes from your roommate. You never know, you might find a pair of shoes that look like they're made from aluminum foil.
For those of you who aren't lucky to have a roommate who a) wears your size b) shares and plays well with others or c) has nice clothes, I have one word for you: suspenders.
Suspenders are great because they are sneaky and little and instantly make any outfit better. They're like a garter belt for your shoulders and everyone knows garter belts are nice. I'm big on adding suspenders to a t-shirt and jeans, but they go well with skirts, button downs, basically anything but leggings. Nothing goes with leggings.
You could sell your arm and pay $16 for a set at American Apparel, but if you've got a little bit of crafty in you, make them! The clips cost about two dollars and elastic is cheap cheap cheap, ma. Don't know how to sew? Anyone can use safety pins. Or, you know, staples, if that's how you roll.

Military Vest/Jacket from Club Monaco (or Arden B.)
by Robin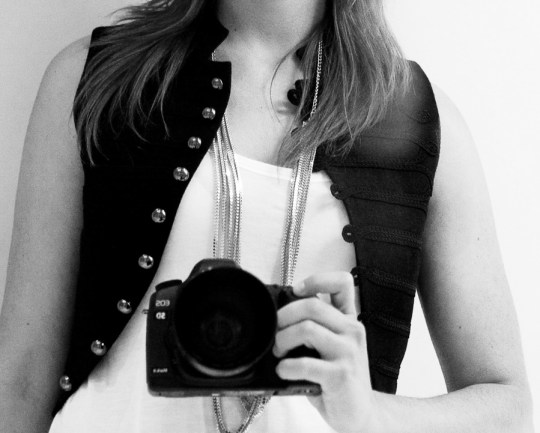 Every year growing up it was always a big deal to buy that "first day of school" outfit. So even now in my late twenties, I get the feeling every fall that it's time to buy some new threads and freshen up my look. I went to Club Monaco and bought this vest and these tight black pants for a fashion week event. My favorite item was of course this amazing vest with sort of old-school military elements. The great thing about this vest is you can wear it in the summer, in the fall, in the winter… you can layer it over a silky long sleeveless shirt (like I did here), a long sleeve shirt, or even the right thin sweater.  It just came out, so go buy it before they sell out.  Its like the cutest thing you'll ever see.  If you don't have $140 to spend on a vest, then check out this one by Arden B. Military vests and jackets are so hot this season!
Knee/Thigh High Boots
I'm a huge fan of shoes. I even have a special shoe gallery in my wedding portfolio on my website. So, that being said, when I do have cash to spend, this is what I would spend it on first. I'm not one of those girls who believes in practical footwear. I love me some heels and some tall boots. The higher the heel, the taller the boot, the better. Although if you are buying thigh high boots, the heel doesn't also have to be really tall. You might wind up looking like Julia Roberts in Pretty Woman which is a bit hooker-esk.  I've been looking for some knee/thigh high boots to buy for this upcoming chilly weather.  What do you think of these boots that I found on Etsy!?
My style accessory of the season? Zippers!  I want a zipper necklace. Also, I saw this amazing short, silky blue dress with a silver zipper up the back. Wore separately, I really enjoy shoes with zippers on the heels.

Black/White Oxfords from Urban Outfitters
by Alex

Oxfords sometimes have the potential of looking a little strange. No? Just me? Perhaps I'm picky about which oxfords I put on my feet, which is why I'm excited I found these Deena & Ozzy Oxfords. Not too bulky or fancy — you know, a little understated, which is nice. They come in either black or white.
Lace-Up Booties from Urban Outfitters
I was gonna tell you about these awesome shoes I got from Urban Outfitters, but now they're sold out! Oh no! I've failed you!
Well, either way, this is what they look like (should Urban Outfitters ever re-stock them.) They really snaz-up your look… even a t-shirt and jeans would suddenly look sharp with these on. (More specifically: straight-leg or skinnier-than-baggy jeans, preferably of a dark/off-jean color. Not gonna lie, these booties have some hipster points.)

Readers from Urban Outfitters
by Katrina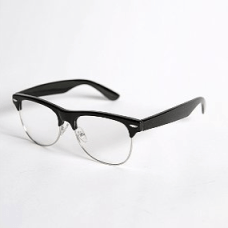 Due to copious amounts of time spent on the Internet (studying, of course) my vision is going, and my healthcare doesn't cover glasses. Luckily, I can still look trendy. Maybe I'm a hipster, maybe I'm a lesbian, maybe I need a pair of huge glasses on my face to feel kinda smart. Whatever the reason, thick-framed black readers have become my accessory this fall. They're just over-the-top enough to make a statement but still low-key enough to make everyone wonder if you really need those glasses.
Usually I like to rock mine with a white T-shirt and flat-brimmed Yankee hat to smarten up a casual outfit just a bit, but other times it's fun to play it super nerdy-chic with a shirt and tie. Apparently it's cool to look smart again, so take advantage of the trend and embrace the hipster-nerd within.

Mirror/Dash Crochet Cut Out Dress
by Intern Megha
In the spirit of fall, I've decided to try something new in terms of style — I bought a dress. While I occasionally don a high-waisted skirt, I normally refuse to wear dresses — partly because I feel like they're a little too girly for me, but also because I just don't like the way they fit my body. But, while at Urban Outfitters with a friend the other day, I spotted this amazing Mirror/Dash dress that managed to fit in with my rock-and-roll style philosophy, look good on me, and incorporate two of my favorite trends for fall — purple and zippers. Score!

The waistband on this dress is at just the right place — not too high so as to attract attention to my chest, but not too low that it makes my legs look short and stumpy. I also love the scoop back. There's something about backs that I find incredibly attractive, and a dress with a low back — or even no back — is a great way to look and feel sexy without showing too much skin. I already own an inordinate amount of purple — everything from my wallet to my favorite cardigan — and luckily for me, it seems to be a big color this fall. And it looks great on pretty much every skin tone. Like Robin, I'm absolutely in love with zippers. They manage to punk up and accent an outfit in a way that totally speaks to my style. The bigger and brassier, the better.
I'm saving this dress to wear for my birthday dinner at the end of October, so I haven't figured out how I want to accessorize yet, but I'd love to hear some suggestions!

NEXT: Jess, Emily, Lily, Tinkerbell …
Pages: 1 2See entire article on one page