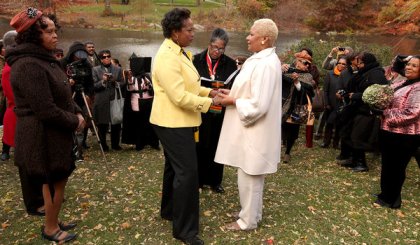 Way back in 2002, the coveted status-conscious universe of The New York Times' Weddings section opened its doors to the homosexuals, even going so far as to rename the section "Weddings/Celebrations" to more clearly include same-sex couples. They acknowledged that although "society remains divided about the legal and religious definition of marriage," that the Styles section considered "same-sex celebrations" a thing "meriting coverage in their own right." The most coveted spot has been, and always will be, "Vows," which devotes an entire story to one couple every week.
You may recall the omnipresence of "Weddings/Celebrations" in the popular television series "Sex and the City," in which Carrie Bradshaw referred to the section as "the straight woman's sports pages." Gawker used to do a very humorous weekly column called "Altarcations" devoted to the analysis and ranking of each week's chosen ones, who seem largely chosen based on how rich they are and what Ivy League  school they attended.
Anyhow, usually the entire section makes me want to take a nap, but when The Times "recommended" that I check out the story of  Gail Marquis and Audrey Smaltz, I most certainly did, because LESBIAN VOWS ARE THE CUTEST THINGS. This week's lesbians are especially special.
Audrey Smaltz was a model when she was young — she's six feet tall! — and was the first black woman allowed to participate in the Miss New York contest. She went on to be a commentator for the Ebony Fashion Fair and is now the founder and chief executive of Ground Crew, a business which provides behind-the-scenes support for fashion shows.
She met Gail Marquis in 1997 at a personal training and development program. Smaltz hadn't ever dated a woman, she'd been married before and been in a 14-year relationship with musician Lionel Hampton, but Marquis was already totally gay.
Gail Marquis was a professional basketball player when she was young — she's 6'2! — and won the silver medal at the 1976 Montreal Olympics, earning her a spot in the New York City Basketball Hall of Fame.
So how did these two tall women get together? Go read it yourself. This is the last line –> "She's my life partner, my lover, my Sweetheart Gentle Giant." RIGHT?!