With the end of the year I wanted to look back at some of my favorite single issues of some of my favorite series. When I started this list, I was trying to make it just my ten favorite single issues of comics from this year, but there were just too many great ones. I've been trying to be less bitter during the holiday season and so I wanted to end the year on a positive note, talking about things I love. All of these series, and especially all of these issues are super wonderful and I'd recommend you check them out.
These are in no particular order (well, parts of it are in alphabetical order, but you know what I mean).
---
This is how you start off a series. The newest offering from Kelly Sue Deconnick brings the woman power and it brings it hard. She takes all the tropes of old exploitation movies about women being locked up and she doesn't just flip them on their heads, she refashions them into tools that she uses to dismantle the patriarchy. And I mean, beyond that, it's just really well written, and makes you love the characters right away. And the art is cool. I can't wait to read more of this comic in the next year.
---
Another great kick-off, this time to a new direction for one of my all-time favorite characters. This is a dang great costume redesign and I love the the way the new creative team of Cameron Stewart, Brenden Fletcher and Babs Tarr is bring Barbara Gordon into the modern era. She really feels like a college-age girl, like a millennial, one of us. This is super fun, super funny, super cool and just super great. The team made a mistake with issue #37, but they quickly recognized it and promised to do better and I have 100% faith that they will. If the rest of the run is as great as issue #35 than it's going to be one of my favorites in a long.
---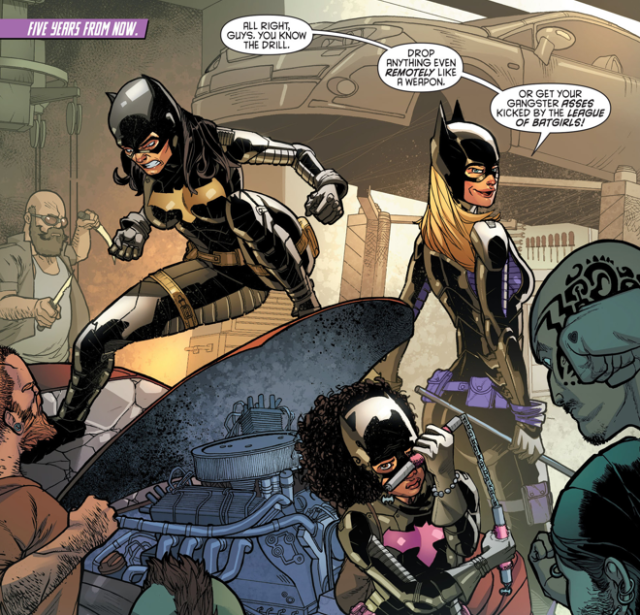 We got to see Alysia Yeoh with her girlfriend (wife?) pregnant. We got to see Barbara Gordon as an awesome Bane protege. We got to see not just Stephanie Brown as Batgirl, but also Cass Cain. We got to see a new Batgirl, in Tiffany Fox. We essentially got the Batgirls comic book that fans had been clamoring for. And it was everything I wanted it to be. This issue just had so many cool ideas and they were executed so well. Gail Simone unfortunately ended her run on Batgirl, but thanks to Future's End, we were able to see one possibility of what it could have looked like if she had kept on writing for years to come.
---

Lumberjanes plus dinosaurs? What more could we ask for? Plus the return of the Bearwoman, some big clues about the future of the series and we got to see the truth about Molly's coonskin cap for the first time. I don't know if I had more fun reading a single issue of any comic than I did reading this one. Seriously, I was laughing, I was smiling, I was hooting and hollering. Each issue of Lumberjanes was absolutely amazing, but the creative team really hit it out of the part with this one.
---
A great ending to one of the best series I've ever read. I was so freaking in love with this series and all the characters in it (and especially Miss America Chavez), and this was definitely a fitting goodbye to them. The people on this team of young superheroes were some of the best written characters I've ever read in comics and it was nice to see them get a neat little wrap-up like this. Plus we got confirmation that the team was at least 86% queer, which is awesome, not even to mention how groundbreaking it is. I'm not gonna lie, when I read this issue I did cry a bit (and by a bit I mean a ton).
---
Oh man, when I read this issue I had to take a break and re-evaluate my life. There's this huge moment that I'm not going to spoil, but I zero percent saw it coming and it was in my mind maybe the most memorable single moment in comics this year. And then this issue has another brilliant moment at the end! This series about gods reincarnated as British teenagers is written and illustrated by Kieron Gillen and Jamie McKelvie, the same people who did Young Avengers and I'm glad I have it in my life to fill in where that series left off. And, as a bonus, we learn that this series has a trans woman of color in it!
---

Dang, Archie Comics are fucking bad ass. This series manages to maintain a ton of the classic Archie feel and characterization but it throws in super nightmarish zombies, end of the world scenarios and gore. Like, this isn't nice, happy, sunny Archie Comics, this is dark as fuck. They kill Jughead in the first issue! And it's such a cool sizzle. If you're looking for a horror comic series, I don't know a better one to recommend than this one. Bonus points, if you stick around to later issues, there are lesbians!
---

8. She-Hulk #7
I'm really sad that this series is coming to an end. It was so gorgeous and wonderfully written and original and seeing She-Hulk do her lawyer stuff and her superhero stuff was so fun and great. At first I was going to pick one of the issues where she does a ton of lawyering, but then I settled on this one. It does have some of her lawyer work, but she also gets to shrink down with Ant-Man and her good friend Patsy Walker (Hellcat) and fight some birds and ants and stuff. Sot it's got everything!
---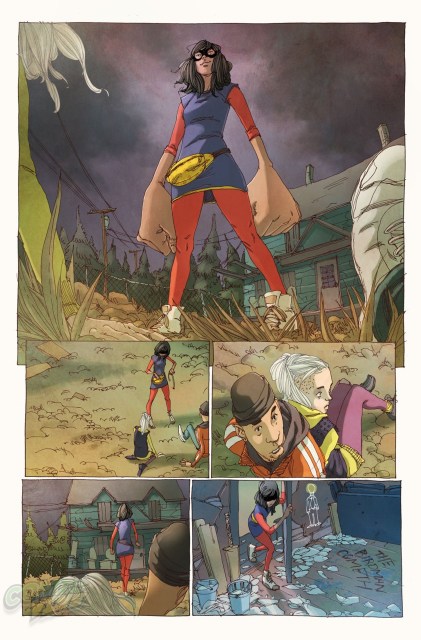 It was hard to pick my favorite issue from this series, but I went with #4 because this is the one where we see Kamala be herself for the first time. In the first three issues she's trying to figure out how her powers work and each time she fights crime, she shapeshifts into the old Ms. Marvel, Carol Danvers, who is white. In this issue, she does it as herself. And that's huge. This is really the first issue where we see a teenage, Pakistani, brown, Muslim girl as Ms. Marvel, and in that way, it's not just an exciting issue, it's a historic moment.
---
10. Hawkeye #20
I could have easily picked Hawkeye #19 where much of the issue is done through sign language, because Clint Barton, the titular Hawkeye, is deaf, because that is a dang brilliant issue. But I have a really soft spot in my heart for Kate Bishop Hawkeye. This is the final issue in her LA Woman trade paperback, and it wraps up her storyline where she moves to LA, tries to separate from her father and deals with Madame Masque and some really weird body-swap-cloning-eternal-youth stuff. This issue really lets Kate shine and be herself completely out loud.
---
Spider-Gwen is probably the coolest alternative universe take on a superhero I've ever seen. In this universe, it was Gwen Stacy, not Peter Parker who got bit by the radioactive spider and became the superhero. But it's not only that, she's also the awesome drummer of a badass punk band called The Mary Janes, she has a super great costume, and she's able to stand up to the police, including her own father. The best thing about this issue is that this standalone issue was so well-received, it'll soon be becoming a full series.
---

As Kelly Sue DeConnick's second appearance on the list, this issue totally sums up what Captain Marvel is all about. Even though the actual Captain doesn't really do much in this issue, the people she inspired back on earth really do. That's what she's all about, inspiring people to do and be their best, and even to do and be better than they thought their best was. As much as I love her outer-space adventures, I'm really glad that we got to see what the Captain's friends back in New York were up to. This is her 100th solo adventure and I feel like it's a perfect love letter to the Carol Corps.
Finally, I'd be remiss if I didn't mention the ever-wonderful Saga. But I only read that in trade paperback form, so I don't think I can pick just one issue. Believe me though, you need to check out this series. I also want to mention issues #26–27 of Bravest Warriors by Kate Leth. This is a really, really great all-ages book, that definitely leans toward younger readers, but there's still a really cute queer lady romance in it. It doesn't show anything explicit, but based on the intended age group, it doesn't need to. Plus, these issues are basically giant robots vs. giant monsters, and who doesn't love that?
So there it is, my favorite issues of the year. I hope all of you check out each of these comics and enjoy them as much as I did.
New Releases (December 31)
S.H.I.E.L.D. #1 (Marvel)
---
Welcome to Drawn to Comics! From diary comics to superheroes, from webcomics to graphic novels – this is where we'll be taking a look at comics by, featuring and for queer ladies. So whether you love to look at detailed personal accounts of other people's lives, explore new and creative worlds, or you just love to see hot ladies in spandex, we've got something for you.
If you have a comic that you'd like to see me review, you can email me at mey [at] autostraddle [dot] com.