It's the most capitalist time of the year! This is obviously very annoying, but for small independently-owned queer-lady-operated businesses, getting into the commercial spirit of the holidays is relatively imperative for our survival. We will, per always, try to make our gift guides as entertaining as possible.
Part of Autostraddle's existence is dependent on affiliate sales, so we encourage anyone who is shopping at Amazon this year — regardless of what you're buying — click out to Amazon by using the black smiley-face in our right sidebar.



So let's jump off the of the holigay shopping season. Did you buy the blazer I told you to get Friday? No? Too scared of the crowds? Well that brings us to today. Cyber Monday: when everyone buys their gifts online so they can just have them delivered to their parent's house gift wrapped without worrying about it anymore. A swirling whirling diso-ball super fun time of online shopping deals. Here at the Autostraddle Hilarious Things Relevant to Your Interests Department we've come up with a couple of gift ideas that are awesome and dirt cheap on this glorious holiday of online thriftiness.
Books
Books are great. I mean, who doesn't love to get a book as a gift. A book tells your girlfriend "I respect your intelligence" and says to your mom, "See, I read, please respect my intelligence." Also it's one of the gifts you can cheaply demo beforehand. Since Amazon, you know, started out as a book site, Cyber Monday promises plenty of deep discounts.
+LEGO Harry Potter Building the Magical World, DK Publishing – $12.36 (44% off)
+1Q84, by Haruki Murakami – $15.29 (50% off)
+Marcel the Shell With Shoes On: Things About Me, by Jenny Slate – $12.26 (35% off)
+Santa Olivia, by Jacqueline Carey – $5.60 (60% off)
Games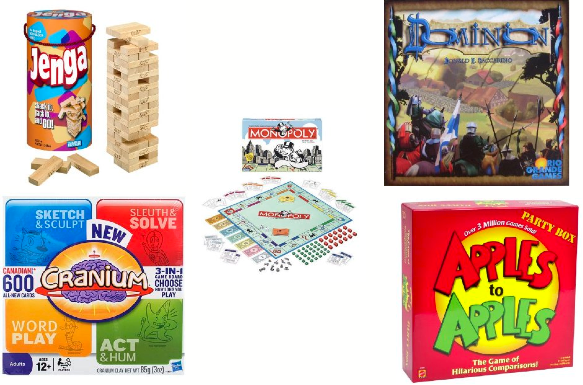 Lets take a break from gift for a second and talk a bit about the next month. You're about to spend the holidays with your family. This could be the quality time you've been waiting for to spend with your parents. On the other hand you could be dreading the holidays as you're forced to spend it with a pack of wild children to play with. Or maybe you're planning a ski weekend with your friends. Regardless, as soon as you run out of DVRed episodes of Jeopardy!, you're going to need some games. Though they're not as discounted as some of the others, I firmly suggest trying Settlers of Catan or Dominion.
+Monopoly – 19.95 (56% off)
+Jenga – $9.89 (42% off)
+Cranium – $16.14 (40% off)
+Settlers of Catan – $33.60 (20% off)
+Dominion – $30.34 (33% off)
+Medieval Chess Set – $23.94 (76% off)
+Scrabble – $11.27 (47% off)
+Apples to Apples – $21.69 (20% off)
American Apparel Stuff

American Apparel Briefs are something you/your girlfriend always needs. Always. Trade Secret: You can get American Apparel Briefs for $9.99 (67% off) on Amazon. They're set up strangely in the store — rather than selecting the item and then choosing color/size, each individual size is its own item. Does that make sense? Anyhow:
+American Apparel Unisex Baby Rib Brief Small-multi-colored
+American Apparel Unisex Baby Rib Brief Medium-multi-colored
+American Apparel Unisex Baby Rib Brief Large-multi-colored
+American Apparel Unisex Baby Rib Brief X-Large-multi-colored
+Also HOODIES – $24.00-$63.98
DVDs
DVDs are one of those items that always feels overpriced. Always. Seriously, DVDs are one of the few items I'll loudly complain about the price of in public. I mean, $30 bucks for a movie you can rent for $4? What the hell, that's highway robbery. But you can't give an On-Demand or bootleg copy of a movie to someone for Chanukah. That's just wrong. The Why Are DVDs So Expensive problem gets obviously magnified when it comes to box sets. But box sets are the best gift ever! If you get one for a friend/girlfriend it's like a gift for both of you! Can you say Glee marathon? Also, if you or someone you love doesn't own The Muppet Christmas Carol then you need to reevaluate your priorities. And this is coming from a Jew.
+Bridesmaids UNRATED: $5.99 (80% off)
+Modern Family: The Complete First Season – $12.99 (74% off)
+Modern Family: The Complete Second Season – $12.99 (74% off)
+The Lord of the Rings: The Motion Picture Trilogy (The Fellowship of the Ring / The Two Towers / The Return of the King Extended Editions + Digital Copy) [Blu-ray] – $49.99 (58% off)
+Harry Potter: The Complete 8-Film Collection – $39.99 (60% off)
+The Muppet Christmas Carol – Kermit's 50th Anniversary Edition – $11.49 (43% off)
+Glee: The Complete First Season – $28.99 (52% off)
+Glee: The Complete Second Season – $27.99 (53% off)
+The L Word: Complete Series Pack – $124.99 (47% off)
Or, you know, just get a giant flat-screen television for 50% off.
Have fun enjoying the Cyber Monday deals! They won't last long and six months from now you don't want to be crying in your bedroom in the dark because that Medieval Chess Set is back up to $100.
And don't forget to visit The Autostraddle Store, where you can get our fantastic one-of-a-kind Calendar for $18 as well as Autostraddle t-shirts, "You Do You" posters, "Is it Sex?" (lesbian sex flowchart) posters, You Do You stickers and Unicorn Plan-It t-shirts!
Happy Shopping!