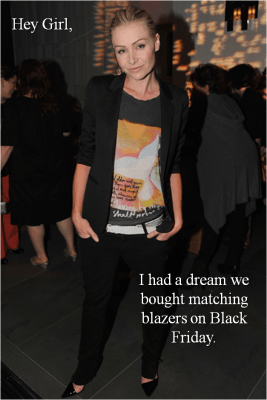 Black Friday is rapidly approaching and every sane person with half a brain-cell knows to stay the hell away from the mall. At least the wimpy ones. But nay, we are the brave, the bold, the shopping! This Black Friday I suggest we all gallantly go out amongst the sobbing mothers and vomiting children and seek our dirt-cheap-deal fortune. This Black Friday, we should all buy ourselves blazers.
Yes, go buy something for yourself. Conventional wisdom says that Black Friday is for getting a jump on gifts, but seriously, November 25th is so early that by the time Chanukah rolls around, your girlfriend will have just gone ahead and bought the damn iPhone 4S herself. Why not use the cheapest shopping day of the year to buy yourself something timeless and awesome. Thus I give you: the top three reasons you should buy yourself a blazer on Black Friday.
1. Blazers are Wicked Expensive
A good wool blazer can and should cost over $100 dollars full price retail. A well made blazer takes a lot of time, effort and craftsmanship to put together and the price reflects that. Unfortunately, this puts blazers solidly in the "things I can never afford" catagory. Additionally, because they're so versatile, blazers rarely go on sale before it's way too hot to wear them. With that in mind, a blazer is a great Black Friday purchase because getting 30-50% off can turn in to saving $30-100 dollars (which is a lot better than saving $7.50 on an iHome).
2. You Have to Try on Blazers in Person
Lots of people have started shying away from Black Friday because they figure they can just buy anything they want on sale at anytime online (or on Cyber Monday because I guess that is a thing).
This doesn't work out so well with blazers (especially in a no-returns situation). Unless you know your size and a specific brand really well, you should absolutely try on a blazer before you buy it. If you tend to dress more feminine or androgynous (or you are very busty), I suggest going for a "boyfriend" or "school boy" cut blazer. These blazers are cut more similar to a men's blazer, while being proportioned for women. Schoolboy blazers look better with jeans, leggings or a dress as opposed to traditional blazers designed to be paired with dress pants. Also they're more comfortable. If you tend to dress more masculine, then you'll probably want the full boxiness of a traditional men's blazer or (if you're teeny tiny) a boy's blazer. I think a blazer looks best when it's the smallest size in which you can comfortably bear hug yourself and raise your arms in the air. Some people will tell you that you should also be able to button the blazer up, but those people are wrong. For a casual blazer don't worry about buttoning it, you probably never will when you wear it. Plus, if you wear over a 34D you're never going to find one that buttons up anyways. (Check out my Fall Fashion Guide for more blazer fit and style tips.)
3. You're About to Enter the No Buy Zone
I swear this is the most valid reason to go buy yourself something on Black Friday. The No Buy Zone is the time period between December 1st and March 15th where no matter how badly you need something, you just can't purchase anything new for yourself without overwhelming guilt. Obviously between December 1st and the solstice you know you're supposed to be buying gifts for other people. From the holidays until the end of January I've got that but-I-just-got-all-those-gifts sense that I don't really need anything new. I mean, what does it matter if my jeans have holes in the crotch, I just got a new iPhone case. This, of course, is compounded by the fact that I'm out of money. Then, I spend the first half of February worrying that I should be saving up for either a Valentines Day gift for my significant other or (in lieu of a significant other) all the accoutrement I might need to actually buy that cat I've been wanting.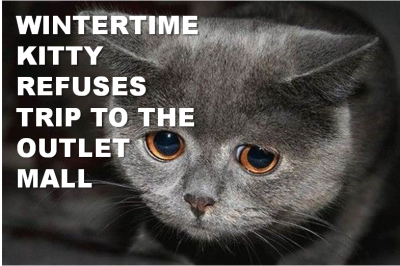 I absolutely refuse to leave the apartment in late February except for skiing (because I live in New England) and, by the time I venture out around the 1st of March, stores are showing stuff for spring which I refuse to buy until the day above 40 degrees. Phew, how did we get all the way to spring? Well, like I said, Black Friday is the last pit-stop before the No Buy Zone. A blazer makes a great choice as your last purchase since it can easily spruce up any old tired look when you're ready to burn all your other clothes. Believe me, you'll thank me when you do get that last minute Valentine's date.
Good luck. Be careful out there. God speed.