Happy Winterholiday creative poor friends! As someone who held a subscription to Martha Stewart Kids well into college, I look forward to December as a time when people won't question my decision to save all my old toilet paper rolls and yogurt containers. It's craft season!
Unfortunately, Emy and I are not the only people who feel this way.

Ugly Christmas crafts aside, we've got  eight projects for those of you who prefer making to buying. Whether you're looking for something for your brother's kids or your best friend, there just might be something here for you.
These Things Take Time
with Laura
The following crafts take some planning and use a variety of supplies, so that's a lot of fun. You'll be left feeling very accomplished and satisfied with your crafty talents. Don't worry though — nothing here is super advanced or time-consuming.
Sock Dogs
If you have a tiny human in your life, chances are they would enjoy a stuff animal. This guy is adorable (if I do say so myself) and highly versatile, meaning you can make her look like whatever kind of dog/kitten/dinosaur you want. We've got pictographical instructions for this first project because sometimes you need to see a sock turning into a dog to believe it.

You Will Need:
+A pair of socks
+Thread
+A needle
+Stuffing
+Buttons
+Felt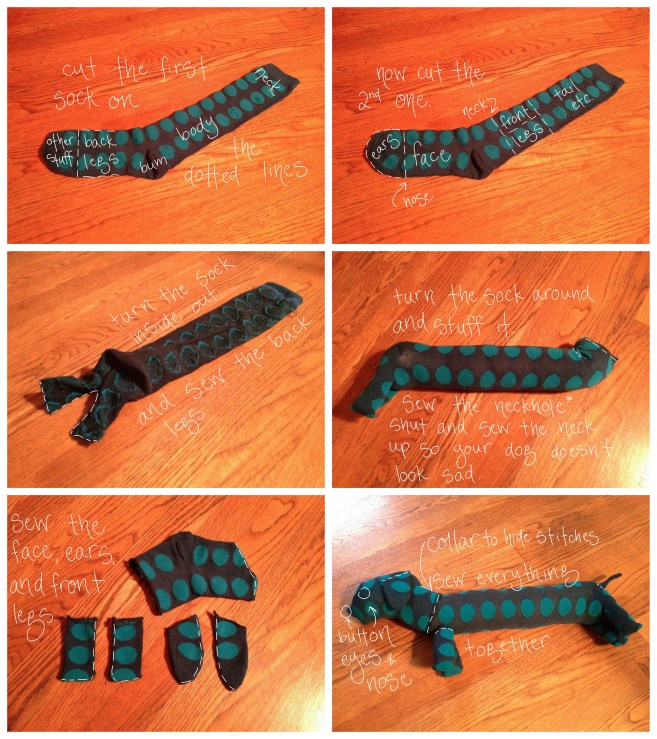 *nipple cupcakes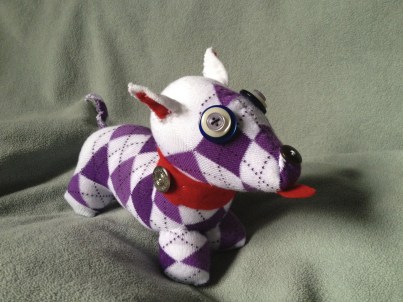 Clever T-Shirts
You're never too old or too rich for a good t-shirt. Even the poweriest power dyke needs something to wear on her days off. Wrapping tip: most shirts fit nicely in oatmeal containers, which can be wrapped with pretty catalogues from Anthropologie.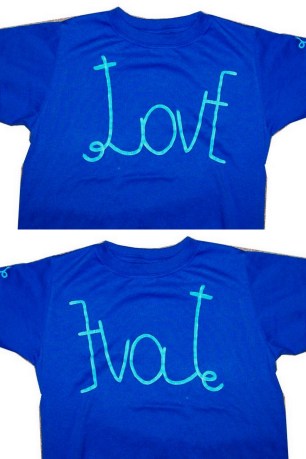 You Will Need:
+A t-shirt
+Newspaper
+A pencil
+Acrylic paint
+A paintbrush
+An iron
+A towel
+Water
First you need to put newspaper inside the shirt so the paint doesn't bleed through the back. Once you've decided on a design, mark it out on the fabric with a pencil, chalk, or white eyeliner before jumping in with paint. Paint everything and let it dry, then steam the design with an iron and wet towel so that it softens from cardboard-esque stiffness to something you'd actually consider wearing.
Paper Dolls
Shopping for fashionable friends can be difficult due to their sartorial acumen. An easy solution to this problem is showing them that you appreciate swanky wardrobe by creating paper versions of their best outfits. If you were blessed with a type B personality, this could be a fun, lighthearted project that takes an hour or two to complete. I would recommend using a photo to make the doll and cutting clothes out of magazines. If you are a perfectionist, you might spent an entire weekend day trying to make your friend's face look like her actual face and then a good part of the next morning drawing the clothes. Not that I did that. Just do whatever floats your boat.
You Will Need:
+Thick paper
+Drawing things
+A pipe cleaner
+Tape/glue
+Scissors
Make the doll (see above for suggested personality-based techniques), cut it out, and tape it to a stand. Tape a pipe cleaner along the back to give the doll a little extra support and glue black paper over it so the pipe cleaner doesn't show through. Now make clothes, remembering to cut tabs around the edges so they can hang on the doll.
Watercolors
This is the perfect present for crafts people from crafts people! They're also entirely edible and non-toxic so that you don't end up receiving your starving artist friend's severed ear in the mail a couple of years down the road.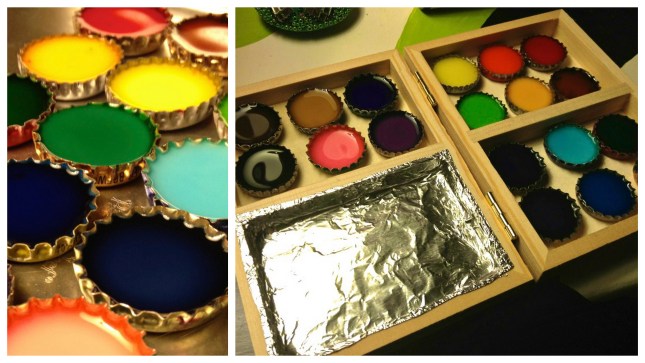 You Will Need:
+4T White vinegar
+4T Baking soda
+4T Corn starch
+2T Corn syrup
+Food coloring
+Bottle Caps
+A box/palette thing
+Aluminum foil
+Glue

Before you start this project, you need to hunt down some bottle caps. If you don't drink enough beer on your own, you can either go to a bar and ask them to save you bottle caps from the night for you or go to a restaurant that's fancy enough to recycle and they will give you a million on the spot. Now onto the science: Combine the vinegar and baking soda and let the mixture sit until it stops bubbling. Add the cornstarch and corn syrup and stir it REALLY well. Spoon a small amount of the base into a bowl and dye it slightly darker than you want since it'll lighten up as it dries. Pour the paint into a bottle cap and lather, rinse, repeat until you have all the colors you want. Wait a day or two for the paints to dry and then glue (preferably hot glue because it's the most fun glue) the bottle caps of paint into whatever thing you've scrounged up. I lined the 4th compartment of my box with foil so that it can be filled with water and used with the paints.
Simple Yet Effective
with Emily
Hi my name is Emily and this gift guide is for someone who has no time to do anything for anyone ever! The following "gifts" can be made with household items and will probably cost you $0 or less but are also kind of awesome! See, I'm a big fan of personalized gifts. When I get someone a gift, I want to get them something I know they're going to like for a long time. Sometimes it's hard to know what people will like, especially if they're only acquaintances. Which is why I recommend the following gift guide for close friends and family, and possibly saving your money for people who won't accept a story in the shape of a pine tree made out of crayons as a suitable present.
A Letter
For my birthday in 8th grade, my best friend at the time wrote me a letter. It was so funny that I still remember some of the jokes to this day. Lesson: laughter is free. Other lessons: letters are also a great way to let someone know how much you care about them, and also a good way of record-keeping. So take a minute to think about your friend/lover/straight girl crush, and tell them this holiday season how much you would love to frolic in the snow with them. Use Laura's watercolors!
A Paper Crane
After you write your letter, you can fold it into a paper crane and hand deliver it. After I read Sadako and the Thousand Paper Cranes, I decided to learn how to make them. There are tons of websites and videos out there where you can learn how to make a paper crane, but I think this is the one I used when learning.
Also I made you a video in 5 minutes as a visual add-on. Both my roommates think this is a stupid idea, but we all know who isn't getting a paper crane for the Christmakkah! Also though, my roommate Cate says that should would appreciate it more if I used nice paper and not an old work schedule, so keep that in mind kids. Use Laura's watercolors!
Write a Children's Story With Crayons
This is something I really want to do, but don't really have time for. I want to cut pieces of paper in the shape of a Christmas tree, color the cover green, and then have a children's story inside. Maybe it can be about gay pine trees or something, you know? I feel like writing a children's story eases some of the pressure to make your writing eloquent and "deep", if you know what I mean. Plus you can draw pictures of stick people and it's okay. Use Laura's watercolors!
Baked Goods
Who doesn't like delicious cookies/cakes/brownies/food? No one, is the answer. Autostaddle has a billion Get Baked recipes you can use, but possibly one of my favorite cookies ever are Laura's homemade oreos. Oh my God, you guys. It's like heaven melting in your mouth.
+
These are just a few ideas that are easy and fun to make. Make them come from the heart! Christmas is apparently all about giving, but sometimes that requires a lot of money. So when you don't have money, be creative. There are tons of artsy craftsy things you can do, or things that cost minimal amounts of money. Cook dinner for your friends! Say the best gift you can give is quality time together. Make this:
I know that these may seem like small gifts, but they can go a long way. Especially if your gift-receiver is like me, and loves long sentimental letters. Now everybody go marvel over how pretty the watercolors are and share your own homemade gift ideas in the comments!