When The Owl House premiered on The Disney Channel back in January 2020, JK Rowling was still a good six months away from beginning her rapid descent into becoming the face of violent transphobia; Florida governor Ron Desantis hadn't even floated the country's first "don't say gay" bill; and, frankly, most LGBTQ+ people were just relieved Donald Trump was out of the White House. We were taking a real breather for the first time in a long time.
That's the real world Luz "the Human" Noceda left behind when she stepped through the portal into the Demon Realm. Over the course of three seasons, Luz got herself an enemies-to-lovers lesbian girlfriend, came out as bisexual, discovered that her pseudo-mom was queer and in love with a nonbinary witch, got herself a queer shape-shifting basilisk sister who fell for a nonbinary human, met her best friend's gay dads, chatted with a genderqueer Titan, redeemed a he/they baddie, studied under her aro/ace adopted aunty, and beamed as her mom became the greatest ally of all-time.
The series ended this weekend, triumphantly and unapologetically queer, just like its creator, Dana Terrace. And it did so as LGBTQ+ youth and trans people of all ages are under cultural and legislative attack in the United States like never before. "Watching and Dreaming" would always have been a triumph — to close out a story with so many beloved characters, and such deep mythology, in a truncated final season mandated by spineless Disney execs is no small task — but doing so in a time of so much violence aimed at gay and trans kids feels like the firm planting of a beacon of hope. Over the past three years, The Owl House has soared, while the U.S. has plummeted even deeper into anti-LGBTQ hysteria.
The plot of the series finale is probably a little too dense for folks who haven't watched the show. Like I said: This lore is enormous! But the emotional beats are really what makes "Watching and Dreaming" one of the best finales of one of the best shows ever made. When Luz arrives on The Boiling Isles in the pilot, she feels so alone and so misunderstood. Immediately she finds a home with Eda the Owl Lady, a practitioner of forbidden wild magic, and her monster son, King, who seems like kind of a dog and kind of a demon with grandiose visions of ruling the world. A cuddly little boss guy who actually happens to know exactly who he is.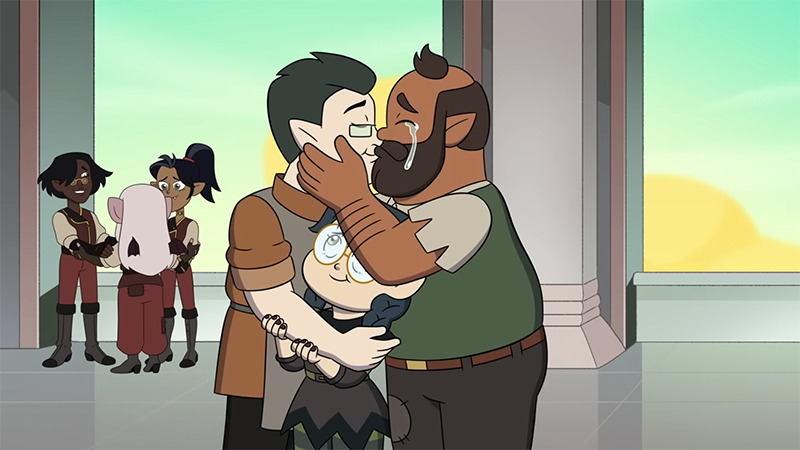 Luz makes outcast friends at the magic school. She accidentally falls for her nemesis, who falls right back at her. It seems like your typical ragtag magical band of pals holding up The Chosen One — Luz's best buddy is even named Willow — but actually The Owl House is about choosing yourself, a theme driven home hard in the final episode. Every character has a moving coming of age arc, most of them punctuated by some kind of trauma, and in the end they win not because they're more powerful, or more clever, or because good always triumphs over evil. No, they win because they just refuse to give up. Beaten, broken, bloody, scarred, devastated, depressed, grief-stricken, surrounded by puritanical baddies and literal puppets. But they're not alone anymore. They fight for each other.
Queerness isn't some peripheral happenstance on The Owl House. It is a formative part of each gay and trans characters' lives. It informs who they love and how they love, and also how they contextualize themselves in the larger world. It also gifts its audience with a vast palette of experiences to paint with. Queerness, like wild magic, goes against the tyrannical leanings of Emperor Belos because queerness, like wild magic, seeps into the cracks of rigid, binary thinking and busts "normal" apart with a song and a smile. Belos can't control Eda because she doesn't want to be normal. She's the leader of the Bad Girl Coven and she wears her differences like a Titan-given cloak of many colors. She is proud to be a weirdo and she's raising kids who are proud to be weirdos too.
Everyone gets a huge individual win in "Watching and Dreaming," as Luz saves the day. And the epilogue is a slice-of-life low-fi hip-hop Hooty beat of unabashed celebration. I cried watching it. I'm crying right now just thinking about it. And before too long, I'm sure the whole thing will be seared onto my heart, forever, like a Flapjack tattoo.