TRAVEL: Although most of the U.S.'s top tourist spots are significantly more gay-friendly than the rest of the country, that's not always typical of other countries. The Frisky's Nikki (The Frisky has a lesbian writer/column now btw, exciting!!) counts down some places where gays should probs fear to tread, like Nepal (which is currently working on changing that image, offering same-sex weddings atop Mount Everest among other things to tap into the huge gay travel market), Jamaica, Egypt and Morocco. (BTW if you're looking for places that you should go, try Trip Out Gay Travel and GirlPorts for reference or a travel company like Sweet)
Not every pick is that obvious though, there were some surprises. We had a lesbo-friend go to Greece and she la-la-la-loved it (as detailed in Girl-on-Greece: The Incredibly True Adventures of a Gay History Nerd in Love with Mount Olympus) and Trip Out calls Mykonos "the epicenter of gay island life," but Nikki says she won't be heading there any time soon, because 'In Greece, police can force gay men to get tested for STDs. The age of consent for gay guys is higher, too—17 instead of 15 for straight couples. Recently, TV networks were fined for showing same-sex kisses. No LGBT peeps can serve in the military and the government has no laws protecting homosexuals from hate speech." Even if that doesn't make for an unfriendly travel experience, you might want to think twice before spending your travel dollars there. But then again, Mount Olympus! You guys, HISTORY!
There's only one suggestion we totally contest — Las Vegas! The Frisky says that "The state is currently under fire for a taxi driver hiring policy that excludes "persons of high-risk groups, including homosexuals, intravenous drug users, prostitutes and others are to be treated with caution."
But do the hiring practices of a taxi driver an unfriendly travel destination make? In our experience; nope. In fact, we're going there tomorrow, srsly. Furthermore, GirlPorts lesbian travel guide loves Las Vegas and Trip Out gives Las Vegas its highest gay-friendly rating, "Gaytastic!" which means it's "very welcoming." Furthermore, "Las Vegas was nominated for a 2009 TripOut Gay Travel Award for "Sexiest Place on Earth" and the "Wynn Las Vegas" resort was nominated for Best Luxury Hotel & Resort … and we think all of you should probs be going to Las Vegas in May because…
SWEET LAS VEGAS: Sweet rolls into Las Vegas this Memorial Day Weekend (May 28-31, 2010) as eco-friendly lesbian travel company Sweet hosts a three-day weekend full of parties, inspiration and community service, all designed especially for lesbians. (@sweet)
WORKPLACE GAY:
Two-thirds of gays & lesbians in Ireland are closeted in the workplace: "Research by the Gay and Lesbian Equality Network has found that there are more than 300,000 lesbian, gay, bisexual and transgender (LGBT) people in Ireland and about 130,000 of these are in the workforce." (@the herald)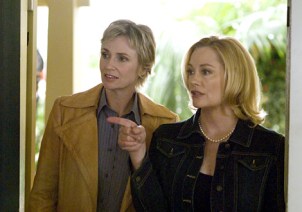 LGBT BABY BOOMERS: A new study shows LGBT "baby boomers" (men & women born between 1946 and 1964) will approach retirement differently than the general population, and most will delay retirement until age 70. Largely single and living alone, they will rely more on close friends than family for support as they age.
The study polled 1,200 LGBT individuals and 1,200 people from the general population. Among its findings:
– 60% of LGBT Boomers fear being unable to care for themselves as they age
– 35% fear becoming dependent on others
– 10% fear discrimination as they age
(@examiner)
MANIFESTA:
Ten years ago, Manifesta became a bible of sorts for a new generation of activist feminists. The 10th Anniversary edition of Manifesta also includes a new preface which gives the authors, (bisexual) Jennifer Baumgardner and Amy Richards, a chance to apologize for mentioning Monica Lewinsky too much, respond to criticism that they are "too white" and "too middle-class," and lay out groundwork for the future of the revolution!
Now almost 40, Jen & Amy's book made them sorta de facto leaders of the leaderless third wave. It's interesting to see what they were trying to do differently with the third wave; such as "encouraging diversity in the movement, including race as a key feminist issue in all of their writings and speeches… and the subtle stuff, like refusing to be on panels without women of color," and avoiding engaging in the "generational antagonism" which "tarnish[ed] the relationship between the second and third wave.. [with] patronizing interventions from the earlier class, [making] young women feel invisible within the movement."
Read more about it at The American Prospect and pick up a 10th Anniversary Edition (which we'll be reviewing on Autostraddle very soon!) .
GAY TEEN IN GEORGIA: This story about a gay high school student who earned nation-wide support for standing up for his right to bring another male student to the prom starts as an uplifting story. However, now Derrick Martin's parents have now kicked him out of the house over the whole thing. (@advocate)
FEMINISM: Happy 30th birthday to The Feminist Review's founding Editor, Mandy Van Deven!
Also; check out this documentary on Feminism on the BBC:
FABULIS: Their name's misspelled, The Awl called them "retrograde," their dancing-gays video missed the mark, and nobody's seen their actual product yet. And judging from the results of a sneaky trick that we pulled during its beta launch, Fabulis.com is going to be a hit. (@queerty)
POLAROID: Call it the Gaga Effect.  Polaroid, the company that popularized instant photography, has struggled in recent years and even announced it would stop making its famous instant film. But starting Thursday, a partner of Polaroid is selling instant film and Polaroid is selling a new image. (@npr)
GAY SAN FRANCISCO: This article takes a look back to the gay 1990s heyday in San Francisco. (@thebolditalic)