Welcome to the first of four fantastic recaps of our entire experience at the First-Ever A-Camp, which took place two hours outside of Los Angeles at Alpine Meadows in Angelus Oaks, California, from April 26th-29th.
The idea was to take the spirit of the website into three glorious dimensions while simultaneously creating an affordable option for queer ladies for whom other lesbian events (such as Dinah Shore) aren't a good fit. So, we rented out a summer camp in its off-season and enjoyed a transformative weekend of fun, friendship, panels, workshops, classes, sports, entertainment, events and so forth.
These epically long monster-posts will do their best to explain and extrapolate upon the camp experience, from shitstorms to emotional revelations to glory/triumph.
Today we are going to be re-capping all of history as well as Thursday, April 26th, which was mostly a shitstorm.
The idea here is that you'll be on the edge of your seat wondering how everybody ended up being so happy by the end of the weekend!
+
AND A DREAM WAS BORN
Riese, CEO/Executive Editor: I may've mentioned this already — but back on some fateful night in July 2010, I woke up at 3am and wrote "CAMP – THIS WILL BE OUR THING" on a notepad I keep by my bed for nocturnal moments of genius. The next day I pitched the idea to Alex, and she agreed (re: its genius) and we've been talking about it ever since, both to each other and to other team members.
Marni, Camp Co-Director: Riese had been talking about camp for months (/years) and we'd had lots of excited conversations about it, and at some point I turned to her and said, "You know I used to run a summer camp, right? I can do this." And she said "Okay. So do it."
Riese: I was in New York in October 2011 for a panel and that's when I pitched the idea to Robin, Carly, Jess & Stef. Everybody agreed it was the Best Idea Ever, especially Robin, because Robin loves camp. Although they'd never met, I knew right away that Robin and Marni would make an amazing team to lead this kind of thing.
Marni: And we were off.
Riese: We'd been waiting until we had the resources and following to put together a week-long camp event, but it became increasingly clear going into the fall of 2011 that we'd never have those resources, so in December I emailed everybody and said "let's just try it for a weekend in California," and everybody said YES LET'S DO IT.
The Lead-Up

Riese: I made a spreadsheet and Marni called a shit-ton of campsites and ultimately we picked Alpine Meadows 'cause it wasn't affiliated with any religions that hate gay people, didn't utilize life-scarring communal showers, was Vegan/Vegetarian-friendly, was reasonably priced and had VIP cabins for people like Julie Goldman who is "a Jew first, butch second."
Further fascinating developments included: booking plane tickets for our entire staff, freaking out about the possibility of nobody wanting to come. But then we built it, and announced it, and everybody wanted to come. We filled all the spots in two days and had an enormous waiting list. It was one of the best feelings EVER.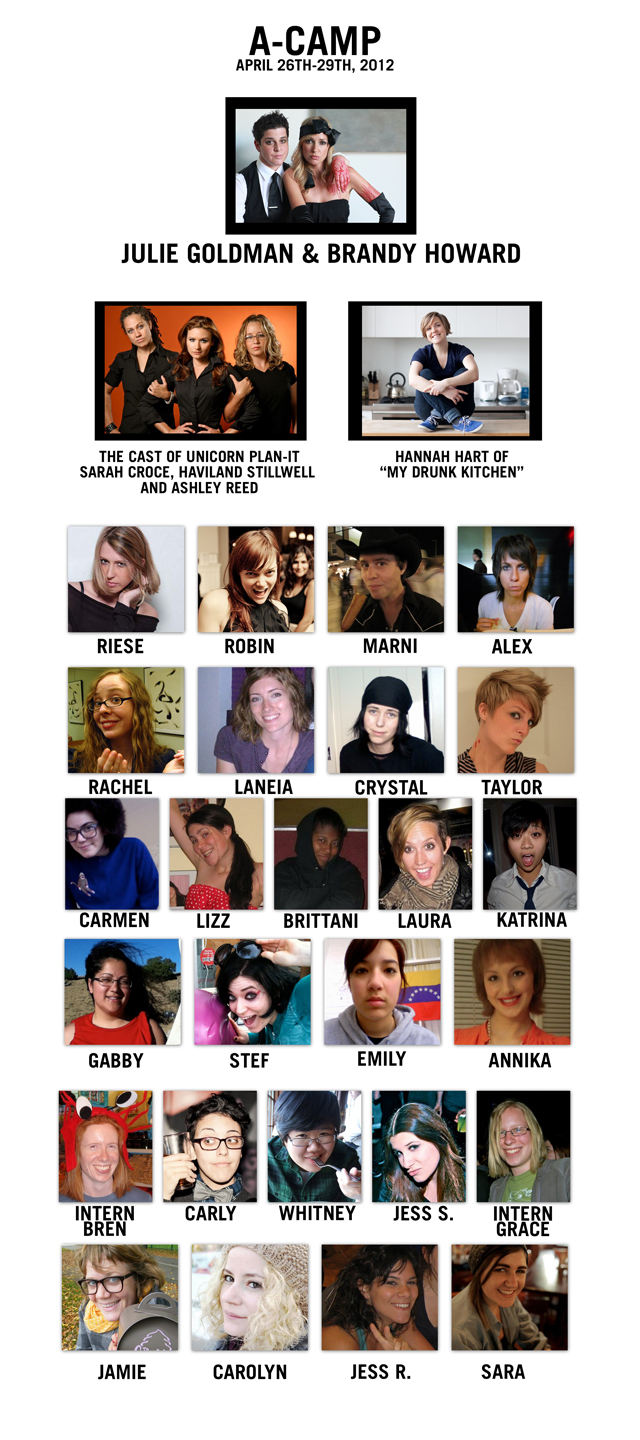 Marni: I've never organized a camp via email before — in the past I've been on-site, with staff, planning things and training all together. This was a group of 35 women all over the world, with school and jobs and schedules to work around. Robin and I would have weekly phone calls where we'd plan out emails and spreadsheets and deadlines. There were lots and lots of emails.
At one point I was sitting in front of my little laptop struggling with this spreadsheet, trying to juggle workshops and make the schedule more balanced, and I just said fuck it, I need to touch this with my hands. So Riese and I biked to Walgreen's and I bought colored cue cards and painter's tape and I converted my entire bedroom wall into a giant schedule. I haven't taken it down yet.
Riese: I was handling all of the financial, registration-related and logistical elements of getting staff and campers to camp, including constructing cabin groups by a highly specific socially-engineered process that involved asking everybody to rank their affinity for AS and to certain personality adjectives like "socially anxious" and "outgoing." I used Marni's leftover cards and my entire floor to make this happen — the final cabins were named Forever 21, The Golden Girls, The Troubletones (original name: "Trouble"), Cherry Bomb, Rubyfruit, Little Rascals, The Sharks, The Beats, Littlefoot, Wolfpack and Hotel California. I can't tell you how I organized them, it's top secret.
Robin, Camp Co-Director/Photographer: January to April is my slowest season as a photographer, so I just kept reaching out to them and offering to help with whatever needed to be done. I worked mainly on the schedule and keeping in touch with instructors and counselors and Hannah.
I'm much more comfortable having things organized and structured really far in advance, so it was hard for me to allow certain parts of A-Camp organizing to come about in an organic way, but Marni is a really wonderfully calming presence.
Marni: We were so nervous as the date approached. I started waking up at 5am every morning with unfocused anxiety, like "how are we going to organize the icebreakers???" I didn't realize at first but Riese was doing the exact same thing. The sun wouldn't even be up yet and we'd both be lying there staring at the ceiling. It was nervousness but at the root of it was excitement.
Riese: Per ushe, I underestimated the amount of work involved — at some point there was a situation which required buying out the campsite for the weekend to avoid sharing it with 50 Pastors who apparently wanted to "retreat" that very same weekend. Also I had a mental breakdown, but that's to be expected.
+
Getting Our Shit Together
Marni: I got the idea for the pigeonholes based on a smaller-scale version we'd had for just staff at my old camp, but wasn't sure how I was going to realize it. I went to this place in Oakland called the "East Bay Depot for Creative Reuse" and for 10 dollars I got 200 toilet paper rolls and a dozen or so cardboard things that I thought could maybe work and I spent the next two days sitting on the floor of Riese's bedroom painstakingly tracing the tubes and cutting circles out of each piece of cardboard, and scraping off the bits of toilet paper left on the rolls. Riese was totally grossed out and I think was a bit unconvinced that this was the most worthwhile use of my time. (It definitely was.)
Robin: Our original document for camp was named after our first working title "Camp Fear," which was named because of an email thread in which we discussed scary nighttime camp games. The document is still named "Camp Fear" and it makes me smile whenever I open Google docs. I would still like to plan a Stratego/Capture the Flag game for the next session, loosely based on the Hunger Games. Very loosely based.
Laneia, Executive Editor: I was put in charge of gathering workshop supplies, probably because I would be driving in from Phoenix and would have room for everything, but I like to think that Robin also knew how much I love making lists and buying sharpies. I cleared out my Trapper Keeper and set to work printing out spreadsheets and organizing shopping lists. I was sending emails asking "Can you clarify 'assorted beads' please?" and "What are your feelings on craft lace?" What I'm saying is, a childhood spent organizing office supplies swiped from my mom, cataloging doll accessories and coordinating elaborate sleepover clubs had finally, finally paid off.
Riese: I created a labyrinth driving schedule for airport transport that involved renting six 15-passenger vans from Executive Van Rental and having various counselors drive them 2.5 hours to the site. However, this plan quickly escalated into a Situation, and here's why:
"Merging is something that I'm generally very scared of." – Katrina
"I lost my driver's license and debit card three weeks ago." – Taylor
"I'm a New Yorker who doesn't drive so… I am NOT useful behind the wheel of a car." – Jamie
"I feel like now is a relevant time to tell you that I can't drive." – Grace
"I do not know how to drive." -Carolyn
"Also did I mention that I have no driver's license?" – Carmen
"I'd better not drive. I'd probably end up driving on the wrong side of the road." -Crystal
"Even on a good day I probably wouldn't have the attention span to safely drive a 15 passenger van to a place I've never been." – Lizz
Therefore, I also had to book some Roadrunner Shuttles (they come with drivers!) to compensate. Soo, I'd given up on enticing any New Yorkers to drive when, much to my surprise, Gabby and Stef volunteered — with great enthusiasm! — to drive. Basically, I had a fantasy that I could make airport transportation both totally affordable and totally reliable. That turns out to be impossible. I forgot about this:
Gabby, Cherry Bomb Counselor/Writer: Working tv/film production I've driven a hot mess menagerie of vehicles: 15 pass vans, cube trucks, sprinter vans, sprinter-hybrid-cargo vans, Escalades, Smart Cars, golf carts etc. If it has wheels, I can pretty much handle that and I've got stamina for days (rim shot, please). I can drive forever on highways, side roads and sometimes even sidewalks. So at first I was super surprised that Riese didn't have me on the camper pick-up schedule. I really wanted to drive and contribute and get right in there and meet some of you. Thankfully, Lizz asked if someone could switch with her. Enter: Gabby is driving a van now, yay!
+
Tuesday, April 24th 
Riese: I jam-packed our tiny rental car to the absolute brim and drove down from San Francisco alone, where I spent the entire trip talking to myself, imagining that I was talking to campers on the first night. Then I listed to "We are Young" (the Glee cast version) on repeat for an hour and started crying about my dream coming true and how much I loved everybody and was so excited, and then I talked to myself some more about that.
Robin: Marni, Riese, Taylor, Carly and I stayed in a hotel room together on Tuesday night. We were all anxious and nervous, but extremely excited for the new experience. At one point, I looked around the room to see Riese and Carly on their laptops, Marni organizing her folders of notes, maps, and schedules and Taylor taking photographs, and it reminded me of what it felt like to be present at those very early Autostraddle meetings many years ago.
+
Wednesday, April 25th
I. Nobody Said It Was Easy / No One Ever Said It Would Be So Hard
Riese: Alright, SO. It's about 1 PM on Wednesday and we're waiting for Rachel/Emily/Stef/Crystal/Carolyn to arrive from being in the air.
We were moments away from departure — and the girls are arriving — when we got  a super-unexpected call from the good (read: terrible) people at Roadrunner Shuttles, who were thrilled (read: totally unphased) to inform us that there was "a computer glitch" and our shuttles (3 for Thursday, 1 for Sunday — although I'd planned on booking three for Sunday, I just hadn't decided the times yet) would cost $140 more, EACH. They already cost between $250-$350 dollars each, so this was a serious issue.
Me: So what you're saying is your business made a mistake, and now my business has to pay for your mistake?
"Karen": Or I could cancel the reservations, ma'am.
Me: But I have no choice! I'm literally hours away from losing internet access and I have 116 women I've gotta move from the airport to a campsite 2.5 hours away in 24 hours! What I want is to have shuttles at the price I reserved them for, that's what I want.
"Karen": We can't do that, ma'am.
Me: ARGHHH!!!
Robin called to yell at them some more and Karen made up three different stories to avoid putting her on the line with a supervisor who did/didn't exist and was/wasn't in a meeting. We ended up canceling half the shuttles we'd booked, and reserving more vans for Autostraddle drivers to compensate.
Then I frantically attempted to devise a new plan for Thursday during the time I'd set aside to organize Sunday (this quickly became evident on Sunday.) Amid this stress I LEFT TINKERBELL IN THE HOTEL ROOM!
Then we made the drive to camp. It was a really beautiful day.
Laneia: By the time we left for California, I was 85% certain that I'd thought of everything we'd all ever need forever — even the stuff that wasn't on the lists! I was wrong, of course, but the back of Megan's SUV definitely looked like I'd succeeded. We stopped at the Cabazon Dinosaurs and I hyperventilated a lot.
+
II. Preparing For You
Riese: The drive up the mountain to camp is alternately like a nature movie and a horror movie. Within a few minutes of our arrival, Laneia & Megan showed up, as did Alex.
Alex, Autostraddle Co-Founder/Design Director: We spent Wednesday night putting together the gift bags and finishing the pigeon hole mail boxes. This night was awesome because I got to reunite with my fellow staff members/writers, many I haven't seen in more than a year and many I hadn't even met yet. The night was exhausting but the anticipation was high… finally Camp was happening.
Riese: I was so excited and nervous about everything, like my gut was tied up in star-shaped knots.
Stef, Wolfpack Counselor: Meeting up with everyone from Auto staff was surreal and beautiful; some were friends I'd known and adored for years, while others were people who had previously existed (to me, at least) only as avatars. I was familiar with everyone in one sense or another and it was really exciting for us to all be in the same room.
Laneia: Riese, Rachel and I wrote little notes for each camper while everyone else did the hard work. We talked about how it felt like a tv reunion special, with people from the original cast and the new kids. I kept looking up at the other girls and getting super overwhelmed with everything. At one point Robin said, "Can you believe this?! It's like, who signed off on this idea? Who gave us permission to do this?"
Emily, Sharks Counselor: I had been awake for about 20 hours after two hours of sleep and two plane rides. We had our first staff meeting at around midnight and the excitement was still palpable, even though we were all exhausted. I was really tired and my eyeballs fell out.
Laneia: Riese had us quiz her with the campers' names because she'd accidentally memorized them all, which is impressive but not necessarily surprising, if you know Riese.
Riese: Most importantly, Marni got in touch with somebody at the hotel who said they had Tinkerbell and we could get her tomorrow!


NEXT: We actually talk about camp actually happening, almost!
Pages: 1 2 3See entire article on one page