JENNIFER BEALS:
The Hollywood Reporter reports that Jennifer Beals has a brand-new gig as the female lead opposite Jason Clarke (Brotherhood) in "Ride-Along," Shawn Ryan's new drama pilot for Fox produced by Ryan's Midd Kidd Productions, which also produced Beals' recent TV show Lie to Me.
"Ride-Along" centers on Jerek, a rogue cowboy cop (Jason Clarke), and Teresa, Chicago's first female police chief (Jennifer Beals), who "vows to clean up the streets" after "170 years of municipal graft and corruption." As it currently stands (pilots always change a lot during production), the story begins six months into her new job as police chief, the deadline she and her former partner (Jarek) set for when they'd finish "settling in" and start "making some overdue changes."
Jarek is described as "a local legend and outsized character with a wicked sense of humor who struggles to clean up the town's violence and corruption." He has an ex-wife and a girlfriend, though, so hopefully he won't be stealing Bette from Tina.
Teresa: Basically Jennifer Beals is gonna be like Olivia Benson meets CJ Cregg meets The Police Woman of Broward County meets Bette Porter. (That last element is entirely our own projections/inability to move on.) We predict she will be carrying a gun, wearing tight pants, yelling at people, making snide "f*ck you I mean business" remarks when men can't see past her pretty face, having lots of bromance moments with her partner Jarek, giving speeches to politicians and probably sweating a lot. We approve of all of these things. Teresa has 17 years on the job and is known for "hitting the streets with her men," rather than sitting at her desk like the last guy, but obvs there'll be some characters uncomfortable with a woman in power. Not us, BRING IT ON.
The show is currently casting for extras in Chicago, beginning filming at the end of next week. Co-stars include Billy Lush.
Coincidentally, fellow L-alum Sarah Shahi is also taking the lead in a new pilot, this one in USA's "Kate," which "centers on Kate Reed (Shahi), a top litigator who, frustrated with the bureaucracy and injustice she witnesses in legal system, decides to become the ultimate anti-lawyer: a mediator."
ANYONE BUT ME:
Speaking of wanting more lesbians on the teevee, Anyone But Me is a finalist for the Streamys' Audience Choice Awards for Best Writing (Susan Miller & Tina Cesa Ward), Best Directing (Tina Cesa Ward) and Best Actress in a Drama Series (Rachael Hip-Flores). You can vote for the show once a day until April 11. VOTE OR DIE, KIDS! Just vote. Do it, then come back. You back? Okay.

We have a surprise for you now, it's episode 206 of Anyone But Me with special guest star Liza Weil, reminding me of my therapist again:
BITCH SLAP:
Dorothy Snarker saw Bitch Slap, and she says it was very, very good/bad:
Billed as an homage to the B-movie exploitation flicks of yore, it's less of a movie and more of an excuse for sexy, ridiculous and violent things to happen on screen – preferably all at once. Depending on how wedded you are to cohesive narratives, you will find this totally unacceptable or completely awesome.
ROSIE O'DONNELL: Rosie's new show will hit the airwaves in 2011. Honestly I would like her to just go back to The View and hit Elisabeth Hasselbeck in the face.
According to ET:
Calling the format of her new show, "laughter and love in the afternoon," O'Donnell said that the program will be "a single topic, hour-long show about life, love and laughter." She said there will be "no desk" and "no celebs promoting movies," but that there "may be a few giveaways."
"It's gonna be a lot different because I'm a lot older, you know. It'll be a dozen years since leaving my own show when we go back on the air, and I've grown a lot and I think that it's time," O'Donnell said.
"Rosie O'Donnell's forthcoming talk show will be squarely positioned as a suitable replacement for Oprah Winfrey, her producers said on Monday, adding a new twist in an effort by local stations to revamp their lineups in a post-Winfrey era."
"This is a once-in-25-years opportunity," he said. "There is this gaping hole starting in September of 2011 when Oprah goes away. Who better to fill it than Rosie?"
PHOTOGRAPHY:
Wanna see a bunch of cute, real gay girls lookin' cute and super '90s? Vice Magazine has got that shit: Real Girlfriends: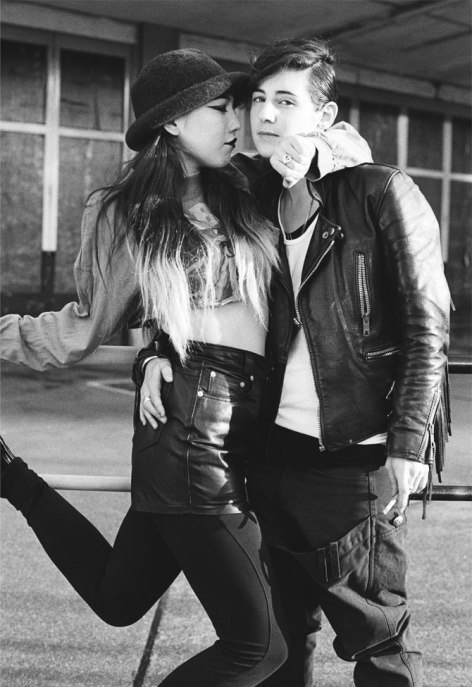 TILA TEQUILA:
I know we've said it before, but now we really mean it, 'cause Tila has crossed the line for sure this time: "Tila Tequila, in her neverending quest for fame, fortune, or whatever, has sent a message to Lady Gaga on Twitter, stating that she would like to work with her on a song. Tila tweeted, "@ladygaga hey whore!!!!!! U know what's epic? Do a song with me, you sing while I eat your vag and spit some hard lyrics for ya! LADY TILA!"
ADAM LAMBERT:
Adam Lambert is in the UK, where he looks hot, and we want to have sex with him, just like we did when he was in Australia and in America and really everywhere he's ever been ever:


Adam has announced that his next single will be "If I Had You" and has just done an interview with the Scottish Daily Record that you can watch right now:
SCREAM 4:
Is a go. Wes Craven will direct, Kevin Williamson will write and Neve Campbell, David Arquette and Courtney Cox will reprise their roles, along with a new group of youngsters. Get ready for April 15, 2011.
GLEE:
Fox is releasing a few short videos to hype the return of Glee in a few weeks, and we just la-la-love this latest gem. Sue's Corner is back, and this time, Sue Sylvester takes on the "sneaky gays" who just aren't flamboyant enough anymore.