Ladies and… ladies of Autostraddle, it's time for a confession: on the last day of SXSW, I didn't go to any shows.  I have a laundry list of excuses. Here's some of the ones I feel like sharing:
1. Despite the previous day's gorgeous summer breeze, it was freezing cold and very windy on Saturday. I hadn't packed for less-than-perfect weather, and all the big shows that day took place at outdoor venues.
2. All the daytime gigs I wanted to see had lines down the street and around the block by the time I got there.
3. I had access to a cute girl with a car who wanted to take me to see The Runaways movie.
This is not to say I abandoned my responsibilities to you.  For every hour I spent in Austin, I had a full schedule loaded with at least three options for every hour, and determined which shows I actually would attend with mathematical precision.  I had spent many hours researching and whittling down this schedule, and thus I am ready now to present to you all the bands I would have seen, had I been physically and mentally prepared to do so.
Presenting: The Top 10 Bands I Totally Wanted To See But Missed.  Now with cartoons!
+
10. Miss Li: for fans of dancing alone in your bedroom and singing into a hairbrush.
+
When I first saw Miss Li listed on the SXSW calendar, I assumed this was a strangely formal way of telling me that Lykke Li would be back this year.  Although they are both young Swedish singers with rather sweet singing voices, I was incorrect.  Miss Li (real name Linda Carlsson) is a particularly adorable new singer whose music is a mix of jazz, cabaret, blues and sweet indie rock'n'roll – a fresh sound made up of many well-known genres. You probably know who she is because her song "Bourgeois Shangri-La" was used in an iPod Nano commercial. I know who she is because I'm a sucker for Swedish pop singers. Check out this insanely cute video for "Dancing the Whole Way Home" if you don't believe me:
+
9. Neon Indian/Neon Trees: for fans of chirpy synthesizers, previous fans of bands called Gold/Deer/Black/Crystal/Bear anything
+
It's so hard when a bunch of hype bands have really similar names, and I can never remember which one of these is the band I actually like. Upon further inspection, it turns out Neon Indian are the guys with the electro-psychedelic songs called things like "Should Have Taken Acid With You" and "Terminally Chill," so take that for what it's worth. Neon Trees are a catchy-if-a-little-generic pop band who've opened for the Killers and have cute hair.  Both of these bands have male lead singers and female musicians, which is a plus.
Don't make this mistake:
8. Cruel Black Dove: for fans of Depeche Mode, PJ Harvey
+
I have a feeling Cruel Black Dove are really tired of people telling them they sound like an electronic PJ Harvey side project, but they really do – and it's fantastic.  I also have a soft spot for this Brooklyn band because they appear to have been named after the tracklisting to Tori Amos' album From The Choirgirl Hotel.  Check out this video for "Love Song."
+
7. Oh No Ono: for fans of experimental Scandinavian weirdos
+
This is the kind of music that can only be made in Scandinavia – the NME said that this Danish band sound like "Devo sticking their fingers in a powersocket… at a helium balloon factory… on the moon."
I leave that one to your imagination, dear readers.
6. Jenny Owen Youngs: for fans of Regina Spektor, girls with guitars
+
Autostraddle favourite Jenny Owen Youngs is taking off in a major way. After her song "Fuck Was I" was featured on the TV show Weeds, her 2005 record Batten the Hatches was re-released. Since then, it's been steadily gaining attention. Owen Youngs is currently touring in support of her upcoming album Transmitter Failure, and also rocking pretty cute bangs.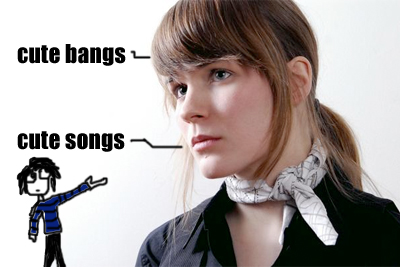 5. Yula Beeri: for fans of Amanda Palmer, World/Inferno Friendship Society, angry chicks with pianos
+
You know how your friends all know this person who's supposed to be really talented, and they're always telling you how great she is, so you kinda don't pay attention? And then one day you see them, and you can't believe how much time you wasted not owning this person's records?  I've been hearing about Yula Beeri's music for a couple of years, but after I finally caught one of her gigs a few months ago I made (and obviously broke) a vow to witness her show at the Flamingo Cantina.  Yula is an Israeli-born but New York-based multi-instrumentalist who's played with the World/Inferno Friendship Society, Star Fucking Hipsters and Nanuchka. Her own music is mainly piano-driven, eclectic and dark.  Remember this name, cos I guarantee you'll hear about this girl again.
+
4. Serena-Maneesh: for fans of My Bloody Valentine, Stereolab, A Place to Bury Strangers
+
Serena-Maneesh are a Norwegian shoegaze band who live behind a wall of huge, dirty guitars and thick distortion.  Their music is at times a delicate composition of beautiful melodies, and at other times it can be a solid barrage of pure noise.  Their new record is titled simply SM-2: Abyss in B Minor.  Wear earplugs.
3. Shilpa Ray and Her Happy Hookers: for fans of Heartless Bastards, Lissy Trullie, being upset
+
When a bio describes you as "a vulgar Ella Fitzgerald, channeling Nick Cave and PJ Harvey," you've got a lot to live up to. Shilpa Ray's blues-tinged harmonium rock is powerful, heart-wrenching, and best experienced live.  Observe this video for "Beating St. Louis," my favourite:
+
2. GWAR: for fans of things that are awesome
+
Because I'm sorry, GWAR are awesome. I've seen them tons of times, and although I couldn't sing one of their songs for you, I can describe each concert's individual stage show in great detail. GWAR are a band comprised of space aliens! Nobody goes to see them for the music – you go to see popular politicians and celebrities get decapitated in increasingly ridiculous and graphic ways. If you don't leave covered in fake blood and a host of other unsavoury bodily fluids, you weren't really there.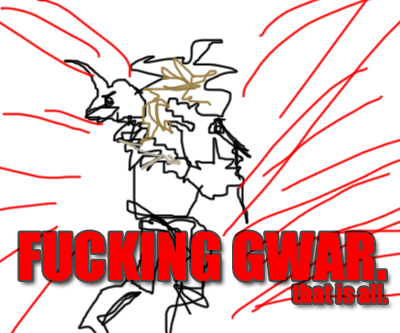 1. Scissor Sisters: for the homosexuals
+
As the gayest band in all the land, New York City's own Scissor Sisters have been pretty quiet (save for a few secret gigs as "Debbie's Hairy" and "Queef Latina") as they work on the follow-up to their 2007 album Ta-Dah! The new music they premiered at their Saturday night gig at Stubb's seems to be the same dirty, glittery disco we've come to expect. Can't wait to have them back as a regular part of our lives: