And we are back… to dating, that is. Something that's somehow just as uncomfortable, hilarious, awkward and baffling as it was when I left it six months ago for a brief vacation I like to call "recovering from the PTSD I got from my last ex."
Breaking up with my last ex was similar to walking into a sliding glass door repeatedly while carrying hot coals in my mouth and trying to whistle. I don't know where that metaphor just came from but it feels about right.
The point is: you all can relate to getting out of a relationship so mind-numbingly shitty that you're now reacting to any remnant of an affectionate feeling towards another person like it's automatic gunfire.
Most people don't really mean it when they say they're gonna take a "time out" from dating. What they really mean is, "I'm gonna pretend I'm not looking. I still am, but I don't want anyone to know, or notice that I'm flailing around making bad (mostly drinking-related) decisions. I just hope I'll somehow manage to go home with someone fairly decent who I'll end up dating and they might just be the one."
To be fair, I admit I decided to take my "break" while dating three people — my second set of three since my last break-up. At the time I thought three was the magic number for dating. My unerring belief was that by triangulating your (love) sources, you'd make it impossible to become too fixated on just one of them. It was a great way to "get out there" while also "keeping everyone at arm's length."
Shocker: THAT DOESN'T WORK.
You can still make terrible decisions and fixate on people regardless of if you're dating 10 or 2 of 'em, like for example if you're dating a person who is living at home, has a child and is going through a divorce. I'm a love sadist, I think. Not that I loved this person. I want to be clear on that because they might read this and that would be awkward because we are still gchat friends. FUCKING G-CHAT.
After that little misadventure I realized it was time to bench myself. I was no longer fit to be in the game because I just kept throwing up air balls. Frankly, I was worried not only that I'd damage myself further but also possibly also those around me, so I sat myself out for three months.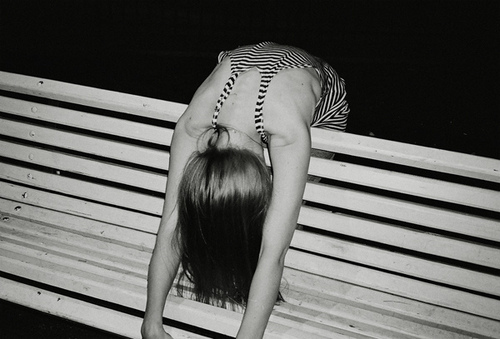 90 days of not dating turned into 120 no-dating days which ended rather spectacularly around New Year's Eve when I decided I'd come out real strong — by dating someone who worked for me!
Clearly there were some flaws in this plan from the start, but I thought to myself… how bad could it be? Pretty bad, I realized, when you're dating someone who always thinks they're right and wakes up at 4 am to run the entire length of Manhattan because they're JUST HAVING SO MANY GOOD IDEAS.
Getting past the second date with anyone seems impossible. I'm still not shooting 3 for 3, but I think I've emerged from the winter of my dating discontent with a few good rules, which are probably more like guidelines since I'm genetically incapable of following rules. So here they are…in all their fucked up glory.
+
Sarah's Four New "Rules" For Dating
(a companion piece to Sarah's Original Guide to Properly Courting a Lesbian)
+
Bring your A game. Because you are grade A (even if they are grade C but you don't know that yet because it's a first date)
Wear something flattering… this seems obvious, but you'd be surprised what people try to get away with these days! But you know how you have outfits and then you have OUTFITS aka your starters. Wear your starters unless it would be totally situationally inappropriate.
Here's why — you need to put out what you want back. If you want to be taken seriously and treated as someone who respects themselves then put yourself together in a manner that indicates that. Though it may seem like self preservation to protect your ego in sweatpants lest you get rejected in your Starters, it's important to wear something that says "yes I look good, yes I know how to dress myself, and yes you should probably pay because obviously I am in HIGH DEMAND OVER HERE."
+
The Only Rules Are Your Rules
Don't have sex until the sixth date! Don't revel too much about yourself! Don't be too direct! Don't come on too strong! Don't call until the fourth date…
I hate those rules. These rules aren't those kinds of rules. But sometimes when you're out there grasping for guidance, you'll catch yourself almost following them like some kind of social pact someone signed up for without telling you.
Here's the thing, make your own rules. You decide when you call someone, when you sleep with someone and how much of yourself you want to share with the person you are dating. If you're self aware and comfortable in your own skin, this will work better than any guide to dating. I'm sure your mother has already told you this, but you don't want to be with someone who's forcing you into acting a certain way around them. We already spend a significant portion of our lives doing things we don't want to do and behaving in ways that we are "supposed" to at school and at work etc.
Dating should be different. Make it different.
+
Don't lose sight of the most important thing…yourself
Dating tends to pull you away from and outside of yourself, and that's a one-way road to compounded self-loathing and an overall sense of wasting time. Maybe instead of working on that screenplay you spend the evening obsessing about why she didn't call, or you start watching all her soccer games instead of going to the gym for yourself.
Don't give up all that ground you gained when you were single. Hold on to that little space that you carved out for yourself to do the things that make you happy and be with the people you love. It's what makes you interesting and probably part of what attracted that other person to you in the first place. It's also what you are going to be left with if this doesn't work out.
+
There will always be another ONE
We all want to meet THE ONE. Well most of us do anyways and it's easy to get caught up in thinking that the person you recently started dating and really like could be THE ONE. Sometimes if you immediately click with someone or your eyes meet intensely across a crowded room, it's easy to project a lot of romantic ideals onto a person before you actually get to know them. Love at first sight sure sounds neat, but it's not the golden ticket. When you've just started dating someone it's always probable that for a combination of reasons – some related to you, some them and some just fucking environmental– this isn't going to work out.
When you're early into it and already feels like it's not working out, JUST LET GO. The harder you hold onto something that's bad for you and/or not a good fit because you've got some idea that this person is IT, the more it will hurt. If 1,000 things seem perfect but you're fighting all the time, news flash: THAT'S NOT THE ONE.
Don't worry, there will be another one. I know it doesn't seem like there is, but there is! The younger you are and the smaller your world, the harder this is to see — but I promise you there's hundreds of people in this world who, if you let them into your life, will fascinate you, intrigue you and maybe even love you. Choosing someone day after day is a conscious decision, not something destined by the gods because there's nobody else out there you could ever ever like.
If you think someone's the one and they don't think you're the one then — surprise! THEY'RE NOT THE ONE. Why? Because "the one" would feel the same way about you as you do them. YOU YOURSELF should be a shared interest, like Tegan & Sara or spaghetti.
If I know myself, there is going to be a part two to this with some more rules. Or guidelines. Or disasters. Whatever. Because this is how it goes. You date, you try and sometimes it works out and sometimes it doesn't. And when it doesn't you cry about it, you laugh about it and maybe even watch some Mob Wives to distract yourself.
Happy dating!