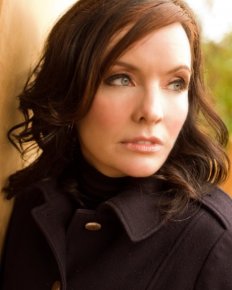 Guinevere Turner is probs most widely recognized to teenaged and twentysomething lesbians as Gabby Deveaux, Alice's perpetually cheating, bitchy ex-girlfriend on The L Word. However, to understand her place in the lesbian pop culture landscape we have to go back all the way to the 1994 independent film that kicked off her career and busted open closet doors for lesbians everywhere: Go Fish.
Back in the early 90s lesbian movie-ville was still pretty barren and the existing films basically told the same story: girl realizes she's different/lez, girl kisses girl, girl usually ends up killing herself. Anyhow! Frustrated with the lack of lesbian movies that depicted groups of friends like theirs, Guin and then-girlfriend Rose Troche wrote and produced Go Fish, a black & white movie with a $15,000 budget which surprisingly made its way to the capital of the indie film marketplace: The Sundance Film Festival. Go Fish eventually grossed over $2 million and changed their lives forever: while at Sundance in '94, Guin met another first time filmmaker who'd just made it with his own little black & white movie about a bunch of guys talking – Kevin Smith (Clerks). The two bonded over their shared experience and their friendship inspired Chasing Amy, born out of Smith's producer's fantasy of dating Guin.
Turner went on to write and produce several short films which made the gay & lesbian film-fest rounds. She also co-wrote (and appeared in) the mainstream hit American Psycho starring Christian Bale and based on the novel by Brett Easton Ellis and her long-time passion project, The Notorious Bettie Page, starring Gretchen Mol.
When Rose Troche was recruited by Ilene Chaiken to direct the pilot of The L Word, Rose got Guin in on the ground floor where she not only wrote several episodes (including the season 1 fan favorite Dinah Shore episode) but also portrayed the much talked about Gabby Deveaux.
Guin talks to Jess about her lasting legacy on The L Word, her episode ideas rejected by Showtime, the current direction of gay media, the upcoming Real L Word reality show, how she feels about Go Fish two decades later and much more.
Jess: You were one of the first well-known out lesbians making gay entertainment back in the 90s with Go Fish, etc. Since 2007 there's been a big boom in lesbian entertainment, defined by the video blog revolution and the "celesbians" that came out of that. Do you feel part of that community?
Guin: No, not really. I know them all through various events but it's not my world really. My world is pretty much non-lesbian movie-making and all of the filmmakers I've known forever. In my personal life I have a whole part of my life in which my sexuality is irrelevant/not even known. I'm a writer of mainstream stuff so I kind of have a double personality. What's more important in that world is what my take is on an adaptation on a novel, you know? And, my creative community is more in the indie film world.  At the same time I have made 4 short films in LA and it's been mostly lesbian crews and other lesbian filmmakers helping me out because I've helped them out… so, I do have a lesbian community here, it's just not those guys.
"I'm NOT going to be on the fucking reality show when I was on the actual L Word!"
Jess: We have to talk about The Real L Word produced by Ilene Chaiken for Showtime. Are you horrified at the prospect?
Guin: The funny thing is, of course I happen to know someone who is on it. Whitney [the one with the dreads] is the roommate of my friend Alyssa who is also a make-up artist.  She'll probably wind up on the show a lot too.  So, of course they were having parties and saying "come over, come over!" but honestly… I'm NOT going to be on the fucking reality show when I was on the actual L Word!  Hell to the no! In the immortal words of Whitney Houston!  But, I do think it'll be interesting. I celebrate the wonderful society in which the lesbians get a reality TV show. I'm not against the L Word reality show, I'm against reality TV. I'll probably watch it when the first episode comes out, throw something at the TV and move on. But really, it's progress. If you said 10 years ago that there would be a reality show about lesbians on TV we all would've been like "no way!! That's so cool!"
Jess: You came back for the 6th season premiere, which was pretty cool of you considering you were replaced after two seasons by Elizabeth Ziff. Was it weird for you that they kept mentioning your character's name [Gabby Deveaux] throughout the entire run of the show, long after you had left?
Guin: You know, I didn't realize that they kept mentioning Gabby Deveaux after I left because I stopped watching the show. I stopped watching just because, imagine you work with these characters for two years and then it starts going in directions that you wouldn't have taken them… it became frustrating to me. So, I didn't watch the show after I left. But, late in the game a friend of mine would tell me that they kept bringing me up and I think that's awesome! When someone told me that I said, "wow, that shows no ill-will from Ilene Chaiken" but then they said, "no, every time your character comes up it's like your character has done something fucked up or some sexually fucked up thing!" [laughing] I think it's awesome…. It was so much fun to play Gabby Deveaux because up until that point [early in season 1] the show didn't really have a villain. I had some great lines written by Angela Robinson and got play this complete nightmare woman and just be an asshole and that was really fun! I would expect nothing less. I love that they kept the character alive. It means that I did it well enough for it to be memorable. It doesn't make me mad…however I can be on TV, even conceptually!
.
Jess: So, you missed the major things that happened in the show, like Dana dying?
Guin: Well, I knew what was happening because people would come up to me like "I can't believe Dana died!" and I knew people who worked on the show, so I was aware of the big things but I didn't actually see them. When they asked me to come back for that little scene I did in season 6 I just went back and looked at a bunch of YouTube clips of Papi so I'd have an idea of what I was doing with Janina Gavankar. We actually had such a hilarious time doing that scene that Janina and I are now friends which is a great byproduct of having done that part.
Jess: Since you were there in the show's infancy are you able to reflect at all on the whole trajectory the series took, especially with Jenny's death at the end?
Guin: Well, I never would have killed Dana just because Erin Daniels is so fantastic and she's a great character to watch – but whatever. All I have to say is that… in defense of whenever it may seem the show gets a little crazy and seems to go a little too far is that it is really, really hard to sustain 6 seasons of a TV show without killing characters! How much can happen? Everybody can have sex with everyone else, everybody can move in with everyone, you can introduce new characters… Even half way through the first season we were like "oh my god, Bette and Tina are so boring" that we had to make an episode about how boring they were. Happy people who are just living their lives do not make for good TV. So, while it sounds to me like the show went off on a crazy tangent, I don't know how difficult it might have been to sustain for 6 seasons without the ole "jumping the shark" as they say.
Jess: What storyline did you influence the most during your years there?
Guin: I think the biggest contribution that my presence had on the show was The Chart. I had been drawing those charts since college, when it wasn't even all lesbians – it was just everyone was having sex with each other – and I was just like "you don't need to bother having sex with this person. Let me just draw you a diagram of why you've already had sex with that person." I'd been doing that since I was in the sexually active community. Even when I was living in Chicago and did Go Fish with all those women, I had a BIG chart on my refrigerator which people would get SO MAD about… they'd be like "can you take that down?!" and I'd just be like "it's the truth!" That was when I was a big AIDS activist and I know the risk of spreading AIDS is different for lesbians than gay men, but I was just like, "look at this" with regard to STDs and who knows what could happen. What if we could all get pregnant?! It'd be a nightmare! All the accidental pregnancies and fucking gaybies there would be everywhere. [laughing]
So, in the very beginning I was sitting with Angela Robinson and was joking around saying we could probably connect ourselves on the chart with like 3 people. It just blew up wildly and all the writers were adding names and then Ilene started looking at it. So, we initially thought we could really use this as an opening sequence and we got all into it. So, I think that's my lasting L Word legacy that's the most concrete.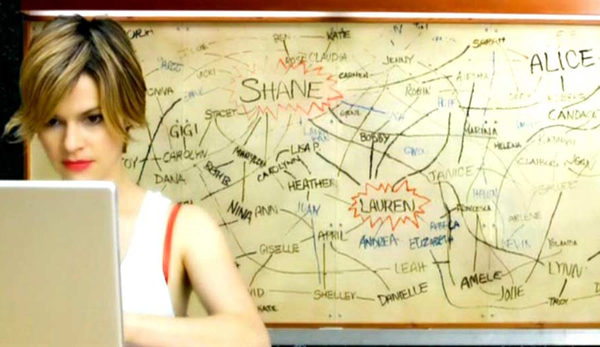 Jess: What did you pitch that never made it onto the show?
Guin: Yea, there's a ton of things! Ilene really liked an idea I had which was to have an episode where all the characters would wake up and have penises for a day. Ilene really liked it but Showtime was like "it's too weird." I wanted to have weird, stand alone episodes like The X-Files would do sometimes, just get a little bit goofy. Another idea I really wanted to do, which was also really weird, was…. You know how CNN has the ticker at the bottom showing you everything else that's going on? I wanted to do an episode where the bottom of the screen would have a crawl telling you what the other characters were up to.
Jess: Why didn't they do that? That would've been really creative!
Guin: I don't know… maybe once again why I am an independent filmmaker and not a big TV executive [laughing] … they all say "um, that's just weird." [laughing] I'm working on another project where I'll get to use that idea. It's never wasted.  Those are the two ideas that I got really excited about and were shot down and I'd be like, "ugh, I wish this were my show!" That's the hard thing about working in TV. If it's not your show, you know that you're there to put out ideas whether they are touched or not.  I actually went on to make a short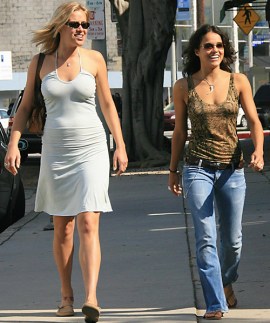 film called Hung where a bunch of lesbians had penises for a day.
Jess: You wrote the script for the movie Bloodrayne starring Michelle Rodriguez and Kristanna Loken. Was it hilarious for you that they wound up dating?
Guin: Yea! When I was writing the movie it had an underwater fight scene and I was hoping they could get two hot girls to do this. There was no way to make that movie lesbian but I had to do something. The fact that it ended up being the two of them was really awesome. They shot it in Romania and I almost went to visit just to hang out with them. [laughing] I was just stoked that they were both really hot and they both have an essence of badass-ness. Look, the movie is ridiculous and my script was butchered and didn't make any sense but, at least the girls are fucking kickass.
Jess: Do you still feel that Go Fish is a good movie? Would you change anything if you could do it over again?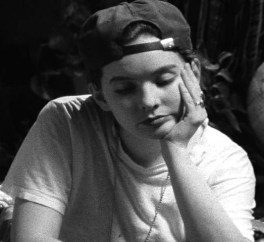 Guin: I sat down around a year ago with Rose [Troche] and watched it with her and… I wouldn't change anything because… the thing about the movie is, we're SO sincere. It comes from such a real, kind of innocent place that I will never be able to get back to so I wouldn't want to change anything, except I wouldn't have worn that fucking baseball hat. Do you know there's not one scene in the movie where I'm not wearing that hat?! [laughing]  To be honest, the reason I'm wearing the hat the entire movie is because we'd film after work from my day job and I'd come home in my Jones New York suit and needed to get into a totally different mode to play Max and the hat really helped me get into that persona. But it's like, alright already with the friggin hat! Other than that, no I wouldn't change anything.  It's a scrappy little movie but it has so much heart. Sure, we just talk on and on and on, but that's who I was back then. It's a very clear representation of how I felt about the world, especially as it relates to lesbians at that moment.
Jess: What do you think of the current direction of gay media?
Guin: The current direction of media in general is really exciting, almost wild-west like with all the self produced content like webisodes, and youtube, all the viral video content.  It means that money isn't as important to getting stuff out there and other people's approval isn't that important. For lesbians, for good or for bad we really live in a post-L Word era and that completely changed the outside (non lesbian) world's perspective of what can be made and who will watch it. For the most part I cannot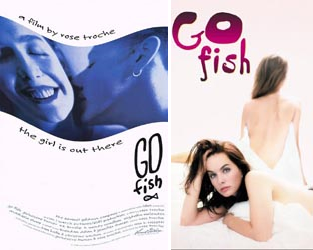 complain, I think it's really good. I really thought that the minute the L Word stopped there would be another big lesbian show on TV and that's not the case, but in a way I wouldn't want another L Word. Now we need a show that has lesbian characters but isn't about being a lesbian. The case is that probably no one with the big idea has gotten to the right place yet with it.  In general I think it's all very exciting and I think that the next 5 years is going to be a game changer in terms of what is a lesbian movie or a lesbian TV show. It really feels like we're going to get mainstream in a way that sounds really boring but is actually really good for gay teens and gay people in general.
Jess: I remember you once said that queer culture is supposed to be on the fringe and that you didn't want it to become mainstream. It seems like you've changed your mind on that?
Guin: A lot of that has to do with Prop 8. I realized that there's two perspectives to come from: the perspective of artists and then the perspective of the gay person living in the world. Although, while those two things can intersect, the reality is that the amount of hate….. I realized that I live in a bubble, basically. I used to think "queers should be on the fringe!" but there's so much political work to be done and gay and lesbian media is a big part of that. We still have to create these positive images and convince one hateful person at a time that gay people are just like everybody else, good and bad. The whole Prop 8 thing was a real eye opener. To have election night be so amazing and then also so sad. At that moment I was like "ok, my goal is to make the most mainstream, very likeable romantic comedy that's lesbian." I mean, I want it to be a large budget, advertised just the way an Ashton Kutcher/Kristen Bell movie is. That's my goal because seriously, that's political.
Jess: Have you started writing that movie?
Guin: Yea, I started writing something and I'm also attached to direct a really mainstream romantic comedy that's not lesbian. It's a pretty classic story – boy meets girl – and it's about a chick video game developer in a guy's world. The script is great – it's not just a boring formulaic romantic comedy. It's really fresh with great dialogue – it was written by a first time screenwriter who currently writes for E-Online. I'm super excited because it's being produced by Lynda Obst and she's like the rom-com queen. She produced Sleepless in Seattle and How to Lose a Guy in 10 Days and she's such a champion of women in film, she writes for the Atlantic Monthly and she's just kind of the dream person to have producing your movie if it's your first time doing a mainstream romantic comedy. That's part of my game plan – get this movie made, prove that I can do big, mainstream stuff and then be like, "this is next. Now that I've proven myself, this is what I wanna do." In the dream world you have all these famous actresses dying to get their street cred by playing lesbians in a big movie.
Jess: Anything else coming up aside from the directorial feature?
Guin: The feature film script I wrote, Breaking the Girl is finally supposed to start filming this fall with Jamie Babbit directing [But I'm A Cheerleader and director of every TV show ever]. I'm really happy with the script and I'm excited to work with Jamie again. It's kind of a really fun thriller about sexuality and manipulation. It's a total guilty pleasure movie, like Wild Things or Showgirls – trashy, big and over-the-top with tons of drama.