Laneia's Team Pick:
When I was younger and quite a bit more excited about acting out the role of Real Adult, I would put together elaborate dinners using complicated new recipes full of ingredients my mother had likely never used. I felt very accomplished and like I was becoming the perfect housewife (hi, I used to be a housewife married to a man, nbd).
Then! I came out, got a divorce and ran in the other direction of domesticity, which is The Land of Pasta and Sandwiches. You've probably seen it just before the small town of Make Your Own F*cking Dinner. Meals involving more than a few ingredients were reserved for holidays and three-day weekends. I even started eating animals again because I was too lazy to make tofu interesting.
It took some time — and a really fun Saturn return! — to get back into cooking. I'm still an impressive balance of busy and lazy, so recipes that are quick to prepare and don't require a special trip TJ's are apt to get repetitive. And then last week I found The Vegan Stoner and today I'm making this Corn Salad Sandwich! And I'm really, really excited that the only new thing I had to buy was veganaise!

I know we've covered a lot of vegan things on Autostraddle, but have you ever in your whole life seen a more adorably illustrated recipe? I don't think so. The Vegan Stoner is run by designers Sarah Conrique and Graham I. Haynes and will soon be turned into a cookbook, which I will promptly purchase. From the About page:
The Vegan Stoner was created under the premise that vegan cooking can be made without extensive ingredient lists and involved recipes, that recipes are only templates and the creativity starts in the kitchen.
Some of the recipes, like the Three Can Salad, have purists ringing their hands over the integrity of using canned, processed ingredients. Observe: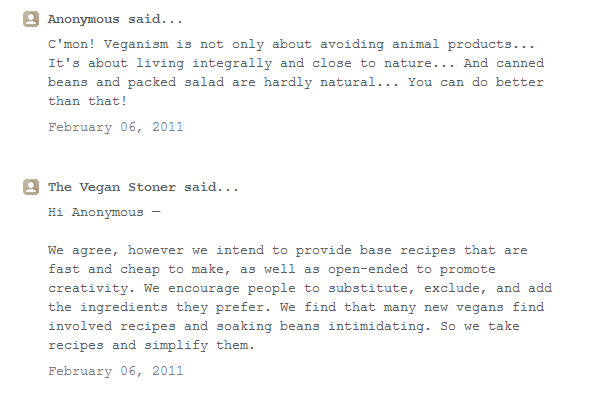 I really like that answer.
Thumbnail image via The Vegan Stoner (Mango Quinoa Salad)