In interviews about The L Word reboot, Ilene Chaiken often mentions her assumption, at TLW's conclusion in 2009, that the initiative she'd begun would be taken up by future showrunners and networks — that we'd enter a bold new era of lesbian-centric programming. Gay cable channels Logo and Here! had recently launched and we were full of hope. Chaiken was, as you probably have gathered, incorrect. But – there have been some shows that symbolically picked up the torch to varying degrees and that's what we're here to talk about today. The headline references the "Cast Full of Gays" trope, which is a much easier list to make (e.g., Queer as Folk, Looking, Noah's Arc, Dante's Cove, etc.) because of the patriarchy.
The criteria for this list were as follows: the program was produced and broadcast by an actual television or streaming network (rather than picked up later by one) and is not a "webseries," it aims for realism, the lead(s) are queer and its focus is one or more lesbian, bisexual or queer women and her/their romantic, sexual and social lives. This does not include very queer shows that are primarily about supernatural situations (e.g., Lost Girl, Wynonna Earp, Sense8) or prison life (e.g., Orange is the New Black, Bad Girls, Wentworth) or the law (e.g., How to Get Away With Murder, Janet King), but shows that are about people and their relationships first and foremost. This usually means they fall into "prime-time soap" category. However, having a lesbian or bisexual lead and being realistic isn't enough (e.g., Everything Sucks!, Gypsy, Broad City), the queer element has to be the show's focus and the show's essential hook without which the show would have no argument for its own existence. I didn't include The Fosters because the kids' stories are given equal importance / screen time to the lesbian Moms as opposed to the more clearly defined side-plot status of the straights on the other shows in this list. Even Ellen wouldn't count because she was ostensibly straight for the first many seasons. These are shows that put lesbian and bisexual women and their social and romantic relationships with other queer women first.
Ratings System: Percentage based on score out of 30 
10 points: 1 point for every 10% of the show that is focused on queer stories
10 points: The presence of lesbian/bisexual friends, with the highest score going to shows that portray queer social groups / social life
10 points: % of lead characters who are lesbian/bisexual
---
The L Word, Showtime, 2004 – 2009 (95%)
Watch: On Netflix or Amazon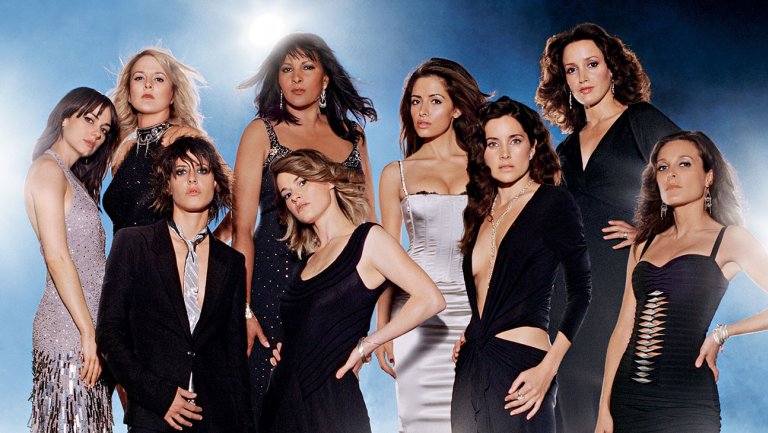 Leads: Jennifer Schecter (lesbian), Shane McCutcheon (lesbian), Tina Kennard (bisexual), Kit Porter (straight), Alice Pieszecki (bisexual), Bette Porter (lesbian)
As Shirley Bassey sings in a remix played during that scene in Season Two when Alice and Dana "debut" as a couple at The Planet, "where do I begin?" The answer is: right here, with The L Word. This is where we begin.
---
Watch: Season One on DVD, Seasons 2 & 3 are streaming on Amazon Prime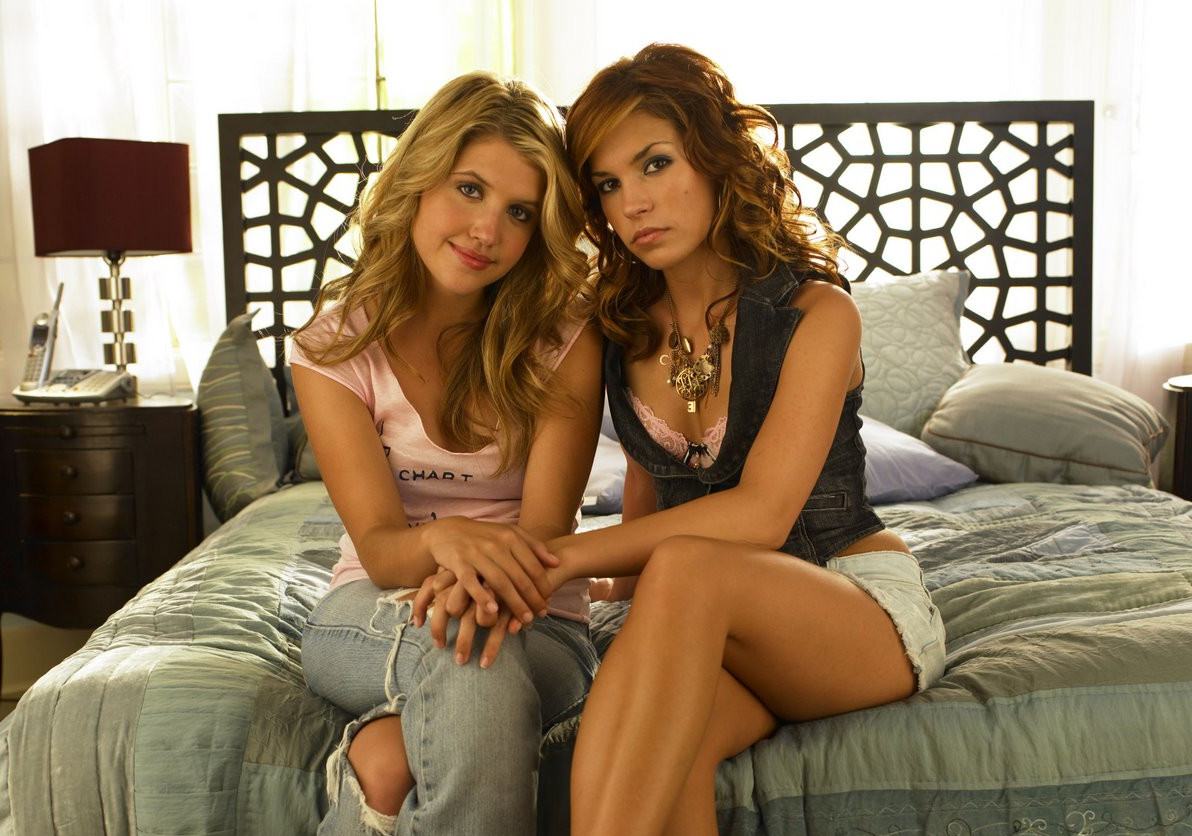 Leads: Spencer Carlin (lesbian) & Ashley Davies (bisexual)
Secondary Leads: Spencer's brother Glen and her parents (all heterosexual), Ashley and Spencer's friend Aiden (heterosexual).
For a moment, when both South of Nowhere and The L Word existed at the same time on the same planet, it seemed a tide was turning and our stories had suddenly become viable television products. LOL. But so many owe their lesbian awakenings to this tender teen drama about Spencer, who moves to Los Angeles from the midwest with her family, gets a new best friend Ashley, and gradually discovers that she likes girls (including Ashley, who also likes girls). It was the first series on The N to address the topic with its primary characters, was reviewed favorably, and nominated for a GLAAD Media Award all three seasons. It started out so strong, giving us one of the first-ever femme teen couples on U.S. television, then created a very unpleasant Ashley/Aiden/Spencer love triangle and then spent entirely too much time trying to make us care about the straight characters before getting cancelled. NOBODY CARES ABOUT GLEN. Fans fought hard for a webseries following up the original program though, and got it, and the lead actresses remain regular fixtures at cons and in lesbian webseries.
---
Sugar Rush, Channel 4 (UK), 2005 – 2006 (60%)
Watch: On DVD or YouTube
Leads: Kim (lesbian) and Sugar (bisexual).
Secondary Leads: Kim's parents, Nathan and Stella. (Heterosexual)
"It says something about the state of diversity in UK television that, currently, the best programme about lesbian relationships is a series from 2005," wrote Radio Times in 2017, celebrating the release of Channel 4's Pride Collection, further noting the "near-absence of lesbian shows in the Pride Collection" that indicated "a larger deficiency in the UK television industry."
The series follows 15-year old Kim as she fights her burning crush on her new BFF, super bad girl Sugar, and struggles with her dysfunctional family — Mom's shagging the carpenter while her Dad's oblivious and heart-breakingly kind, and her brother literally believes he's from another planet. But the focus is on Kim's sexuality, her love for and friendship with Sugar and, later, her actual lesbian girlfriend Saint. It's based on a YA novel you shouldn't buy because the author is a terrible person. After two seasons the program was cancelled for mysterious reasons — a channel spokeswoman said the story of the girls had run its course, rumors suggested it was being removed to make room for Big Brother 8, and producers said the cancellation was "a last minute thing" and they were saddened to learn of it.
---
Curl Girls (Reality), Logo, 2007 (100%)
Watch: Online at Logo through local cable provider
Curl Girls was the first lesbian reality show on a major television channel, was part of Logo's initial effort to actually provide lesbian representation as well as the same for gay men on their brand new cable channel. Logo described the cast like this: "Vanessa, who'll go topless for her love of shock value; Melissa and Jessica, the on again-off again, steamy couple; Michele and Erin, the surfing pros of the group; and sexy new-girl Gingi." They competed for a trip to Hawaii, which "strained their friendship" but apparently was not enough drama to earn the show a second season.
---
Exes and Ohs, Logo, 2007 – 2011 (100%)
Watch: On Amazon Prime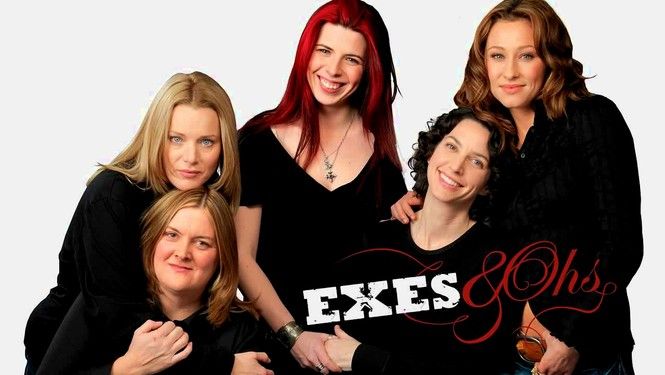 Leads: Jennifer (lesbian), Sam (lesbian), Kris (lesbian), Chris (lesbian).
This American/Canadian TV series, created by and starring lesbian comedian Michelle Paradise, focused on the dating life of Jennifer, a documentary filmmaker and her friends — Sam (Marnie Alton), the femme Shane of the group, animal-obsessed couple Chris (Megan Cavanagh) and Kris (Angela Featherstone) and musician Crutch (Heather Matarazzo). Based on Paradise's short film The Ten Rules: A Lesbian Survival Guide, Exes and Ohs had the general vibe of a mediocre '90s lesbian movie. Still, many found it charming and endearing in its own way. Plus, it's basically the only sitcom about a group of lesbian friends to ever exist AND as far as I know, the cast was mostly or entirely queer women, too.
---
Gimme Sugar (Reality), Logo, 2008 – 2009 (100%)
Watch: On Logo's website through your local cable provider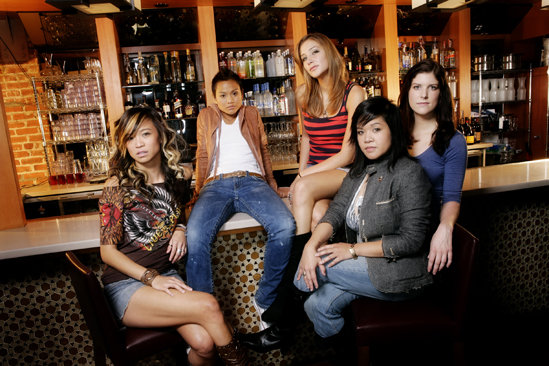 Gimme Sugar was Logo's other reality offering for women, featuring a group of five lesbian and bisexual friends who put on Truck Stop, a hot party hosted at The Abbey in Los Angeles that I used to like a lot. Logo described it like this: "Five hot young friends on the L.A. lesbian club scene bite off more than they can chew when they try to launch and promote their own club night. If they succeed, they'll be the youngest female promoters in LA. The girls will fight, fall in love, break apart, and come back together as they struggle to make their dream come true in this hot new reality series." Season Two split the team between Miami and LA, a move that never really justified itself.  We made fun of this show and acted like it was ridiculous until we tried to throw our own party and all of us were petty in emails and then sloppy-drunk fighting with each other at the bar the night of and realized that we lived in a glass house and shouldn't throw stones.
---
Lip Service, BBC Three (UK), 2010 – 2012 (90%)
Watch: On Hulu
Season One Leads: Cat Mackenzie (lesbian), Frankie Alan (lesbian), Tess Roberts (lesbian), Sam Murray (lesbian), Sadie Anderson (lesbian), Jay Adams (heterosexual male), Ed McKenzie (heterosexual male)
Season Two Leads: Tess Roberts (lesbian), Sam Murray (lesbian), Sadie Anderson (lesbian), Lexy Price (lesbian), Ed McKenzie (heterosexual male)
The closest think we ever got to The L Word was Lip Service, a Glasgow-set drama following a group of lesbian friends: neurotic architect Cat; her best friend Frankie, a brooding Shane-esque photographer; frazzled struggling actress Tess; hot cop Sam (this is how we all discovered Heather Peace!) and notorious bad girl Sadie. Season Two introduced Sexy Lexy Price, a doctor who moved in with Tess, Frankie and Sadie. It was fun and hot and compelling, but the show never really set up the sense of a larger queer social web or the city's scene in the same way The L Word did, mainstream critics hated it and the community's reaction was, according to Heather Davidson, "mixed." She also noted that the show aired on BBC Three, its "youth-oriented" channel. I recapped a handful of episodes, watched it faithfully, truly enjoyed it and never felt bored or upset (besides when Cat was killed) — but still none of the involved characters come to mind when I think of my favorites. But 12 episodes isn't a lot of time to shine, either. "What Lip Service was interested in showing you was sex, and lots of it – sex involving razors, sex involving funeral homes, sex involving condiments," Heather wrote. "Honestly, it was a trip."
---
The Real L Word (Reality), Showtime, 2010 – 2012 (100%)
Watch: On Showtime or Amazon Prime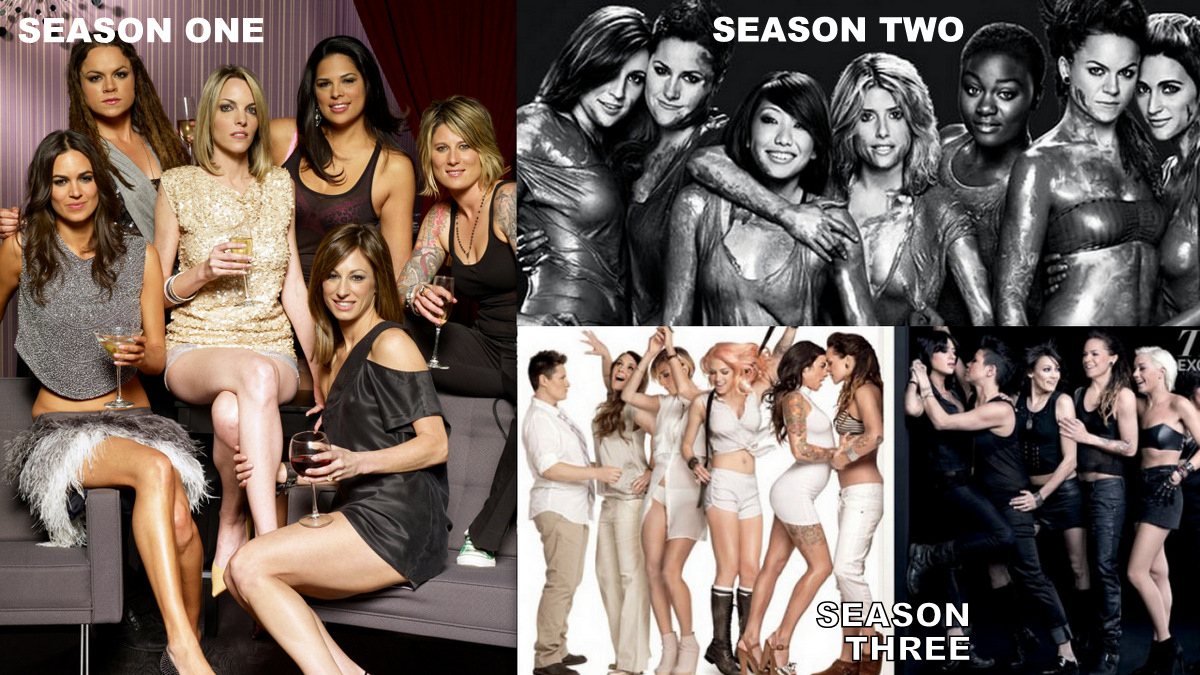 It is not a secret that I hated every moment of this hellshow but y'all loved my petulant recaps and our parody videos and that was great for traffic! Each season was its own specific beast: Season One was a series of barely-intersecting mini-documentaries following four different stories including, most prominently, a group of young friends heavy into the WeHo party scene and Whitney Mixter. Whitney, along with her on-again-off-again girlfriend Sara and her ex Romi, were the series' only consistent cast members. Aside from that, we got some fresh young Los Angeles faces who all interacted with each other in Season Two (including a butch/femme couple trying to get pregnant) and for Season Three, the show split itself between New York and Los Angeles, while still making a lot of room for crossover. The show definitely had its value, though. A year after its cancellation, the franchise produced the honestly touching and revelatory mini-documentary The Real L Word Mississippi: Hate The Sin.
---
Candy Bar Girls, Channel 5 (UK), 2011 (100%)
Watch: on YouTube
This reality program set in The Candy Bar, a former lesbian hotspot in the Soho neighborhood of London, aimed to "follow the lives and loves of a group of young lesbians who work hard and party even harder," promising "raunchy drama and unique characters." A salacious promotional campaign generated controversy before the show even hit the air, but the show itself surprised at least one Guardian reviewer: "The show's trailers were tongue-in-cheek soft porn, but the wink-wink, nudge-nudge vibe isn't present in the show itself. Instead, we're treated to a glimpse into the lives of a diverse group of women, whose only common link is their sexuality." A marketing campaign that aimed to arouse straight men was maybe part of why the show didn't last past its first season, but who can say! The program's oft-highlighted draw was its inclusion of former Big Brother contestant Shabby Katchadourian.
---
Faking It, MTV, 2014 – 2016 (43%)
Watch: Amazon Prime
Leads: Amy (lesbian) & Karma (unclear)
Secondary Leads: Shane (gay male), Liam (straight male)
The premise was as horrifying as they come but the result was often downright delightful: Amy and Karma, certifiably uncool best friends, pretend to be a lesbian couple to earn popularity points at their decidedly alternative high school in Austin. Then Amy realizes she might actually be a lesbian! Amy will always be near and dear to my heart, and recapping this program was usually a joy. By the series' end there had been a PLETHORA of missteps but also some substantial steps towards inclusivity, eventually featuring an intersex woman, trans man and bisexual man in addition to the gay man and queer woman in the lead ensemble from the jump. Much like South of Nowhere, however, it seemed like Faking It was never fully invested to going all-in on its queer audience or its straight audience, and trying to please both rather than doubling down on one might be part of why it never found its groove and earned the ratings necessary to stay on the air. Unfortunately, Season Three had finished shooting before the team got word of its cancellation, so we never really got to close the door on Karmy.
---
Transparent, Amazon Prime, 2014 – 2019 (60%)
Watch: On Amazon Prime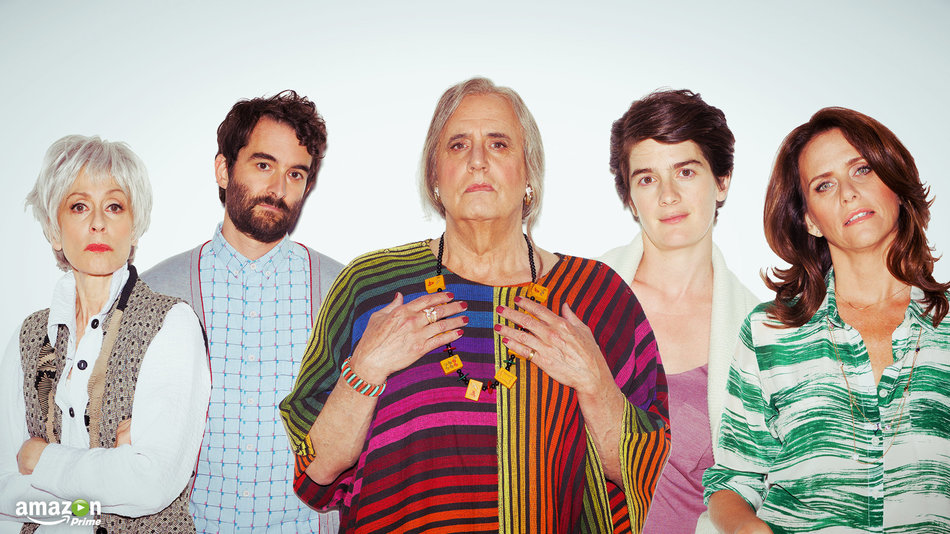 Leads: Moira Pfefferman (bisexual trans woman), Ali Pfefferman (pansexual genderqueer), Sarah Pfefferman (bisexual), Josh Pfefferman (straight male), Shelly Pfefferman (mostly-straight female)
Transparent follows the very Jewish, very neurotic Los Angeles-based Pfeffermans headed up by Moira, a trans woman coming out and into herself in her sixties and her ex-wife, Shelly. Their daughter Sarah is a bisexual mother-of-two who leaves her husband for her ex-girlfriend before returning to her husband and joining a triad and their child Ali is a sexually fluid millennial who dates their bisexual BFF Syd (Carrie Brownstein) and their lesbian teacher (Cherry Jones) before eventually discovering their genderqueer identity. It's also one of a handful of shows ever to portray a trans woman dating a cis woman. The show garnered massive critical acclaim and broke ground in so many ways — only to have the ship sunk by Jeffrey Tambour, who controversially was cast as the trans woman lead and eventually booted for sexual harassment. After a year off to pick up the pieces, the show's final season, in the form of a musical special, will debut this year. Still, it's the longest-running show on this list and although it lacks a consistent group of lesbian/bisexual friends, it dips in and out of multiple queer social groups and has the unique honor of being a show wherein the most consistent "group" of queer friends are all in the same family.
---
One Mississippi, Amazon Prime, 2016 – 2017 (57%)
Watch: On Amazon Prime
Lead: Tig (lesbian)
Secondary Leads: Remy (straight male), Bill (straight male), Stephanie (queer)
Tig Notaro's little masterpiece was cancelled in what I can only perceive was a personal attack on me and my happiness. But before that dark day we got two small seasons of candor, wit, insight and biting social commentary, packaged alongside a sweet lesbian love story and an exploration of a family reeling from grief and trauma.
---
Take My Wife, Seeso/Starz, 2016 – 2018 (80%)
Watch: On Starz via Amazon Prime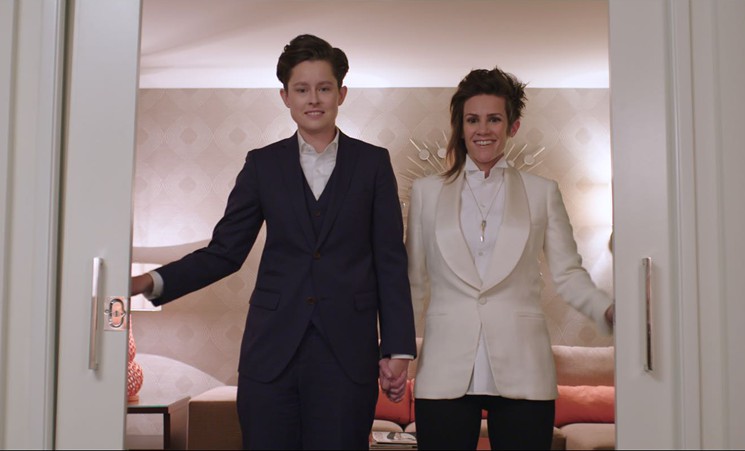 Leads: Cameron (lesbian) and River (lesbian)
I didn't believe Take My Wife was actually a real thing when I first heard about it — what was then perceived as a funny masculine-of-center lesbian couple, with episodes of traditional length, distributed by a legit channel with wide-audience-potential, exuding professional-level production value, filmed on a set that doesn't look like a display copy of a condo? LOL!!! But wow, Take My Wife existed and was hilarious, full of heart and, especially in Season Two, chock-full of a diverse supporting cast of other queer folks, set in the bustling queer metropolis of Los Angeles. The show lost a Season Two platform after Seeso shuttered, but was mercifully picked up by iTunes and Starz.
---
Strangers, Facebook Watch, 2017 – (67%)
Watch: On Facebook Watch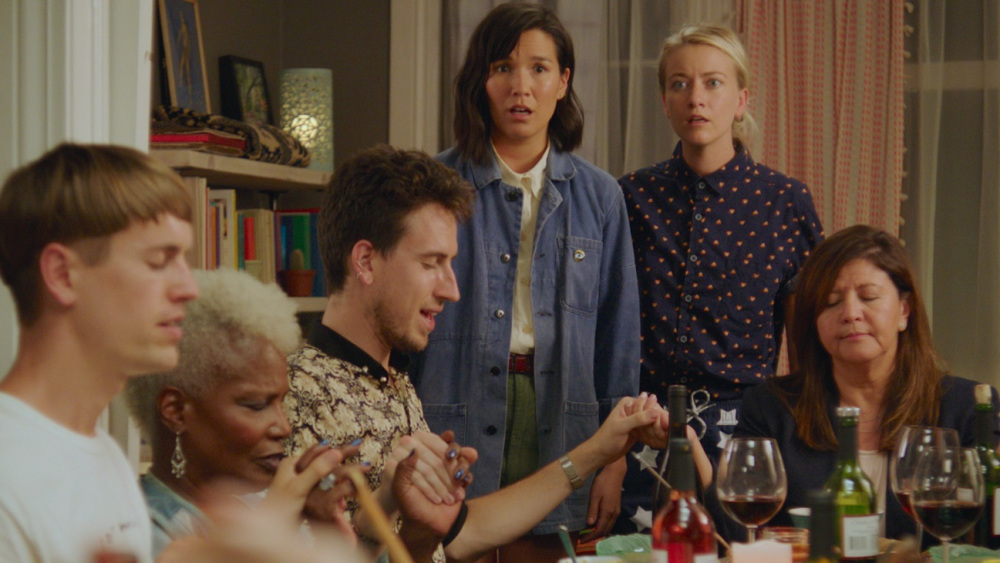 Leads: Isobel (bisexual) and Cam (lesbian)
Heather Hogan boldly declared that Strangers was one of the best queer shows of 2017 when its first season debuted on Facebook's new streaming network, and Vice declared "the best queer comedy on TV right now is on Facebook." Heather found its second season to be EVEN BETTER than the first. "The second season premiere of Strangers debuted earlier this week and it's already as gay as it was before," Heather wrote. "Maybe gayer! 26 minutes, two queer BFFs, four women making out (in pairs), and a serious discussion about the fact that, look, everyone is gay now."
---
Vida, Starz, 2018 – 2020 (67%)
Watch: On Starz or Amazon Prime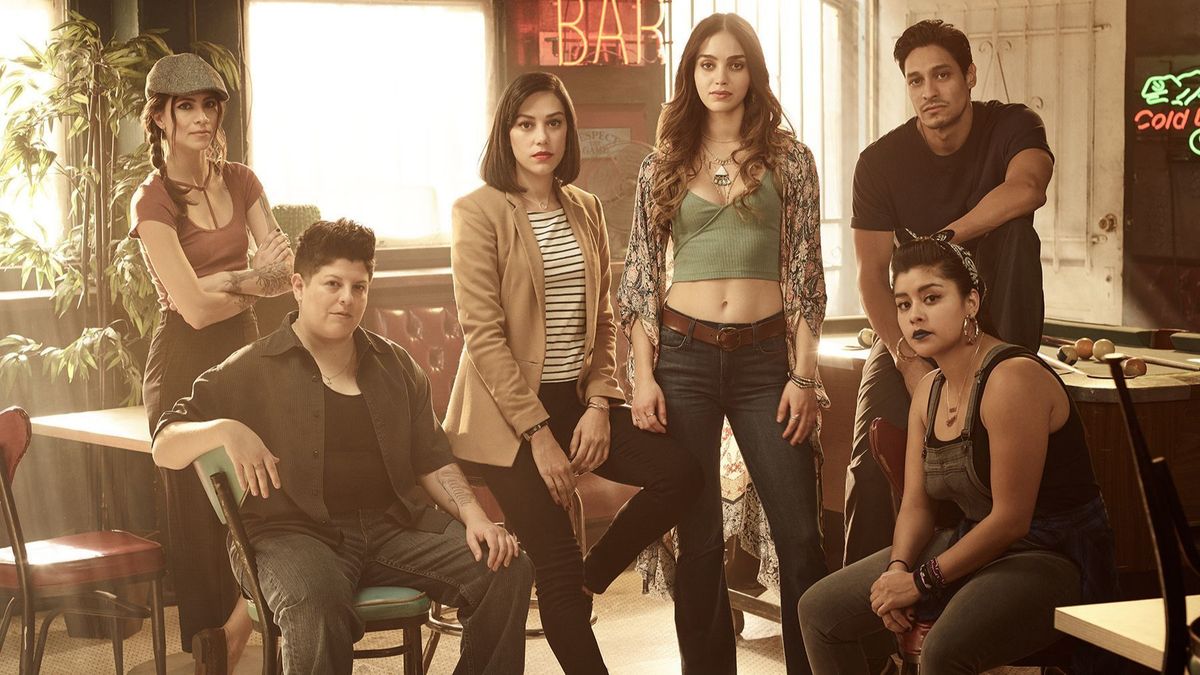 Leads: Emma (queer) & Lyn (straight)
Secondary Leads: Eddy (lesbian), Mari (straight), Cruz (lesbian), Johnny (straight man)
Vida is the only show on this list with a straight storyline given as much screentime as the queer ones, but I'm including it anyway because it's one of the gayest shows ever and it gets everything right! Y'all, Vida has it all! A writer's room dominated by POC and women, a diverse cast, a plethora of queer characters and the incredibly rare feature of showcasing a POC-centric queer social web. We spend a lot of time in a queer bar in Los Angeles' rapidly gentrifying Boyle Heights neighborhood, surrounded by lesbians and other queer women of all shapes, sizes and gender presentations. Another advantage to staffing your writer's room with QPOC is that you might end up with a writer who's also primed to be part of one of the hottest lesbian sex scenes in television history.
---
The Bisexual, Channel 4 (UK), 2018
Watch: On Hulu
Lead: Leila (bisexual)
Secondary leads: Gabe (straight male), Deniz (lesbian), Sadie (lesbian)
Like Vida, The Bisexual sets itself apart by featuring a diverse group of lesbian friends in addition to focusing on the queer protagonist's narrative and, like Vida, The Bisexual feels entirely authentic. "Akhavan has done something truly brilliant here," wrote Heather Hogan in her review. "She's created a show for an audience that understands the joke "Bette is a Shane trying to be a Dana" and then centers it on a character who's meant to make everyone who gets that joke a little uncomfortable." Will we ever get more of this show, which Akhavan struggled mightily to get on the air at all? I hope so, but if history is any indication… probably not. :-(