Chely Wright's coming out would be one of the most devastating, naked-making moves of her life. It would threaten her career, her relationships with her peers, and her ability to go home to her family. It would make everything uncertain. It could potentially destroy the entirety of the life she had created.
But it was time.
Chely Wright, an award-winning country music singer and chart-topping Nashville she-ro, found herself heartbroken at rock bottom with a gun in her mouth — and she knew it was time. She had her reasons to be there, I guess: her relationship, which involved one closeted lesbian loving another, had fallen apart two weeks after her own staged heterosexual romance. Her career was extremely successful but didn't bring her joy anymore. She realized that she had built herself a life she didn't want to participate in anymore. But before she talked herself out of it, she talked to God.
She found herself feeling lighter and putting out the gun, maybe only so that she could ride her bike for thirteen miles and "find herself." Where she found herself next was New York and then Los Angeles, making appointments with publicists and publishers so that she could write a book, film a documentary, and masterfully come out of the closet in a way where the door was being torn off of the hinges so hard nobody could look away. She was going to come back to life. And everyone was going to learn something in the process.
When she sat down on The Today Show the day Like Me, her tell-all autobiography, hit the shelves, she sighed and closed her eyes. "It feels like my birthday."
God gave Chely Wright two lives.
The premise of Chely Wright's new documentary "Wish Me Away" is just this: you can't. That Chely Wright herself couldn't. That every bigot in country music couldn't. That Chely Wright knew exactly what she was getting herself into when she completely shut off for three years and began a journey to the truth – one so long it would often weigh down on her too much and strain her heart, and one so short she would often not have time to look back or be as scared as she really was. That instead of killing herself she instead looked at herself in the mirror and had a second chance to live. That she chose it, that an honest life tempted her back onto the planet, that it was a moment in which she finally came to love the part of her she had been so afraid to take by the hand and embrace. That she was finally breathing for the first time. That even when she cried, or remembered trying to kill herself, or felt like it was all going to go wrong, she was still present. That she wasn't going anywhere and still hasn't. That she had a second life to live.
First she was a country star, her sister said. "Now you're a lesbian leader."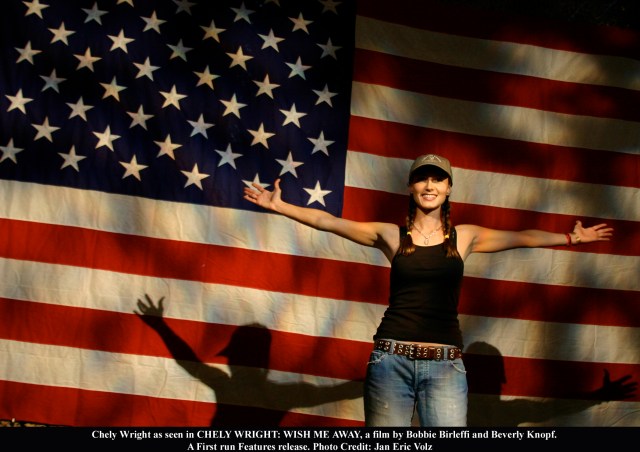 "Wish Me Away" follows Chely Wright from her upbringing to the moment she went to Nashville – and then through the history she made there. Packed full of snippets of country music performances and award shows, it simultaneously shows you the life she built as a mask and the painstaking process she underwent to create it. She takes you through her first gay panics and the prayers that wash them away, and into the home she shared with her partner before her suicide attempt. She walks you back through her family tree and she lays out a map of Nashville and which mountains she climbed while she was there, hurtling past everyone else to become a country music supernova.
Then she tells the truth.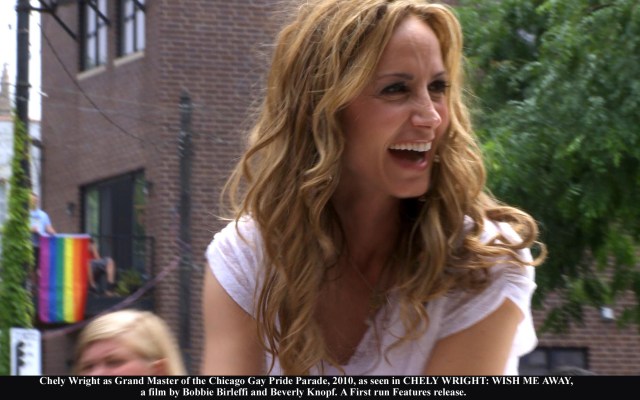 As "Wish Me Away" follows Chely toward an extremely public and meticulously organized coming out, there is this remaining fear of loss. You feel it in your stomach as she talks through her fears with professionals, a few key family members, and her therapist. There is a recurring image of her empire set to fall, almost waiting, teetering at the edge as she approaches a doomsday and a birthday all at once. And that's when it stops mattering.
Wright came out, first and foremost, to live an honest life. We have no choice but to commend her on it after the film, once we've already watched her cry and lose her temper and lose control. We feel happy that she chose to do something good for herself no matter what the cost.
But even better are the gains: that she took a turn for activism, that she told her story in order to shine a light on the stories being untold, that she executed a huge coming-out that forced people who never talk about gay people to look one in the face and ask themselves if they would still have her. And that some of them said yes. And that the ones who said no didn't deter her from focusing on the kids who needed her and the audiences she had to talk to in order to make waves in the world. Even better is that Chely Wright never stopped, never gave up, never turned back. Even before it was too late. That after decades of hiding, she finally told the whole story. That she fell in love. A new story.
This life's not over yet – but I think it has a happy ending.