It's time for real talk: the butternut squash edition. Until three weeks ago, I didn't think that squash was something I liked. Luckily, my craving for pumpkin pie got the best of me and I decided to toughen up and buy a squash. In Spain, they call both pumpkins and butternut squash "calabaza," and so I decided that if it's good enough for them, it's good enough for me (N.B. this logic does not apply to either octopus or swordfish, which I still can't force myself to enjoy). As it turns out though, my aversion to squash was entirely unfounded. The pie was amazing and since then I've made up for lost time by eating my body weight in butternut.
Because it takes an hour to cook the squash, this recipe is good for nights when you've got some time to kill or, in my case, nights when your landlady still hasn't turned on your heat and you need to resort to heating the kitchen with your oven so that you don't catch frostbite.
Pasta with Roasted Butternut Squash
Ingredients
Pasta
1 small butternut squash
Olive oil
2 tablespoons of butter
Rosemary or sage
1/8 teaspoon of nutmeg
Pinenuts
Parmesan cheese
Salt and Pepper
Instructions
1. Cut the butternut squash in half and scrape out the stringy parts and seeds with a spoon. Cover a pan with foil, grease it with some olive oil, and place the squash halves flesh side down on the pan. Cook for 20-30 minutes on 250ºC until the skin is soft.
2. Peel the skin off with a spoon then use a knife to cut the squash into half inch pieces. Return to the oven for 20-30 more minutes until the edges of the squash start to darken. You can either puree the squash or leave it in cubes.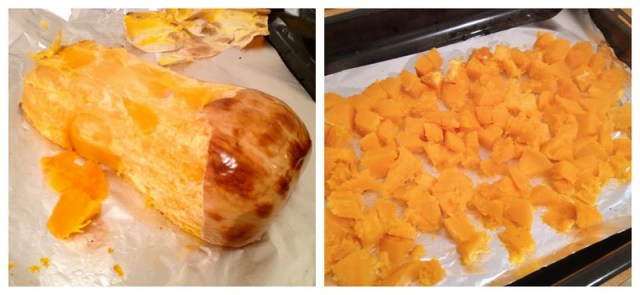 3. Cook the pasta. While you're waiting, place the butter in a pan and cook it over medium heat until it browns and starts to smell sweet. Toss in a little rosemary or sage as well as the nutmeg and pine nuts. Remove the pan from the heat and add the roasted squash.
4. Divide the pasta and squash between four plates and sprinkle it with some salt, pepper and parmesan (we only had goat cheese but trust me, stick with parmesan).