I expect Ilene Chaiken's work to be a voyeuristic playdate that transports me from my poorly lit bedroom into a magical lesbian environ. Without question, The L Word was about fantasy. The Real L Word was also about fantasy, albeit a fantasy where severely eyebrowed orange toddlers cried and threw things at each other in the wilds of Los Angeles. I have to come to expect that kind of technicolor Sapphic unreality in all of my Chaiken programming, which is exactly why I did not expect The L Word Mississippi: Hate The Sin. And I'm glad I didn't, because this is a documentary worth seeing on its own terms. It's excellent, and I want everyone in the community to see it, because it's important and it moved me and I think it'll move a lot of other people, too.
Hate The Sin is not about fantasy. On the contrary, it's a very grounding, humbling experience. Reality in this documentary is bleak, at times heart-breaking. It's self-aware of its place in the Chaiken omnibus: Hate The Sin opens on the documentary subjects reflecting on The L Word and its reality component, and the extreme contrast between the lifestyles of those shows and the way the Mississippi lesbians have been forced into a more closeted and fearful existence. From there, though, the film takes us to a much darker and ultimately deeper place than its predecessors.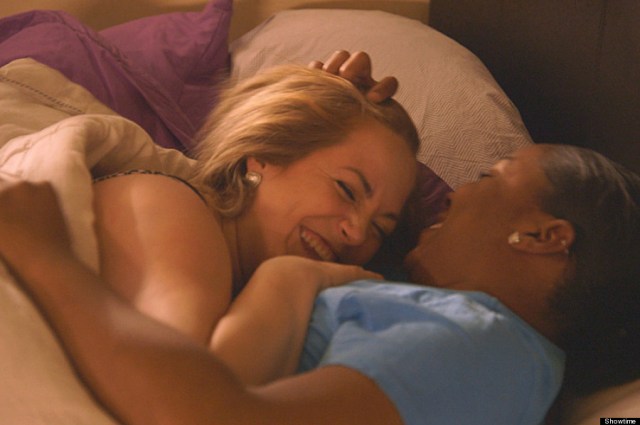 The subjects of this documentary are all women who have been irrevocably shaped by their geography. Some are estranged from their families while others are maintaining struggling relationships with parents and cousins. Their sexuality has cost them their businesses, their reputations, and even their senses of self-worth. One woman continues to pray to God that she will be changed into a heterosexual for the better, even while she loves her wife and raises their children. It's strange and frightening to see so many layers of self-hatred and internalized homophobia even among the very active love and happiness of their lives, lives that involve their spouses, girlfriends, children, and families, lives that are worth celebrating even if they're viewed as sinful.
There are so many important stories of love being told: BB and Susan's endless support for each other even after BB has lost her family, her congregation, and her place in the community; Dannika's attempts to share her life with her homophobic mother, and the love and trust she shares with her girlfriend Jana; Cam and Amber's beautiful family, both at home and with their Per2yon family; LB and Sara awaiting the birth of their son while navigating LB's transition. In the face of so much hatred and ignorance, it's beautiful to see these relationships flourish regardless.
I do want to talk about Rene, though. From the bottom of my butch and gender non-conforming heart, her story absolutely destroyed me. Rene is the butchiest country butch to butch, but she is a reformed homosexual who looks back on her past as something placed in her by the Devil. Her family is happy to help her dress in more feminine clothing, as her cousin says that "it is a sin for a woman to look like a man." Rene believes that her inner struggle to give up her identity and orientation is justified by her release from Satan and her heavenly salvation. Rene's son is gay, and her confidence in her identity and presentation was what gave him so much pride and confidence growing up. To see her rejecting her homosexuality and simultaneously trying to cure him is just as hard for him to accept as it is for us to watch.
I think what ended up being the most difficult for me was watching people build their own self-satisfaction off of encouraging others to hate themselves, to consider themselves broken, weak, and unworthy of love. At one point, Rene's constant audience of cousins and friends who support her rejection of her homosexuality sound like they are so enthusiastic about her life changes only because they were uncomfortable with her before, and this is an easy relief to them. They'll feel better about themselves by making her feel as though she has been wrong and sinful all this time, and it won't take much effort on their part. It was impossible not to be disgusted at these so-called moral people.
This documentary may bear the same name as the show that brought us those uncomfortably long sex scenes and Romi's Vegas wedding, but there's nothing shallow about Hate The Sin. It killed me to see people suffering over something we take for granted in so many of her metropolitan communities. It reminded me of the rural queers where I grew up, especially the ones who never want to make the exodus to the city because they believe that if they leave, who'll stay behind for the next generation? There's a scene in this documentary where BB is organizing for her new outreach program, and there's a discussion about why none of them have moved out of Mississippi. "If we just leave, it'll never change," someone says, and they all agree. This is a documentary about people who choose to stay, not because they don't know better, but because they're brave. It's a reminder that wanting to exist in your home shouldn't have to be the brave choice.