Last summer I boldly declared that Strangers was one of the best queer shows of 2017, and if you're one of the people who didn't believe me because it's on Facebook Watch, the joke's on you because: a) Facebook Watch has released two new queer shows since then, including Hayley Kiyoko/Kerry Washington's Five Points and Riese's new addiction SKAM Austin, and b) The second season premiere of Strangers debuted earlier this week and it's already as gay as it was before. Maybe gayer! 26 minutes, two queer BFFs, four women making out (in pairs), and a serious discussion about the fact that, look, everyone is gay now.
Season one of Strangers saw Isobel (Zoë Chao) — a personal assistant to a famous mommy blogger with dreams of writing her own novel — exploring her newly discovered bisexuality with the support of her lesbian best friend, Cam (Meredith Hagner), and her therapist, Leisha Hailey. Actually, Leisha Hailey was only on one episode because that was the season one hook: each week a new guest landed in Isobel's house as she rented out her spare room on Airbnb to cover the money she lost when her ex-boyfriend moved out. Isobel dated a decent guy and came very close to falling in love with a woman for the first time, but before she could get super serious with her new girlfriend she got kicked out of her house for violating the lease with her Airbnb shenanigans and decided to move across the country to New York City with Cam.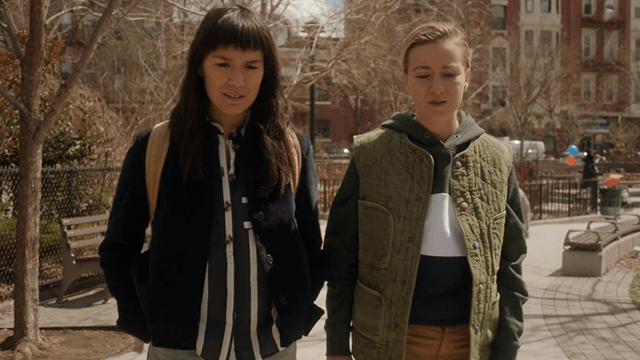 Season two couldn't start more differently for the gay BFFS. Cam doesn't experience any culture shock 3,000 miles away from home. She falls in with a commune of trust fund-baby artists who offer her their spare room in their big beautiful apartment: mornings dabbling in watercolors and afternoons dabbling in esoteric art school chatter. She's as successful Shane-ing around Brooklyn as she was Shane-ing around WeHo. Things aren't so smooth for Isobel. She's working for a children's birthday party company, playing the ukulele for rich, bratty kids to make ends meet, and she still can't afford an apartment worth living in. The cool aunt she's staying with gives off Princess Cyd vibes in the best way, but also in the most demoralizing way: she moves through NYC's literary wanker world with as much ease as Cam moves through the Dumbo art wanker world. Suddenly, Isobel doesn't fit in with any of the people who love her most. Even the cute girl she meets wants to make out with her but not go home with her because she's "straight from the waist down."
I'm very happy to tell you the show actually moved to New York City. Season two doesn't take place on a Hollywood backlot or even in Toronto, which matters because the best shows about Making It In New York City feature New York City as a character. Also it matters because filming in New York City isn't cheap and I really was serious when I said the production values of this show are stellar. It isn't a web series! The acting, the directing, the editing, even the color correction are Netflix-good. (The color this season is a smart shift from the hazy days perpetual summer afternoon Beach House vibes of season one.) In fact, the hook of season two is that Isobel is going to Airbnb in a new NYC neighborhood for every episode.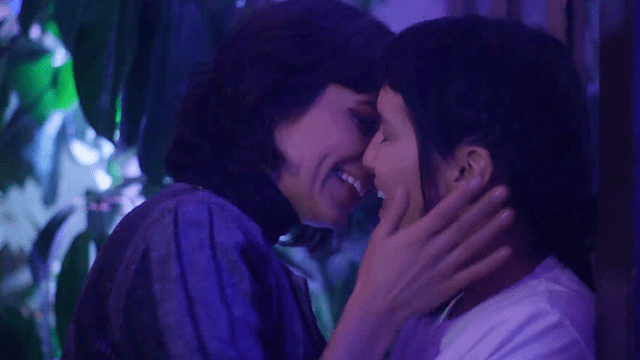 The main thing that sets Strangers apart, though, is that it has a very clear queer vision and was very clearly written by queer people. Series creator and writer Mia Lidofsky is a lesbian and when Strangers launched last year she told Refinery29 (who she partnered with to make the show), "I think there's often a stigma about labels, and there are a lot of conversations about wanting to be label-less and beyond definition, and in many ways I admire that way of thinking. But I also think that labels can help create identity and community, and there can be something very powerful and positive in being in something together, in knowing that perhaps you are not alone in your feelings and thoughts and experiences. I don't want my gayness alone to define me, but it is a huge part of who I am and how I operate in the world."
That's the sensibility that she brought to every queer character on the show, and there are a lot of them. Cam is a lesbian, Mia is vocally and unapologetically bisexual, there are super queer pastors with Portland-esque congregations, and supportive queer therapists, and queer dates that suck and queer dates that land and an intimate, messy queer friendship right in the middle of it all. Yes, all the girls kissing is very good, but Cam and Isobel's relationship was the emotional center of season one; their bond was unshakable and completely without boundaries. It's the realest queer friendship I've ever seen on TV outside of The L Word and it feels like it's going to be the main turmoil of this new season. Just one episode in and the resentment is brewing.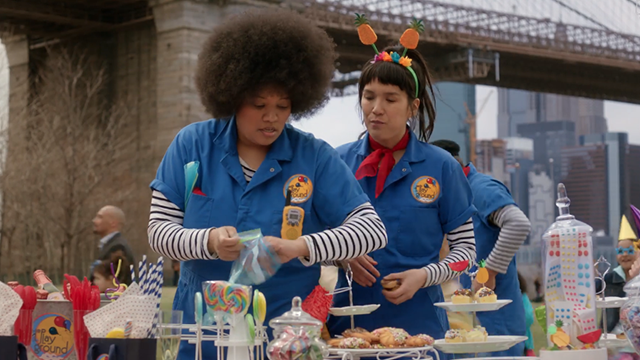 Also, and best of all, queer folks are in on every joke, and this season that includes queer writer and comedian X Mayo, who is probably best known for her comedy show Who Made The Potato Salad?, which always features a POC-only cast. She's the standout in episode one as Isobel's new co-worker/(potential?) best friend. Fingers crossed she's playing gay on the show too!
You can watch the seven-episode first season of Strangers and the season two premiere at this very moment, or any moment that tickles your fancy. Then you can come back here and tell me how right I am about how good it is.