Here's a thing you might have or might've had in common with Broad City's brassy aspirational anti-heroine Ilana Wexler: she's got an unrequited desire to bang her straight best friend. Here's a thing you may or may not have in common with Ilana Wexler: her straight best friend finds this desire totally unremarkable. Maybe a little funny, but definitely not weird or gross or scary or any of those other bad feelings we're socialized to fear when genuine girl crushes get confessed. It's a running gag, almost, how Ilana and Abbi are clearly in love with each other and Ilana sees no reason why that shouldn't lead to touching each other's boobs. Neither seem interested in boyfriends, although they're both very interested in having sex with boys and Ilana has a fuck-buddy friend, Lincoln, who seemingly wants a more serious relationship with Ilana but isn't mad at her for withholding it. Last night, however, it was made abundantly clear that Ilana's sexual fluidity — which's all tied up in the "hedonist" identity and aggressive pursuit of pleasure ascribed to her by Glazer and Jacobson — doesn't begin and end with Abbi. She meets a girl and falls for her and the fact that the human she fell for is a girl remains, obviously, unremarkable. It's actually not remarked upon (which is part of the joke, too, that they're never gonna say the thing you think they're gonna say, they'll just hint at it). In a show touted for revealing unexpressed truths about the inner lives of the modern millennial female, this one is especially welcome: for a lot of women, Ilana included, gender really isn't a factor when it comes to sexual or romantic attraction. This is a reality about human beings that has always been true, but only in recent generations has it become okay to freely discuss and present on television.
In last night's episode, Ilana and Abbi secure a gig working coat check at a charity event. On her way back from the bathroom, Ilana spots and falls instantly in lust with Adele (Alia Shawkat), who is very clearly Ilana's doppelgänger, although Ilana herself doesn't realize this at first. (Sidenote: the real Ilana Glazer and Abbi Jacobson met in an improv class, and for the first few weeks of said class, Abbi thought that Ilana was Alia Shawkat. I imagine that's what inspired this week's episode.) "Abbi, I just saw the hottest girl I have ever seen. We had the most incredible spark," Ilana excitably tells her best friend. "You're right, I have to find her," she affirms, although Abbi's yet to say anything of the sort, as Abbi is consequently left to deal with the mess created by Ilana's misunderstanding of how coat check works. After her first romantic evening with Adele, Ilana is eager for Abbi to meet her. Abbi points out that she's never met any of Ilana's other love interests, so this is a pretty big deal — she only met Lincoln because Ilana forgot she was with him that one time.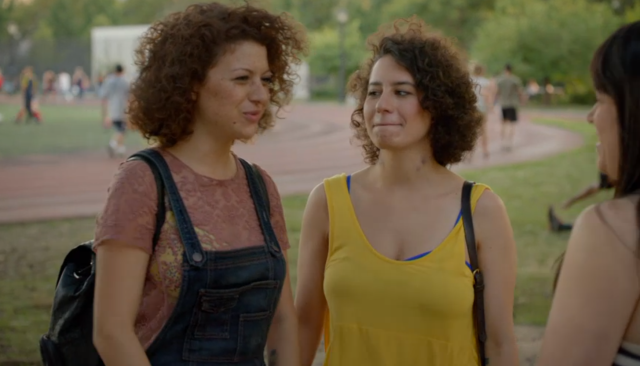 Hopes for a two-episode arc are summarily squashed when Abbi informs Ilana that she and Adele look exactly alike, which freaks Ilana out as much as it turns Adele on. "I have sex with people different from me," Ilana explains to Adele as they sit on the bed in their bras, facing each other, after Ilana called off sex smack dab in the middle of it. "Different colors, different shapes, different sizes. People who are hotter; people who are uglier. More smart; not more smart. Innies; outies. I don't know, a Catholic person." I held my breath through that whole bit, waiting for Ilana to segue into an explanation of why, due to her attraction to difference, she doesn't like girls. But it never goes there. She never says that. It's probably part of the joke, you know? Then Ilana says they can still be friends, and lights up a joint, offering it to Adele — but Adele doesn't smoke pot. Thus we learn one difference that Ilana just can't deal with. The affair is over.
Ilana's sexual fluidity has been addressed before, but usually in the context of her relationship with Abby. In the Season One episode "Destination Wedding," Ilana finds out that Abbi made out with a girl in college and is so jealous that she actually hyperventilates.
Abbi: Ilana, it's not a big deal.
Ilana: It's a huge deal! You said if you were ever going to do same-sex experimentation, it was going to be with me!
Abbi: I've never said that to you.
Ilana: It has been implied.
Abbi: By you.
Ilana: Well implications get responses and it takes two to tango.
Ilana only forgives Abbi for her transgression when Abbi agrees to let Ilana watch her change. Afterwards, the two hit up a strip club. They're in suits, after all, and therefore very well-suited for a gentleman's club — a club Ilana has very clearly visited in the past, 'cause she notices that they've remodeled.
An episode of the original webseries addressed this tension head-on, when Ilana and Abbi's decision to spend Valentine's Day together leads Ilana to believe, incorrectly, that they're on a romantic date:
https://youtu.be/JcoJW2BOs6g
It's a very cool show for so many reasons, and Ilana's sexual openness is one of the show's coolest elements for queer female audiences. A New York Magazine profile released this week describes the characters as "horny, sometimes bi-curious young ladies, rolling joints and scraping by, keeping it casual with the men in their lives, while reserving their most raging affection for each other." The lesbian subtext between many of television's prominent female best-friend pairs in pop culture has been over-analyzed and celebrated and, often, invented, by queer fans, but Broad City successfully punts this subtext into full-on "text" without needing anybody to actually go all the way.
Until a few years ago, our hope that any of these onscreen romantic friendships would be acknowledged or turn into something more like the late-19th-and-early-20th-century's definition of "romantic friendships" was pretty much nil. In most cases, it remains so: showrunners for programs like Once Upon a Time and Rizzoli & Isles are happy just to tease and titillate their queer fans while refusing to ever risk being risky and either let the lady-leads lock lips or at least have one admit a crush on the other. But other shows aren't quite so tentative: Glee, notably, let its two cheerleader best friends, Brittany and Santana, get married TO EACH OTHER a few weeks ago. They also let Santana have a no-strings-attached hook up with their other best friend, Quinn, at a wedding in Season Four. Pretty Little Liars took the familiar trope of a straight girl flirting her lesbian bestie into submission and turned it on its head: not only did Emily get a kiss from Allison, but when Allison returned from faking her death, she went straight into Emily's bed! The bitch followed through! It was a case of queer-baiting where we actually caught the fish. Glee also recently featured a friendship between a gay guy (Blaine) and a straight guy (Sam) in which the straight guy was aware of the gay guy's crush on him, but instead of freaking out about it, actually enjoyed it. The MTV show Faking It puts that dynamic center stage and won't write off any possibilities for the gay girl and the straight best friend she crushes on.
While we love those storylines 'cause we love any lesbian storylines, we also love them because they're pretty realistic. It's not uncommon for female best friends to fall in love with each other, even if neither person identified as queer beforehand. It's not uncommon for women who are as sexually ambitious as Ilana Wexler to not discount the possibility of female partners or wonder what it'd be like to hook up with their best friend. It's not uncommon for a questioning girl to fall in love with her best friend.  When male-female best friends on television develop sexual tension and inspire will-they-or-wont-they speculations from fandom, we can pretty much always expect eventual consummation. At the very least, the possibility is discussed. The reverse has been true for same-sex best friendships. We've been trained to expect nothing, not even one of the women admitting she likes the other, which is a very basic element of that trope when hetero people are playing it out. We've been trained to accept that even when everything about the coupling makes sense, our heteronormative culture and conservative television audience still resists the idea that something so sensical could override what they perceive to be very stiff walls around one's sexual orientation. For a lot of us, those walls are indeed very stiff. Indeed, for many lesbians, the concept of sexual fluidity as a default sexuality has been used against lesbians to suggest that their same-sex relationships are insignificant moments of doggy-paddling leading up to the inevitable speed-swim back to the pool of men. But for many other women, the concept of sexual fluidity is undeniably accurate and very liberating. New York Magazine enthusiastically wrote that the show is "just crazy-liberal enough to reflect the way millennials view the world," citing it for possessing "no presiding sexual norms" and "no judgment on experimentation."
It's unlikely that Abbi and Ilana will ever become girlfriends or have girlfriends, but honestly, the show is funny enough and bizarrely queer enough that I don't even need that to happen for me to like it. (Plus, Lincoln is pretty great and I don't have any misandry feelings towards him.) It's pretty cool in and of itself that Ilana can openly want to fuck Abbi and that this doesn't make shit weird or freak Abby out. What last night's episode showed us was that on this show, when it makes sense for two girls to kiss, they'll kiss. It's not a show that won't consider a same-sex coupling simply because it's a same-sex coupling. It's also important that the running gag of Ilana's crush on Abbi wasn't a one-episode gimmick, but an inexorable element of their relationship. As a recent Grantland article pointed out, "This borderline sapphic intensity between female friends is nothing new, but seeing it on cable feels thrilling: Abbi and Ilana make it OK, even glamorous, to prioritize and nurture your bosom buddy over all else." They'll never be buddies who nurture each other's bosoms, but every time Ilana mentions the possibility of it, thousands of gay ladies are sitting on their sofas, relating so hard and laughing louder than anybody else in the room.