It's the 100th episode and guess what: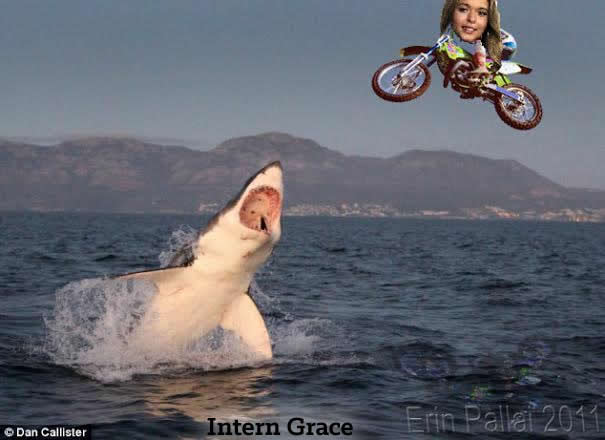 You're damn right they did!
This show has gotten me so frustrated that after finishing the episode, I threw up my hands and said, "Fuck this show!" Once upon a time, this Tuesday night television-watching ritual was spent with my sister painting our nails, drooling over the Liars' gorgeous hair and beautiful clothes and generally femme-ing the fuck out. Now, this show has made Tuesday nights so frustrating to me that if I weren't recapping the show, I wouldn't even be watching anymore! I'll talk more about that after this very short recap because LESBIAN THINGS HAPPENED!!
---
Jenna is back, and Aria momentarily tries to befriend her, but you know who Jenna's real friend is?
Sydney! I KNEW we were getting the queer vibes from this girl. Sydney, Jenna and Mona are working together, along with someone else! BUT WHO?!
---
Spencer's parents are divorcing because Mrs. Hastings thinks Mr. Hastings and Melissa killed Mrs. DiLaurentis. She found out they were lying about where they were the night of her death.
So, Spence and her mom are living at a hotel, and Spencer is lying to everyone about their divorce.
---
Alison's return to Rosewood High goes about as well as you'd think. At first everyone keeps worshipping her after she apologizes, but that doesn't last for long, because…
Mona stalks Ali, they argue, then Mona records Alison slapping her across the face (after she slapped Ali first, so).
Mona uses this footage to trick everyone into dismissing everything Alison says from now on. Even the Liars are upset with Ali, because when Ali told them the story of the church, she left out the part about slapping Mona.
Classic Mona move.
---
Caleb returns (!!!!) with bad facial hair (boooo), sending Hanna into a spiral of self-doubt which manifests itself in binge drinking.
In her defense, he's super weird and jealous about Buzzcut, which he has no right to be. He says he never saw that weird Ravenswood girl after the Halloween night, so I guess we're all pretending Ravenswood never happened. I know I am.
---
Aria and Ezra have sex because they reconnect over the horror of Aria having killed Shana.
Siiiiiiiiiiigh.
---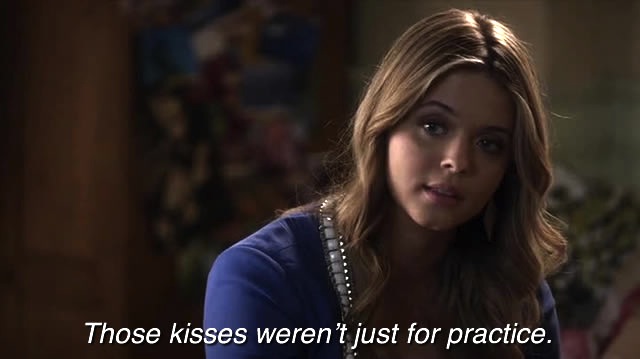 Ali tells Emily that she wasn't lying when she said she had feelings for Emily back in the day. Emily spends the night at Ali's house and they make out in bed.
This is simultaneously kind of hot but mostly disappointing. The next day is when the Liars catch Ali lying, which makes Emily super mad at Ali, so we all know they won't end up together and it feels really forced. More on that after.
---
The Rosewood police chief names the girl buried in Alison's grave: Bethany Young. She is an escaped Radley patient. Here's a link to some theories WITH BOOK SPOILERS about who Bethany Young may be. Most importantly about this scene is that Emily and Ali are holding hands the whole time.
While all of the Liars are watching the news coverage of this announcement at Emily's house, Toby's house explodes.
---
We end the episode with black hoodie A. So A is officially baaaaack.
---
So, now for my rant and why this recap is so short and so late.
Right now, Pretty Little Liars is the only mainstream show with THIS MANY queer female characters on it at one time (I see you, Glee), and it portrays a variety of queer female experiences. That's true. It's a successful show in which we see a relatively diverse range of queer women at different stages of the coming out process, and sometimes it's one of the rare programs in which we're actually able to speculate that a seemingly-straight character could, in fact, fall for another woman.  So that is something. 
But it's not enough.  Like most characters on most television shows, the queer women on this show are beautiful, very slim and feminine. That's to be expected, I guess, but it really bothers me that there have been only three queer women of color on this show and that one of them is Emily and the other two, Shauna and Maya, have been murdered. It's a toxic combination of two of television's most problematic tropes in which gay people and people of color (specifically black people) always seem to be the first to die.
Even after Maya was murdered, I tried to understand, maybe even excuse, the fact that the only love interest of any Liar to be murdered happened to be a queer woman of color. And then the Shana and Jenna relationship reveal happened and my confusion grew extreme, but I still held hope, because Emily and Paige were so cute together, you know? But I couldn't excuse it when we were lied to about Shana being A (I'm assuming it was a lie because this show gives us less answers than LOST), and the pseudo-realization that every bit of abuse to the Liars had been done in the name of "Crazy Lesbian Love Feelings." These women are making out with each other, going through bad breakups and killing each other… all in the name of hot lesbian love. It was a cheap red herring, just like all of the clues in this show are cheap red herrings. It was also deeply problematic when you consider that the writers basically just bought into the idea that every episode of torture could be brought about by a lovesick teen girl seeking revenge for her girlfriend. Women are just so emotional, right?
In past seasons, we worked through things like coming out, parental reactions to coming out, falling for your first love, falling for your best friend even though she's a manipulative jerk and falling out of love with your first love. We even saw Emily help Paige through her own coming out experience, to herself and her family. This show was really great when it came to portraying the experience of a young queer in a small town with not a lot of other queer women around.
Ultimately it was Ali's return and her confession that her "feelings were real" that sent me over the edge. Why is this being done? Why are we shown Ali and Emily kissing and obvious clothes-on-everything's-safe-here, but the next shot is Aria's naked back on top of Ezra's naked body? Why is Toby-Spencer sex part of seemingly every episode while Emily and her love interests barely make physical contact? Getting Ali and Emily back together seems like bait for the queer community, but I'm not ready to bite. Is Ali gonna just "get over it" in the next episode? I'm not saying that's unrealistic (quite the contrary, it's almost too real!), but it's as if they're just tossing queer love in to fill in gaping holes of other underdevelopments. I'm tired of queerness being seen as automatically "edgy" and "setting the show apart."
Even after learning that PLL's showrunner is a queer woman, I still feel that this show is manipulating the queer community's desperate thirst for visibility. Even after learning that the showrunner is a queer women, I still feel pandered to by problematic storylines.
Beyond even its treatment of queer characters, I'm frustrated by the downfalls of this show and completely lost in terms of plot development. Who's writing this? Who's allowing Ezria to continue, glamourizing their reunion like we're supposed to support the most emotionally abusive, manipulative, ILLEGAL relationship I've seen in recent television? At this point, we need to feel like at least the writers know what's going on. We need a more clear through-line. "Who Is A?!" is done. They can't return to having someone in a black hoodie fucking with things at the end of every episode. It's boring. We've seen it for the past 100 episodes. The only definite answer we have so far is that Mona was facilitating most of early A's stuff. To have her return as A doesn't make sense.
We deserve better than "Well, Paige is hot, so." We are, of course, still totally allowed to watch a campy soap opera where high schoolers are stalked and tormented beyond and sometimes without reason, and we are allowed to enjoy every cheesy minute of it. But there's just no reason for this show to have become as convoluted as it has. I mean, is this "magical realism" or a "fantasy land" or what? Is anyone really watching this show because they still think it's good or makes sense, or are we all just trying to be in on the joke?
This season could be about PTSD. It could be about Alison's reformation. It could be about how high schoolers are banding together to overthrow Ali once more. It could be about so much more than explosives and black gloves and black hoodies. We could focus on returns – Ali, Caleb, oh hell, even Paige. We could focus on fixing relationships. We could watch how past loves returning affects the present.
I would watch the fuck out of this show if it was more about growing out of past friendships. That's heartbreaking, so much moreso than Jenna plotting murder and Mona being pseudo-evil. I don't need dark cars following Ali. I am hungry for something more substantial.
The show is called Pretty Little Liars, but I think it's time for the Liars to stop lying, start mending themselves, maybe learn from some mistakes, and to cease being the constant targets of stalking and abuse. They've seen more horror and terror than pretty much anyone their age; how much more could an average teenager endure, honestly, and still maintain any semblance of sanity? Someone get these girls a therapist who won't be kidnapped!
We have two seasons left after this! To butcher the famous Yeats line: things have fallen apart, and the center cannot hold. Let's see a new direction from here.
I think there's one thing we can agree on – Pretty Little Liars has gone off the rails. Hold on tight.