We know — intuitively, from stories, from our own lives — that queer women face unique and devastating economic challenges and are at higher risk for poverty than even straight women and LGBT men. Now, we have clear, comprehensive data that solidifies the seriousness of the problem and provides a new resource for battling it.
A new report from LGBT Movement Advancement Report in collaboration with the Center for American Progress and numerous other organizations shines light on the devastating economic disadvantages that LGBT women face. LGBT and other organizational leaders call the report the first of its kind. LGBT women experience discrimination in employment, housing and healthcare, a lack of recognition for their diverse families and various other challenges that create additional barriers to those faced by straight women and LGBT men. Queer women of color, trans women, older women and women raising children face additional burdens that further limit their ability to thrive economically. The report focuses on a subset of a data from MAP's Paying An Unfair Price project, which launched last fall.
"I was most taken aback by the poverty levels of specific communities within the LGBT community, particularly transgender women of color, who are facing incredibly high levels of poverty," said Heron Greenesmith, a policy analyst for LGBT MAP. "The women's leaders, LGBT groups and communities of color can look at these inequalities and use them to be more intersectional in their work."
A lot of the statistics in the report will seem familiar from other studies, but it's never been collated in one place before, and much of the data related to trans women and women of different racial groups had never been disagreggated from data on more general populations in previous research research.
At Forward Together, a national organization dedicated to changing policy and culture in favor of all types of families, the data will be a vital tool in their state-level initiatives to affect policy change, said Deputy Director Moira Bowman. For example, it will bolster the case for laws that protect women's reproductive health, promote workplace equality and create sick and family leave policies that include and protect queer women and their families. MAP's research brings together disparate data and cuts out "endless Google searching" that led to unreliable answers, Bowman said, and replaces it with a clear and coherent document that leaders across movements can rely on.
"For communities that have traditionally been marginalized and excluded, having research in the toolbox is a very important piece of what we need to make our case to policy makers," she said.
Much work on the LGBT population doesn't examine queer women's unique needs, which means they're not getting access to the information, support and resources they need.
"People forget that LGBT women need access to abortion and contraception," said Naomi Goldberg, a policy specialist at MAP. "If you're taking time off work to care for a sick spouse or child or when you're sick yourself, you may not get paid sick time. These are areas where we see higher costs and a reduced ability to balance work and family."
The report breaks down into three main areas: Difficulty of finding and keeping good jobs, barriers to good health that reduce economic security, and a lack of support for LGBT women and their families.
The report highlights challenges like the cost of child care, difficulty acquiring insurance, the cost of adoption and, for many families, the longerm lower income of having two women head a family whose salaries are lower because they are queer women. Marriages or partnerships between two women will see reduced income and benefits over their life times compared to heterosexual or gay male couples, for example.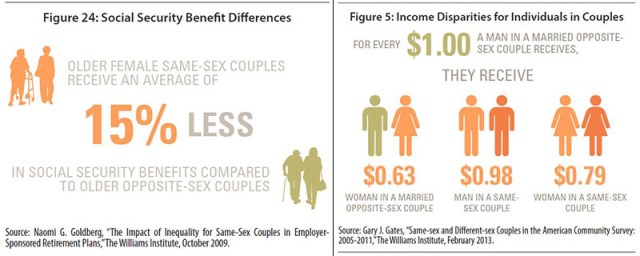 Throughout, it is clear that trans women, queer women of color, older women and women with children face some of the sharpest disparities in income, access to health insurance and other factors that contribute to poverty.
For example:
It is much more difficult for two partnered women to access resources like the Earned Income Tax Credit and the Child Tax Credit, meaning their incomes don't go as far.
Older LGBT women have reduced Social Security benefits because their lifetime earnings are lower, meaning a lower return from the program, and because they have less access to spousal and survivor benefits.
Transgender women often can't access adequate health insurance leading to higher costs associated with poor health. 36 percent of trans women report losing a job because of their gender identity or expression, compared to 26 percent of the overall trans population.
Queer women of color experience oppression on multiple axes including race, gender and sexuality. Trans women of color experience poverty at particularly alarming rates.
Health care access can be an expensive fight for LGBT women. We are less likely to have good insurance, and in our jobs we may not be protected by family leave policies.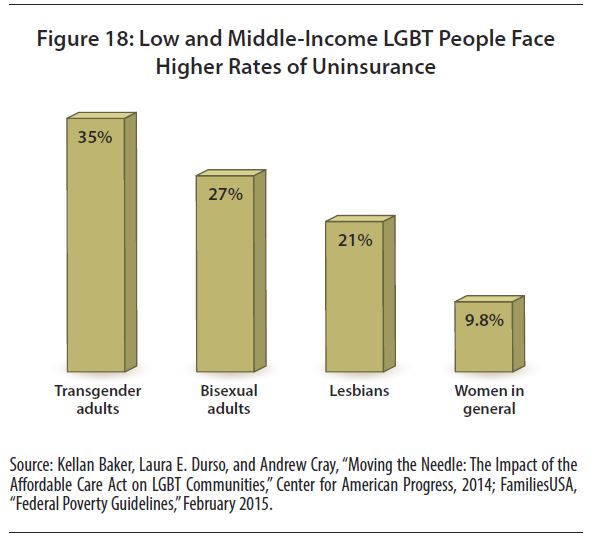 At The LGBTQ Task Force, priorities include reducing LGBT youth homelessness, reducing incarceration of queer people, and promoting economic justice. Numbers like these strengthen their power to work on behalf of the most vulnerable populations, said Meghan Maury, a policy counsel for the Task Force.
"When I walk into the Housing and Urban Development office and say LGBT people are disproportionately poor or that we know trans people in general are facing inequality at incredibly high levels, they appreciate the anecdotal evidence, but they want the numbers," Maury said. "I can walk in with this report and show them why LGBT women in particular need access to services."
Because the data is so diverse, it indicates many possible next steps. Maya Pinto, Economic Justice Program Director at the National Asian Pacific American Women's Forum, said the report "points to the need for increased intersectional work between the economic justice and LGBT movements." Some of the recommendations include updating definitions of "family" to include LGBT families, creating comprehensive sex ed programs, raising the minimum wage, and passing laws requiring that health insurance providers treat LGBT people equally in their policies.
"We as LGBT women don't live in a vacuum, and our employment policies, our educational policies, our healthcare policies impact us as women and LGBT people together to reduce our economic security," said Greenesmith of MAP.
Fortunately, there's hope that better data and growing national coalitions will help change that.