The Movement Advancement Project and the Center for American Progress has dropped a super important report, Paying an Unfair Price: the Financial Penalty of Being LGBT in America. The report drives home the unsurprising but stark reality that anti-LGBT laws at the local, state, and national levels are putting undue financial burden on LGBT Americans. Yes, because of systematic discrimination, unfair laws, and lack of recognition for our families, we have higher costs and less income than heterosexual and/or cisgender Americans.
This very shareable video lays it all down:
The mainstream media likes to perpetuate the myth of gay people as overwhelmingly middle-to-upper class: the "Will and Grace" and "Modern Family" lifestyle gays, mainly gay men, with tons of money to throw at corporations. According to the MAP/CAP report, only 29% of LGBT adults in the United States report they are thriving financially, compared to 39% of non-LGBT adults. So why does this myth persist?
We spoke to Ineke Mushovic, executive director of MAP, about the myth of the affluent gay person:
"There's this pervasive myth about gay affluence and I believe it is tied to the fact that when people conceptualize 'gay' they generally only conceptualize childless gay white men who generally do fare better than other parts of the LGBT community. They don't think of [LGBT] people as having families and kids. They don't think about people of color. They don't think about the B and T. But when you look at the data you see these incredibly high levels of poverty, particularly for transgender people, youth and young people, female same-sex couples, older adults, people of color. You see disproportionately low income levels compared to their heterosexual peers."
The report identified three failures of the law that financially penalize LGBT people:
Lack of protection from discrimination,
Refusal to recognize LGBT families, and
Failure to adequately protect LGBT students.
What LGBT Poverty Looks Like
Transgender people in the U.S. are nearly four times more likely to have a household income under $10,000 per year than the population as a whole (15% vs. 4%), despite the finding that transgender people are attending and graduating from college at much higher rates than the general population.
Children of same-sex couples are almost twice as likely to live in poverty compared to children raised by married different-sex couples.
Because of the combined effects of their sexual orientation and the gender wage gap, older female same-sex couples are twice as likely to be poor as older heterosexual couples. Six percent of female same-sex couples age 65 and over are in poverty, compared to 3.5% of older married different-sex couples.
Yet, LGBT people are more likely to be in the labor force than non-LGBT people, with their numbers at 82% compared to 69%.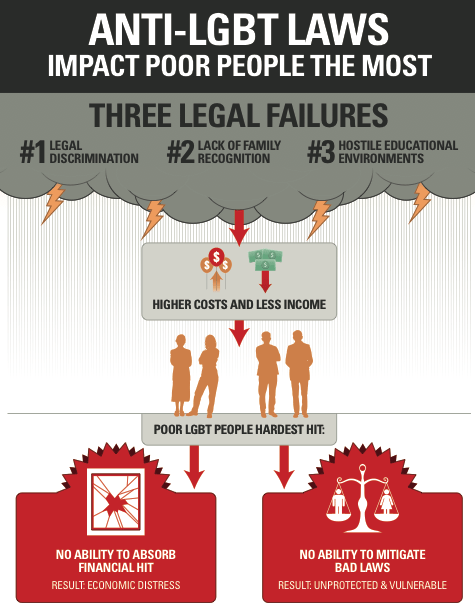 Impact on People of Color
The report found that poverty data among LGBT people of color follows broader social trends. In other words, it's as bad as you'd expect it to be. The MAP findings support those of the report released in 2013 which found that "LGBT workers of color are among the most disadvantaged workers in America." One study found that African-American same-sex couples are more than twice as likely to live in poverty than African-American married different-sex couples.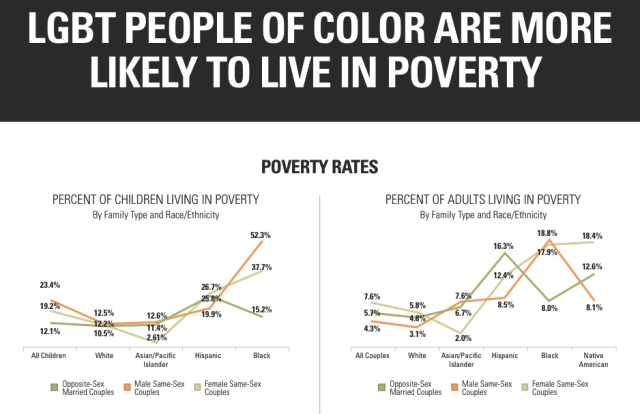 Transgender people of color face extreme rates of poverty. Four percent of the overall U.S. population have income of $10,000 or less. For transgender people, that number is almost four times as high: 15%. Asian and Pacific Islander transgender people were six times as likely to report extremely low income compared to cisgender Asian and Pacific Islander people. 34% of black transgender people and 28% of Latino/Latina transgender people reported living on $10,000 or less.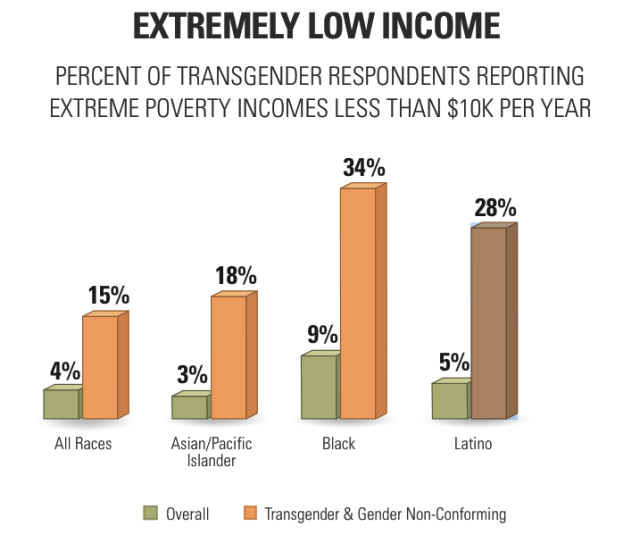 Home is Where the Poverty Is
At the end of the day, the report found that a lot of it comes down to where you live.
Look at these two maps. Notice anything interesting?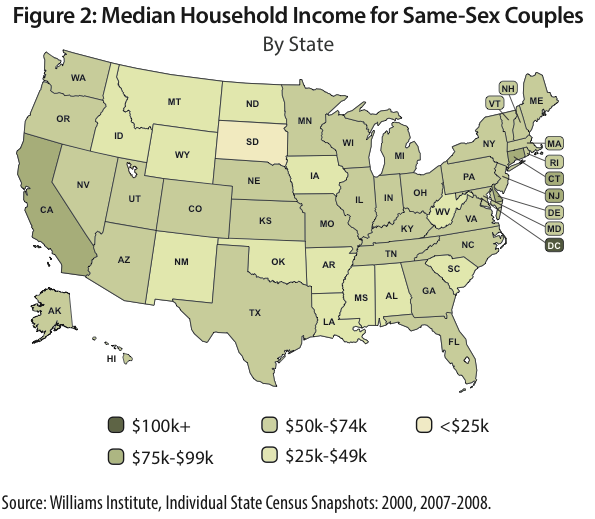 Yup, if you live in a state with many protections for LGBT people and families, you are more likely to be living above the poverty line. If you are living in a state with very few protections for LGBT people and families, you are much more likely to be living in poverty.
Here's a scenario for a same-sex couple. Let's say you're living in state with very few protections for LGBT people (as almost half of LGBT people in America do), where there are no employment protections for LGBT people. You risk being fired if your supervisor, who is a total bigot, sees you out in public with your partner. So you either stay in the closet at work or find another job — if you can get hired, because employers can openly discriminate against you. I guess you better keep your job and just never talk about your home life or partner.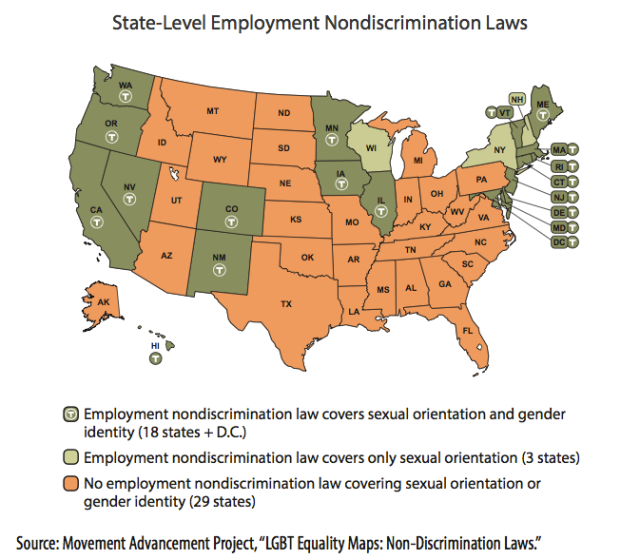 You decide you want to have legal ties to the child you and your partner are parenting together, but you are the second parent or non-gestational parent. You have to pay a lawyer to draw up a ton of documents for you, knowing that even with these documents you may have to fight for your right to guardianship. In a state with marriage equality, if you were married, you could simply put both your names on the birth certificate or adopt together.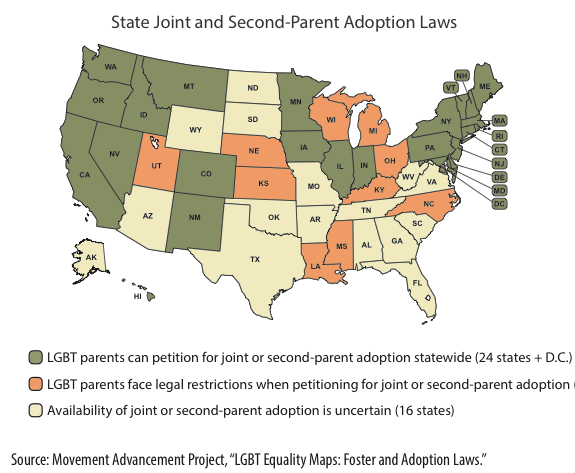 You are covered under your partner's insurance policy because you somehow found a very friendly employer who offers partner benefits, but you have to pay extra taxes every year because your insurance benefits are taxed as income. If you lived in a state with marriage equality and were married, you wouldn't face a tax penalty.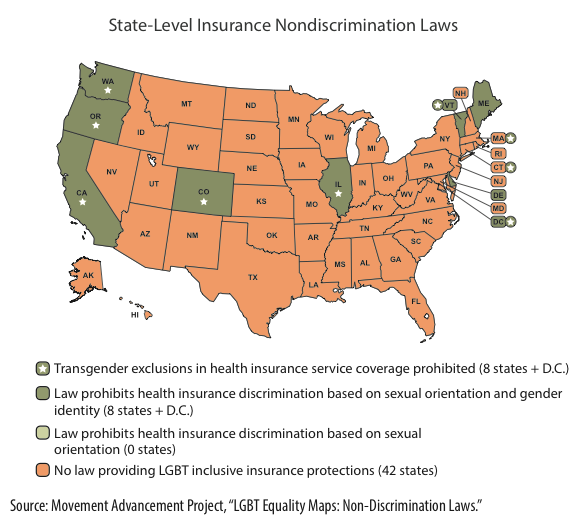 Let's add to this that you, your partner, or both of you are transgender. You are already scraping by and can't afford to have your name or gender marker legally changed or you do not want to, but because of the lack of non-discrimination protections in your state, this makes it difficult or impossible to keep a job, maintain safe housing, travel, or obtain government assistance.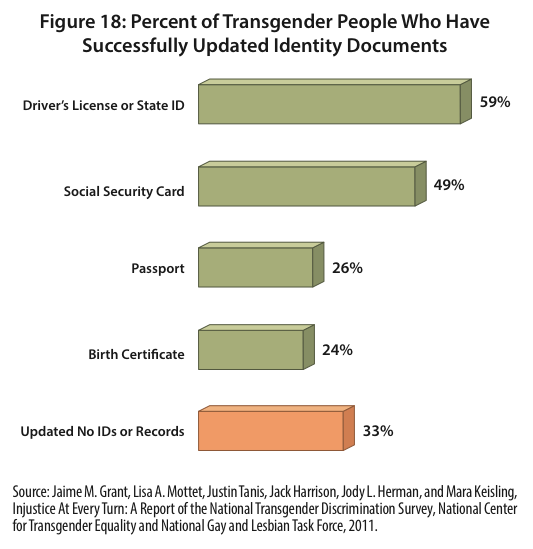 With all of this going on, you certainly can't save for the future.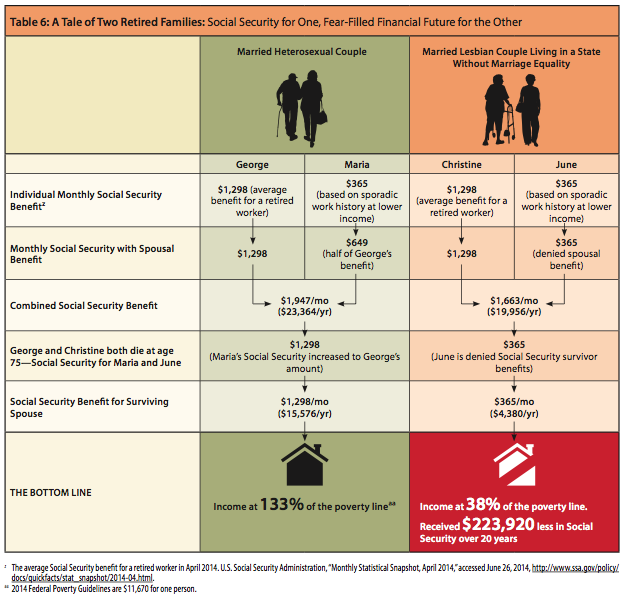 It adds up. On top of all of this, you're dealing with cultural shame and stigma from every direction. You worry about your future and your family's future. Should you just move to another state with better laws, leaving behind the community and people you call home? Just because you are LGBT, should you be forced to pick up your life just to have a better chance at security and happiness? Can you even afford to? Moving is expensive, and where you live shouldn't dictate your ability to have a living wage and a secure future.
As Mushovic puts it, "This really shows how far we have to go. There is more to do beyond marriage. We have these other states where there are essentially zero percent protections. We talked to people who have been in these situations where they were even afraid to ask if [partner] benefits were available because even asking means they might get fired — 'I'm too afraid to ask.' Anti-LGBT laws make people economically insecure and they disproportionately affect those who are most vulnerable within the LGBT community. They hurt you and kick you when you're down."
Where to Go From Here
The report isn't all gloom and doom. We can change the landscape for LGBT people living near or below the poverty line if we want to, by changing policy and changing social norms. Some recommendations for action include:
Creating policy solutions and social change allowing all people to achieve economic security
Updating definitions of family to be inclusive of LGBT families and other diverse families
Passing federal, state, and local laws and policies to prohibit discrimination against LGBT people
Addressing hostile and unsafe educational environments for LGBT youth
Expanding understanding of LGBT people by improving data collection
More than anything, what the MAP/CAP report drives home is that the legal discrimination and bias that LGBT people face is real and has dire consequences far beyond the political rhetoric these issues are often couched in.
Here is what Mushovic said she'd like to see people take away from reading this report, and I couldn't agree more.
"I would like people to understand that anti-LGBT laws don't just have emotional consequences for people (not to set aside the emotional consequences because those are very serious and damaging, too). Anti-LGBT laws have a very serious and damaging impact on LGBT individuals and families and their ability to provide for their kids, go to work, and put food on the table. When people say 'I don't believe in marriage,' or 'I don't support this non-discrimination law for transgender people,' I don't think they are aware that their denial of equality for LGBT people really impacts the daily living of LGBT people and their ability to make ends meet in America. There is a hardship that anti-LGBT laws are creating that is economic and financial in addition to the emotional toll that we know these laws take."
Share your story with the world by posting on social media about the ways that anti-LGBT laws make it harder to be financially secure using the hashtag #UnfairPrice. Join the authors of the report today, October 1, at 2:30 PM EST for a Google Hangout.