There have been some inquiries as to where the Once Upon A Time recaps have gone. This post is meant to answer those inquiries and address something that I believe is of grave concern to our community, a terrible disease lurking in the bones of many a piece of media. Yes, my dear friends, I speak of queerbaiting.
Queerbaiting is the silent killer in our televisions. Please, make sure your favorite shows get tested early and often. In the first stages of queerbaiting, the disease is regularly mistaken for actual representation and the start of a romantic arc. Symptoms include lingering physical contact, intense gazes, vague but seemingly meaningful confessions and innuendo-filled dialogue. One of the most prevalent symptoms is referred to by the medical community as "eye sex," with hundreds of cases on record. So far, the only cure for queerbaiting seems to be not engaging with the show itself, but the more time that passes, the deeper the investment and thus the more difficult the treatment.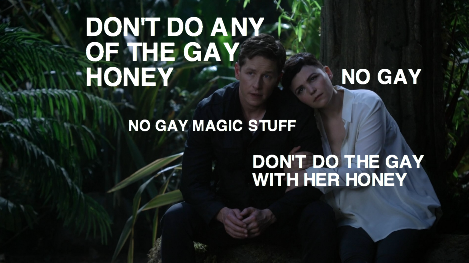 All cute metaphors aside, the incident of Once Upon A Time goes far beyond your typical Rizzoli and Isles brand of queerbaiting. I think this scenario is actually worse in a much more toxic and nasty way. Taking your butchest female character, heavily implying that she's into a girl without confirming it in the absolutest sense and then essentially erasing her from the script is not equal representation. On the contrary, it's a big ol' copout, kind of like saying that Once Upon A Time is racially diverse because of a few minor appearances, or Regina, a white-passing Latina whose heritage is never acknowledged, if it's even meant to be an aspect of her character at all.
I'm the first to admit that I had a blast recapping this show because there are many things that are truly laughable about Once Upon A Time. Their dedication to the glorification of the traditional biological family is at times so creepy that it's hysterically funny, and the writing has more inconsistencies than a coloring book based on The Children's Bible. There's so much fun to be had because there's so much to poke fun at, but when I realize that laughing is sometimes the only way to tolerate the hot mess of bullshit spewing from this show, it's pretty depressing. To take a step back and look at this show on the most macro level, you've got adoptive and single mother families portrayed as evil and always inferior to biological ties, "true love" is monogamous heterosexual virginity-taking marriage-bound love, and marriage is tied to heterosexual procreation. Again, that's at the most macro level of analysis possible. Are there cooler things going on? Maybe if we project a little, sure. Could we possibly put on our homolicious rose-colored glasses and see queer temporality in the narrative or queer kinship structures in the way every single character is related to each other? If I had to write a Literary Analysis 101 paper on this show, I'd go crazy with all the queer theory I could infer from this tangled mess of a show. But the thing is that you and I both know that my gay feminist reading is not at all the intention of its creators and that what's actually happening on the screen is a lot less friendly to an LGBTQ audience.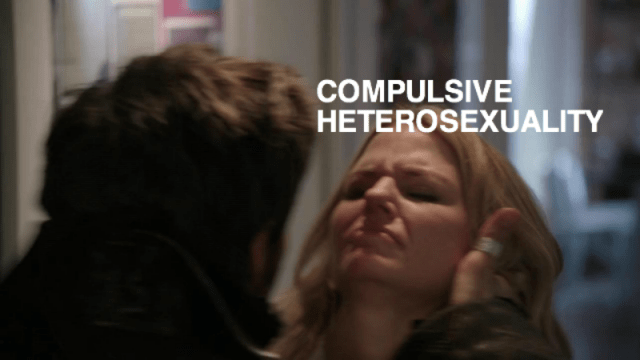 The thing is, representation matters, and one of the worst things that this kind of narrative does is that it expects an LGBTQ audience to be satisfied with the bare minimum. When this bare minimum is not met with automatic praise and thanks, the audience is punished in any number of ways, from a producer's social media snarkery to claims by the mainstream media that the darned homosexuals just aren't grateful enough. Even the smallest amount of negative reaction is cited as reason enough to not bother with such a storyline in the future.
It's sort of like showing up to Thanksgiving having said you'd bring green bean casserole, except you brought a single green bean on a paper plate. Even though this will obviously not feed any of the other guests and barely counts as a green bean casserole, you sneer at those who are protesting, telling them that they never specified what a green bean casserole is and besides that, they're being whiny babies. You wave the single limp green bean in the air and tell them that it's obvious they'll never be happy, that they're complaining for the sake of complaining and  that it's no wonder they don't get to eat quality green bean casserole because nobody wants to share green bean casserole with such an aggressive and unfriendly group. In other words, making a character bisexual only to immediately write them out of the show makes me feel like shoving a green bean up someone's nose.
So nope, I'm not going to recap this show anymore. We have a strict policy on Autostraddle that we only recap television shows that feature canon queer characters, and Once Upon A Time no longer qualifies as such. Even if Mulan reappeared riding a pansexual unicorn with rainbow flags a-blazin', I can't imagine she'd be getting a very fair storyline. Aurora's pregnant by and living with Prince Philip, the physical manifestation of "no homo." Any queer romantic interest would have to be introduced as a new character, as every other character on the show is either in a heterosexual relationship, implied to soon be entering a heterosexual relationship or too young. Something tells me that Once Upon A Time has no intention of disrupting their pattern of making heteronormative baby-raisin' the gold standard of living.
I'm not saying we can't engage with problematic material. On the contrary, problematic material is sometimes hilariously entertaining to engage with when you see that its claims to foundations are actually mounds of cheese whiz. I love that fans have deliciously queered this deserving show with a heaping serving of femslash. It's just that I can't do the same, because it wouldn't be true to the rules of our site, and it's just not something I want to keep giving our precious queer media time to when it all it does is bite us in the backside.
I begged the editors to let me write about this show when Mulan had her moment because I thought Mulan would continue to be having moments. Each time I dragged myself through an increasingly terrible episode, I wondered why the whole reason I was recapping wasn't there and if it was worth recapping at all. Should we as the queer media be giving our time and promotional space to works of media that participate in this kind of poor behavior? Fun as it was to mercilessly tear this show apart, the buck stops here. It really doesn't deserve any more of our site's attention because it certainly doesn't deserve our gratitude. But that fanfiction, have mercy. You keep that fanfiction up, y'all.