I've been reading, I've been readin
Can't keep my eyes off these pages
Weirdos I want you, nah nah nah
To write more books
We be all night AHHHHHAHHHHH
DRUNK IN WORDSSSS
Like maybe once Beyoncé could do nerd remixes of every single one of her songs. Please, just for me? But no seriously I've been reading a lot lately and trying to get out the house and trying to write my own shit. I've been a part of some cool shit, seen my people doing some cool shit, so let me share all of that here with anyone reading this.
---
Books and Stuff
I've been reading three books at the same time: 1Q84 by Haruki Marukami, The End of Eve by Ariel Gore, and Brooklyn's Daughter by Maria E. Rodriguez.
1Q84 is a mind trip and for the first 850 pages I COULD NOT PUT IT DOWN. But then some dumb dude spy character got involved and was given as much page time as the main characters and my interest waned. Now I'm struggling to get through the last 50-60 pages out of 1000 something. It's worth reading just for the ride of those first 850 pages but damn, if I'm not struggling. I'll let the New York Times tell you more about it.
High Points: Female Assassin knocking off dudes who commit acts of sexual violence against young girls, a world with Two Moons, and musings on the complexities of existing between parallel worlds.
Low Points: Dumb dude, all of the chapters that take place in a hospice, and all the missed connections.
---
Yo Ariel Gore is one of my writing mentors. I'm just gonna put that out there. Like I'm obsessed with everything she writes (stop what you're doing and read Atlas of the Human Heart) and so obvs I jumped at the chance to read The End of Eve before it officially came out. Straight up it's a memoir about the time in Ariel's life when her mom, Eve, was diagnosed with Stage 4 lung cancer and invaded Ariel's life (Ariel at the time was living with her partner and their son). Eve is one of the most complicated women I've ever read about and Ariel's relationship with her mother is also unlike anything I've read. The crazy thing is that Ariel is able to write about all of this with a wicked and dark sense of humor that keeps a novel about someone's last days from being unbearable. Literally, I read it in one full night so y'all should read it too. Also, when's the last time you read a book that had a queer family in it and the queer-ness wasn't the most OMG part of the novel? Want more? Read what LAMBDA Literary had to say about The End of Eve.
High Points: Queer family realness, someone's ex-girlfriend is a mime, and there's a crow that pops up whenever something super spiritual happens and it made me want to watch The Birds.

Low Points: Stage 4 Lung Cancer + Eve.
---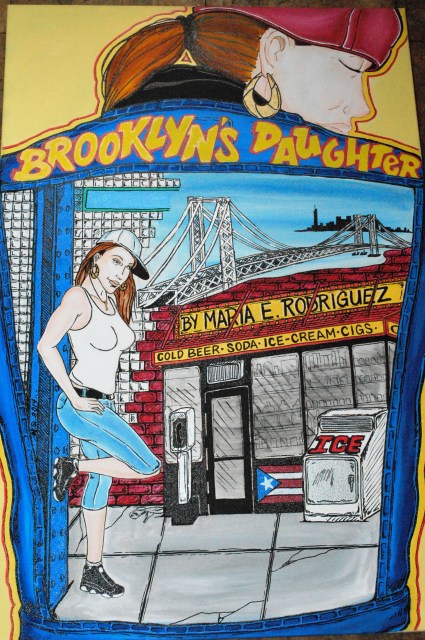 Brooklyn's Daughter is a book of poetry by Maria E. Rodriguez. Check out this dope interview with her on Sneakers & Ale dot com. I'm still reading this book and I like it. Rodriguez writes from this authentic place, like the corner of Latina Ave and Brooklyn St. But it's not heavy-handed, it's super honest and real. In this collection of poems, Rodriguez tackles issues such as body image struggles, the abuse of emotional power inflicted on young women by men and the world around them/us, and what it's like to lose parents who are supposed to be our guiding lights through chaos. I'm slowly making my way through her work and every poem is a piece I'd like to hear on stage. This book is a beautiful edition to the canon of Latina literature. And lucky for us, Rodriguez is always performing her pieces on a stage somewhere in her beloved hometown, Brooklyn, NY.
High Points:
Women,
when they tell you your lips taste like gunpowder
don't forget to empty
the clip
Low Points: The queer content is low. But I'm ok with that because Rodriguez's work is memoir/first-person poetry and she speaks her truth like no other.
---
#LATINASCHATMEDIA
So I was asked to be part of this round table discussion (but really we sat on comfy couches and love seats and there wasn't a round table so…). Linda Nieves-Powell is a Latina writer, director, media powerhouse who is making moves and putting the issues/struggles/needs/wants of the multi-layered Latina community at the forefront of all she does. #mentorstatus
Linda asked me to be a part of a discussion about Latinas in Media and what that means for our authenticity, ethnicity, expressions of struggle, sexuality, and what kind of context we need to provide for our stories not to fall into stereotype-landia. I totally agreed and got on board and participated in this discussion with some totally awesome Latina writers and media makers: author and Ivy League Homegirl, Sofia Quintero, actress and comedian Jenny Saldaña, actress and super hero Vanessa Verduga and producer/writer Maria Nieto. So we talked for hours and Linda had it filmed and now it's up on the internet for everyone to see.
---
Spring Love and Sister Spit
Went on a date recently with the boo. Ate arepas in BK and then watched Sister Spit at Littlefield's. Neither one of us had ever been to a Sister Spit show and it was pretty good. Some performers were un-remarkable but the ones that stood out were SO DAMN GOOD. Chinaka Hodge spit Biggie Smalls haikus. Beth Lisick told hilarious stories in a banging, super-tight gold dress. And if you haven't heard of Virgie Tovar, y'all need to get up on that gravy train because she's a badass, giggling, hella smart, fat activist, brown girl powerhouse and I think me and my girl fell in love with her at that show. Buy her book Hot and Heavy: Fat Girls on Life, Love, and Fashion. And go see Sister Spit on Tour because supporting them means more than going to see Noah or Spider Man 9000 Revenge of the Spidey Suit or some other bullshit. Go see weirdos and women and everyone living on the fabulous fringes of society doing things, please. I'll go with you. We can take all our boos, cats, and brujas on a communal date.
---
Originally published on gabriellerivera.com. Republished WITH PERMISSION MOTHERF*CKERS.