Beets, like olives, cilantro, or pickles, are a pretty decisive food: some people really like them, and some people really don't.
When purchasing, choose beets that have a lot of colour, firm and smooth skin, and the stems and greens still attached. Scrub them and remove the stems, but roast them with the skin on — it's a lot easier to remove afterwards.
When cooking, be careful of your cutting boards, bowls, counters, and clothes. Beets will stain a plastic or wooden cutting board or bowl. To avoid this, cut them in the roasting pan or serving bowl.
This salad works best with goat cheese, but if you're vegan, lactose intolerant, or just not a fan of cheese, nutritional yeast flakes and/or adding more walnuts and parsley will help add more flavour. Even if you do eat cheese, using a variety of beets — dark red, candy cane, and golden — will add flavour and complexity to a super simple dish.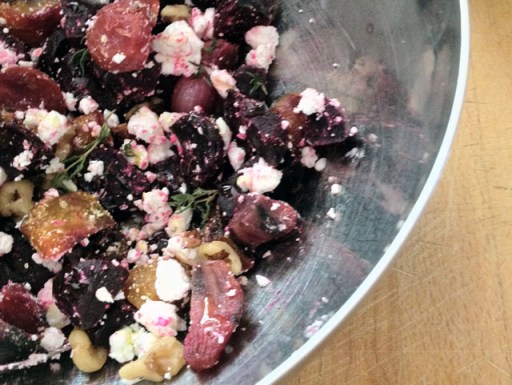 Roasted Beet and Goat Cheese Salad
Ingredients
3-4 bunches assorted beets
1 bunch whole young spring onions (or 1/2 a regular onion, coarsely chopped)
olive oil
fresh thyme
salt and pepper
balsamic vinegar
1/4 cup chopped walnuts
1/4 cup goat cheese
Directions
1. Preheat the oven to 350 degrees. Scrub and trim the beets, leaving the skins on, and place them in a glass or metal roasting dish. Wash and trim the spring onions, leaving a couple inches of green at the top. Toss with olive oil, salt and pepper, and chopped fresh thyme, and roast them for about 50 minutes, or until they feel soft and tender when you stab them with a knife. Remove the pan from the oven, transfer to a bowl, cover with saran wrap, and let cool.
2. When cool, remove the skins and cut the beets into medium-sized pieces. Add more fresh thyme, a little more olive oil (use your judgment), a little balsamic vinegar, the chopped walnuts, and goat cheese. Toss and serve as a side, or over wild rice or arugula.