Rice and beans have the kind of relationship most of us can only hope for. They're so stable and complimentary to each other. They provide comfort to countless people and inspire love poems. If you wanna get sciency about it, rice and beans are the perfect couple because together, they have the right proportions of the 9 essential amino acids that make up a complete protein. They might not be terribly sexy, but there's no denying that their relationship is rock solid. In honor of the happy couple, we got together and wrote our of ode of sorts to rice and beans. (Also sometimes other members of the grain and legume families. Life is short, etc.)
+
Rice and Black Bean Succotash
By Laura
Ingredients
1 can of black beans
1 ear of corn
2 tomatoes
1/4 red onion
1/4 cup of olive oil
1/4 cup of balsamic vinegar
salt and pepper
rice
cilantro
lime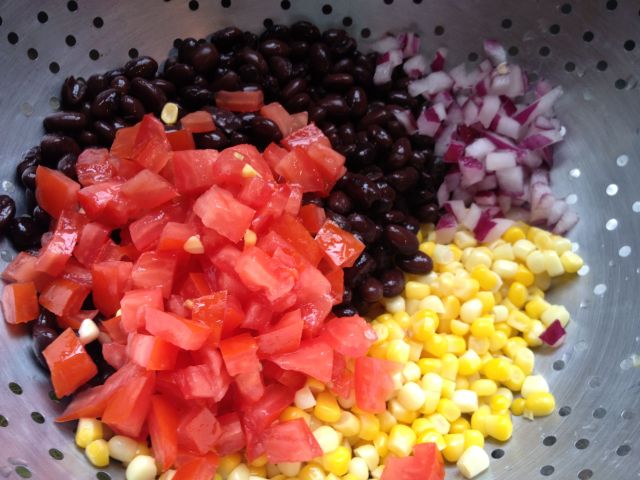 Instructions
1. Put the biggest pasta strainer you own (what do you mean you only have one?) in the sink and pour the black beans into it.
2. Shuck the corn and then slice the kernels off the cob using a serrated knife. I think the easiest way to do this is to lay the cob flat and cut horizontally so that the kernels don't go flying everywhere. I say this having found corn kernels in tiny crevices in my kitchen (hello, toaster) weeks after making this stuff.
3. Bring an inch or so of water to a boil and blanch the corn for 1 minute. (You may think that Blanche is just the name of the woman on the Golden Girls, but it's not. It's really a fancy word for "cook for just a hot second.") Pour it into the strainer along with the beans and then immediately run ice cold water over it to stop it from cooking.
4. Slice the tomatoes and onion into small pieces and throw them in with the corn and beans.
5. Transfer everything from the strainer into a bowl, pour on the oil and vinegar and then season everything with salt and pepper.
6. Make rice and add cilantro a squeeze the lime over it. Alternatively, you can do what I did and go to Chipotle and order a side of rice for 90¢. I do this a lot when I bring this to work because I can keep the bean fandango cold in the fridge during the morning and then get fresh, hot rice from Chipotle at lunch. If you're as lucky as I am, the people at Chipotle will think you're cute and funny and not crazy for ordering a side of rice every day for 2 weeks. I'm not kidding, you guys; a girl who worked there proposed to me on day 7 of rice and beans.
+
A Variety of Things
by Rachel
Chickpeas and Couscous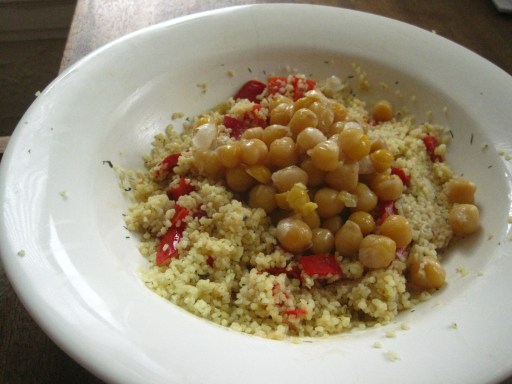 Ingredients:
chickpeas, either dried soaked and cooked or from a can
boxed couscous
dried mint
dried oregano
roasted red peppers and/or tomatoes and/or spinach
Instructions:
1. I am a big fan of the soak-boil-eat method of consuming legumes, but canned is also fine here. If you are making your chickpeas from scratch, you need to have soaked them for like 12-24 hours, then boiled them on the stove for like 25 minutes. Or open a can, whichever.
2. Couscous is like the easiest thing in the world to make. Boil some water (the amount specified on the box) and stir the couscous into it. Lower the heat and keep stirring until the water is absorbed. You can also stir in some dried herbs; I like mint and oregano.
3. Chop up some vegetables of your choice — I like tomatoes or roasted red peppers, but some wilted spinach or sauteed zucchini would also be nice — and stir everything together in a big bowl. Put some tahini on it if that's your jam.
Fava Beans and Quinoa
Ingredients:
fava beans (see above re: canned vs. dried)
1 cup quinoa
tomatoes
extras — spinach, olives, slivered almonds, whatever works for you
some sort of dressing situation — I like tahini+lemon juice, but you do you
Instructions:
1. Fava beans are sort of weird and look like huge lima beans, but I think they're delicious and taste particularly beany out of all of the beans. They do take forever to cook though if you're making them from scratch, just fyi. Regardless, get some beans one way or another, and make sure they are cooked, by your hand or by the people who afterward put them in a can.
2. Quinoa! Quinoa is so fun you guys. Make sure you rinse it off first, because sometimes quinoa comes with a bitter coating that can taste bad when it's cooked. Then combine your quinoa with a roughly equal amount of water (I usually use slightly less water because I like my quinoa fluffy) (I tried to make a "like I like my women" joke there but it didn't work) and put it on medium-high heat on the stovetop. After it comes to a boil, turn the heat to low and cover for 12-15 minutes, or until when you take the lid off your grains of quinoa have unfurled a little and there's no more visible water in the pot.
3. Cut up your tomatoes, olive, spinach, whatever you have and throw everything in a bowl together. Put some dressing type stuff on top, and maybe some harissa or sriracha if you have it. Mazel tov, it's delicious.
Red Beans And Rice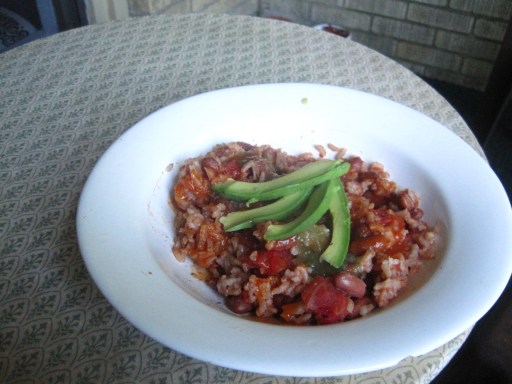 Ingredients:
red/kidney beans
an amount of rice? A cup?
jarred pickled jalapeño slices
onion
canned diced tomatoes (trust me, you want canned, not fresh.) (I mean fresh ones are nice too though. Generally speaking.)
Instructions:
1. This is the real deal when it comes to rice and beans. Like if we had a picture dictionary for food, this would be the entry. The bad news, though, is that for some reason I have never figured out an actual recipe for it. Like one that involves a lot of measuring? I apologize in advance. This is going to turn out to be more of a "meditation on how to make rice and beans" than a "recipe."
2. First of all, if you soak your beans from dried, you want to be extra extra sure to soak them well and also rinse them and drain the soaking water, because red beans can have weird toxins in them that get soaked out.
3. Chop up an onion (and maybe some garlic and/or jalapeño if you're fancy) and sauté them in some olive oil for five minutes. Then add your soaked beans and cover them with about an inch of water and then bring to a boil. After the water is boiling, turn the heat to low and let simmer for 15-20 minutes.
4. After roughly that amount of time, add your cup of rice (rinse it first) into the water with the beans. Now this part is tricky — we're trying to estimate the amount of water required to cook the rice and finish cooking the half-cooked beans, but not too much, or else it will be watery and like stew. Somehow I have managed to do this with the power of prayer every time. Probably someone else is smart enough to work it out with actual math, but since I never measure the dried beans, I really just have no idea. SORRY GUYS. If you use canned beans, you can avoid this problem and just cook the rice separately. Regardless of whether you're cooking the rice with or without the beans though, and important note on the cooking liquid — cooking your rice in just water is some basic shit. Use a little water, but also a little of the liquid from your jar of jalapeños, and like half the can of diced tomatoes with liquid included. I would say I usually ballpark it around a cup of liquid total, but the tomatoes make it hard to be sure, so. Sorry! Good luck!
5. Bring the water to a boil again, then simmer for 15 more minutes, or until the rice is cooked through. Ideally this shouldn't be stirred, but it's possible that your grains of rice on the top aren't cooking as well as the ones on the bottom, so you may need to give it a stir like, once.
6. After 15 minutes, taste to make sure that the beans and rice are both cooked through, and voila! Eat with liberal amounts of avocado and Cholula.
+
Rice and Beans w/ Veggie Chorizo All Wrapped in a Tortilla*
by Carmen
*Is this a burrito? It is now.

Ingredients for 4 Servings
2 cups white rice
1 can Refried Black Beans from Trader Joe's
1 package of soy chorizo ("soyrizo")
1 onion
2 avocados
6 tortillas, I used soft shell
Instructions
1. Boil your rice in a pot, cook your beans in a pan and simmer chorizo with chopped onion in olive oil another pan.
2. When everything is almost done, put the tortillas one-by-one in a small pan with butter and/or oil until they are warm and crispy to your desired level. Slice the avocado. You can also add some diced tomato here and you'll just die.
3. Do not eat it though because THEN YOU WRAP IT UP.
4. Now you can eat it.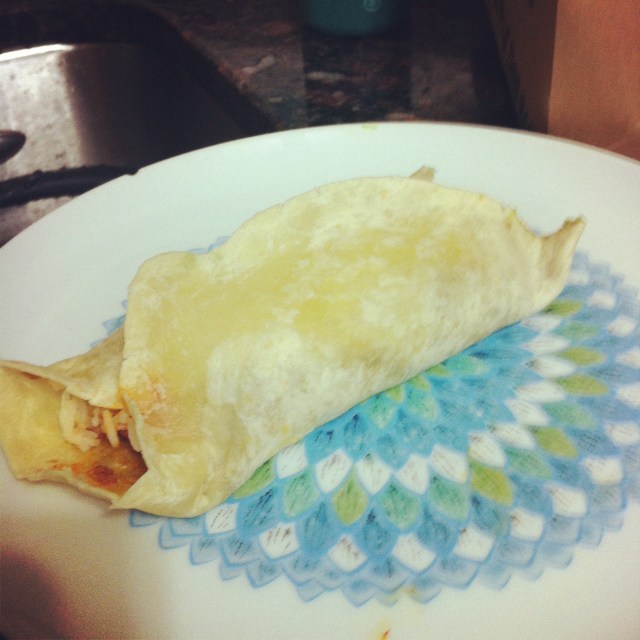 +
Rice and Beans with Kale
By Lizz
This is a recipe for your first week of med school when you feel like you need to cook something to take your mind of studying but actually have not yet optimized your time management skills for normal food cooking times.
Ingredients
one box of Near East Spanish Rice Pilaf
butter
one can of pinto beans
one can of black beans
kale
tomatoes (cherry or otherwise)
cheddar cheese
Instructions
1. Cook your rice according to the packaging. This should probably include boiling 2 cups of water, some butter and the spice sack that came with the rice. We are so fancy.
2. While the rice is cooking. Chop your kale and slice your tomatoes. If you choose cherry tomatoes slice them in half. Alternatively dice a full sized tomato. Ensure that your kale pieces are bite sized. Big pieces of kale can be overwhelming.
3. Fill a large pot with about an inch of water and turn the heat on medium. Add the kale and tomatoes.
4. Cover the kale and tomatoes and steam for about 10 minutes or until the kale looks bright green and delicious. The tomatoes will probably fall to the bottom but you can kind of scoop them up and stir them back in evenly.
5. While the kale is steaming, open up the two cans of beans. Some people will tell you to leave all the juices in the cans, but I drain it off or else things can get too liquidy.
6. Once the kale looks all bright and delicious, add both cans of beans to the pot. Cook this all on medium until the beans are warm.
7.  At this point your rice should be done. (If not, keep the large pot on low until it is.) Add the rice to the large pot and mix well.
8. Serve a small bowl of the dish with cheddar cheese on top (or not if you're a vegan).