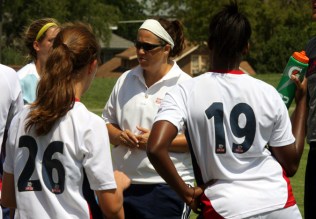 A women's soccer coach at Belmont University, in Tennessee, resigned yesterday following pressure from the administration after announcing she and her partner were pregnant.
Lisa Howe, who was at the university for six seasons, told her team that the athletics department had told her to resign or be terminated following the discussion of her partner's pregnancy.
"She said she needed to resign or she was going to be fired because of the choices she had made with her life," said Ashley Hudak, who is on the team, in an interview with the Tennessean. "She said she had tried to clear telling us she was having a baby through the athletic department and they weren't allowing her to."
In a statement released by the university, Mick Strickland, the athletics director, said that Howe decided to resign on her own, without further explanation.
Sari Lin, the team captain, told the Tennessean that she had met with Strickland and he had told her Howe was violating the university's policy on sexuality: "He basically said we have the 'don't ask, don't tell' policy and when she told us about the pregnancy, it violated that. She was telling us what her sexual preference is. He said you can hide your sexuality, but you can't hide a baby. He pretty much told me that once the baby was born she was going to get fired anyway, so it's better to do it sooner than later."
In the release, Howe is quoted as saying, "I appreciate Belmont University giving me the opportunity to lead the women's soccer program for the last six seasons. I was able to accomplish some career goals at Belmont that will always remain as some of my greatest achievements. I want to thank all the student-athletes who worked so hard for and dedicated themselves to me and the program."
According to the Tennessean, Strickland, Betty Wiseman, an athletics assistant direction, and the president of the university declined or refused to comment.
This is yet another friendly reminder about the importance of ENDA, or the Employee Non-Discrimination Act. The bill would prohibit discrimination against employees on the basis of sexual orientation or gender identity for civilian nonreligious employers with over 15 employees.

ENDA has been introduced in every Congress except one since 1994, but has yet to pass. Obama supports the bill but George W. threatened to veto it if it passed.
You can see on the map below which states have some form of protection for GLBTQ people. Wisconsin was the first to ban discrimination based on sexual orientation (in 1982) and Minnesota was the first to ban employment discrimination against both sexual orientation and gender identity.
The Tennessee Human Rights Act does not currently protect against discrimination based on sexual orientation. In September, Queerty reported:
With all this talk about repealing Don't Ask Don't Tell, one other little gay equality law has disappeared from the radar. Don't make me spell it out for you. (OK: It's the Employment Non-Discrimination Act.) Turns out all those GetEQUAL traffic jams won't be enough to get Congress to bring ENDA to a vote this year.
On the bright side: It's great news for employers looking to shed some dead weight without offering severance packages to the queers. No ENDA = Protecting heterosexual jobs!
I mean that's pretty crazy, right? It's one thing to not be allowed to get married, but any queers living in the south has absolutely no protection from being fired for sexual orientation or gender identity.
In other news, how the f*ck are they going to find a straight women's soccer coach?