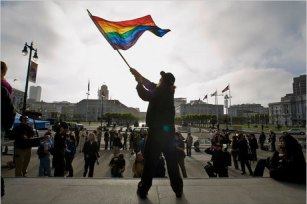 Wednesday, the Illinois State Senate voted to legalize civil unions between same-sex partners. While this isn't the same as actually passing the bill into law, Illinois's governor has already declared that he'll support the motion, and so it looks as though civil unions may be possible in the very near future for Illinois gays and lesbians.
For many, the news was welcome, but a little underwhelming. With talk of Prop 8 possibly foreshadowing an end to DOMA when it reaches the Supreme Court, civil unions pale in comparison to Marriage, the golden ring that many queers see as a major step in our journey to move out of second-class citizenhood and into being fully recognized humans. Even the news brief itself on the item is focused on what many hope is the next step:
"With this step in the right direction, Illinois rejected arguments against fair treatment for gay people and their loved ones and acknowledged that gay couples and families exist and have the same hopes and needs as other families," [Evan Wolfson, executive director of Freedom to Marry, said].
Wolfson also urged lawmakers to follow in the footsteps of other states that have legalized gay marriage after first approving civil unions.
"Having now laid a good foundation with civil union, Illinois should move swiftly to finish the job, ending exclusion from marriage for committed couples seeking the same responsibilities, same respect, and same rules."
How much should we be celebrating Illinois's decision and how much should we be pushing for more? At a basic level, civil unions provide a certain degree of legal legitimacy and protection to your relationship, while marriage provides social recognition and, for some, religious significance. How much is it worth to us to have court documentation of our love?
Well, this article from HuffPo on gay divorce comes along at a convenient moment for those mulling over this question.
For some same-sex partners, the inability to legally marry relegates their break-up to the murky world of non-marital law, which often involves complex theories of equitable partition, implied contracts, and partnership law. It can also create serious problems around the parentage and custody of kids. See www.NCLRights.org for more about those issues. And, even for those whose lives are covered by marital law (because they live in a recognition state and entered into a formal registration or marriage), the lack of federal recognition can create serious confusion or even blatant discrimination. There is no tax recognition of the spousal relationship, and so transfers of assets can trigger capital gains, income, or gift tax liabilities. The ERISA rules preclude the assignment of a pension or retirement benefit, which also can lead to additional taxation and enforcement problems for divorcing couples. Because of the legal complexities, fewer divorce lawyers know how to handle same-sex dissolutions, and so even finding a qualified lawyer can be a challenge.
While the Prop 8 trial made it clear that for those who want to marry their partner, domestic partnerships and civil unions just don't cut it – the process of being "united" or "partnered" has been described as painfully anticlimactic, with poet Helen Zia observing that "we went to the same window where you get dog licenses" – they do serve a purpose.
As the above paragraph explains, DOMA is still a huge roadblock to all gay couples in the US, civil unions can be a small miracle if you ever do separate from your partner. It's a depressing angle from which to look at a happy thing, but civil unions are one of the few tools we have in navigating the lawless netherworld of gay relationships.
There's been a lot of bad news lately, and there's been some good news too. Take this as you will. And take it further, because no matter what you think of Illinois or what Illinois thinks of you, we're not done here yet.