This week we have the RodeOH Harness from Babeland.
+
+ Size: XS – 3XL
+ Material: Cotton, Sapandex
+ Price: $45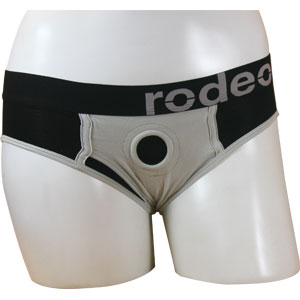 Strap-on harnesses, to me, have never really been something I thought to question. I've always just accepted their buckly, complicated, twisty, constricting design as some kind of unquestionable reality; I figured that, considering how many lesbians are enthusiastic about engineering, this medieval-torture-device contraption must be the best thing we can come up with for this purpose. Like the eyelash-curler.
But have you ever talked to your mom about periods and been horrified to hear her stories about how back in the day they didn't have easy-to-use tampon applicators and fancy self-adhering pads, but instead had to strap themselves into weird clunky garter belts made of cheesecloth and bamboo and wear pads the size of diapers that they had to put on in layers and change like 14 times a day, and you'd think about how lucky you are to be alive now instead of then? Well. That might just be what future baby lesbians think when we tell them about how WE used to strap it on.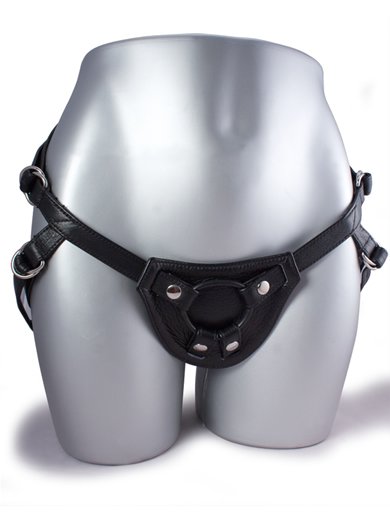 "Back in my day you had spend 10 minutes in the bathroom with your pants off frantically trying to untangle a dozen leather straps from each other and figure out which buckles attach where, dangling the damn thing upside down like an old kitchen wall phone hoping that it magically twirls its way back to its original form! We had to EARN our sexytimes!"
No more.
I've had two harnesses over the course of my life, mainly because those suckers are expensive and I'm not big into shopping. I only got the second one because the first one broke (you can guess how and when), and I replaced it with an exact replica of the first one. It was tried and true – the kind with the two leg holes, side buckles to adjust the waist and d-rings to adjust the legs.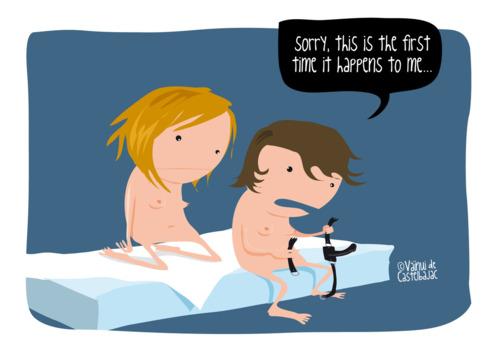 There are other designs, yes, but I don't like stuff riding up my ass crack and I'm also a creature of habit – I understood it, it understood me, we got there together. I learned how to take it off in such a way as to ensure minimal effort and calculation putting it on again. I learned that it can feel sexy to secretly wear it all night on a date, but that the slightest miscalculation putting it on could mean hours of discomfort later, waiting for an opportunity to re-adjust. I learned to plan ahead. And for the most part, it worked; I'm not mad at my harness, we've had really good times together. I'm sure we'll have more.
So, then my girlfriend whips out this innocuous-looking pair of black and grey underwear with kicky light grey piping and a wide, dykey waistband that reads "rodeOH." The crotch area has a rubber ring sewn in to hold a dildo. She tells me it's a strap-on harness. I snort.
It's always been my assumption, based on the harnesses I'm used to, that dildos need to be anchored to your body like a tornado's about to blow through. Batten down the hatches! Tie the tarps down and tack up the plywood, things are about to get sexy! So this little boxerbrief-style crotchflap with the ring seemed novel, but probably wasn't going to cut it.
How wrong I was, friends.
First of all, this shit is COMFORTABLE. Putting it on is no more complicated than putting your underwear on, which is very likely relatively uncomplicated for at least most of you. You could put them on in the morning and wear them all day if you wanted to, sexytimes or no sexytimes.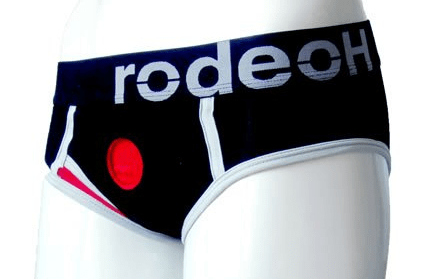 What I said before about learning to plan ahead? All of the buckling and adjusting and excusing yourself and/or spending hours trying to make sure flyaway leather straps don't accidentally stick out above the waist of your jeans is over. You can just put them on and go, and if your grand plans don't eventually come to fruition, you can just slip them off again; no harm, no foul, no regrets, no angry red marks left in your skin.
Mechanically speaking, I was worried that just having a dildo inside the little underwear ring would mean too much slack, but it stayed put like a champ and the tiny bit of extra give was actually more of a benefit than a hindrance. RodeOH says the ideal toy for use with the underwear is about 5-6″ long and 1-1.5″ wide, so if you're in the mood to break out one of your monster dongs you should probably still reach for your faithful leather harness.
And while the rodeOH harness might not be the first-ever incarnation of this design, it feels like the first time it's been well-thought-out. Most of the other, similar stuff I've seen has had that cheap sex toy store feel to it, and rodeOH is a woman-owned, woman-operated company that seems to have a pretty good idea of what lesbians are looking for: not only does it get the job done, it also looks good, which means you feel good. And you feeling good means everybody feels good.
[If you need a dildo, check out the complete guide to picking out dildos we wrote last year]