Another year, another opportunity to create a kickass calendar of smokin' hot lesbians. If you've not picked up the 2012 calendar yet, now would be the time — they're available for the post-holiday price of $10! For 2013 we did something completely different yet totally spectacular.
Are you ready to meet the 2013 Calendar Girls?

video edited by Sarah Croce and Lauren Aadland
Now, onward and upward — here's Robin!
Artist's Statement:
For the 2013 Autostraddle Calendar, we put on our bathing suits and hit the water! My goal this year was to do a black and white series that was playful, sexy, and all about the women. I sought to capture images that would reflect the models' feelings of freedom and comfort in their own skin. We chose a simple expanse of sand and water where the horizon is somewhat indistinguishable, and it was the perfect setting for a very personal and introspective look at each of these extraordinary women.
As a photographer, photographing an entire day at the beach is a great challenge. You need to maintain consistency as the light changes drastically throughout the day and the tides ebb and flow. This adds an interesting element in the images as over the course of the day, we watched them play and interact from sunrise to sunset. We closed the day with some very quiet, intimate interactions between the women who'd come to know each other over the course of those hours.
I love coming away from these shoots knowing that all of these women are now friends, and I hope that these images reflect those bonds formed.
A huge thank you to our beautiful models and our amazing crew for a job well-done. A special thank you to stylist and co-producer Sara Medd for being my partner in this project.
Robin, Photographer
Crew:
Robin Roemer, Photographer and Co-producer
Sara Medd, Stylist and Co-producer
Sarah Croce, Production coordinator and video
Lauren Aaland, video
Alex Vega, designer
Christina Natale, Make-up
Brandi Andrews, Make-up
Taylor Stevenson, Hair
Michelle McCaw, Hair
Sabrina Bringuier, Photo Assistant
Our June Lady is Mollie: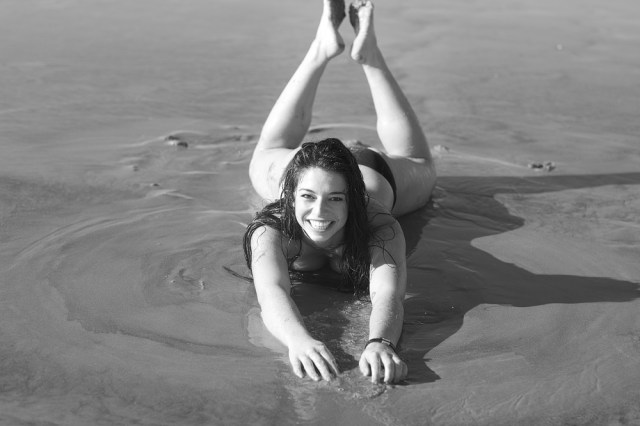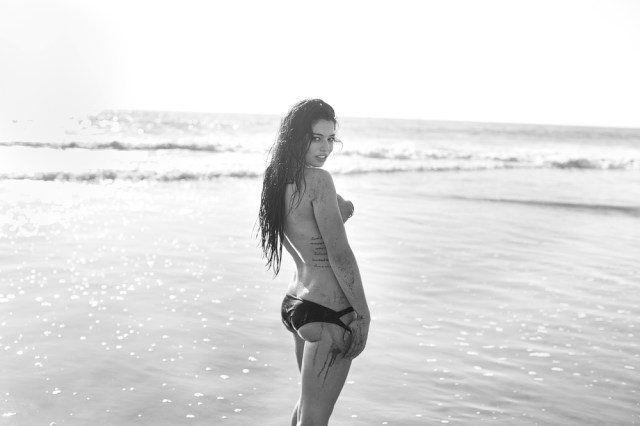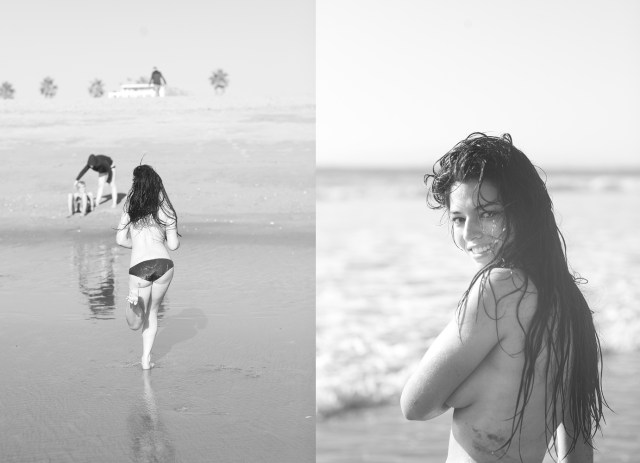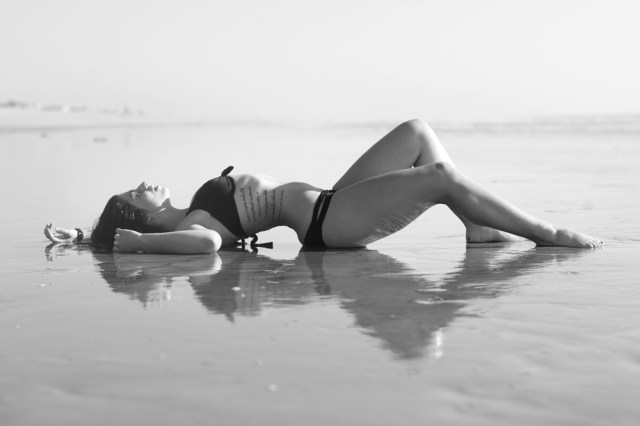 Mollie in her own words:
Hi There! My name is Mollie Thomas, although I have also been known to go by "Miss Abbey West Hollywood." I am a Libra, born October 14, 1992. I'm originally from the east coast, growing up part time in Manhattan, and part time on a horse farm in Pennsylvania. I have had the privilege of calling myself a Californian for over a year now. And, like a good Cali girl, I got myself involved in the Miss California USA pageant, running as one of the first openly lesbian women in the history of the pageant.
My whole life I have been involved in the arts: I started dance lessons when I was three and continued them for many years, was a theatre nerd at every opportunity, dabbled in modeling, and spent two years running to acting auditions around New York City, and I can now add pageantry to that list. In addition to living a very "artsy" life, I have had the opportunity to travel all over the world, both for fun and for volunteer work. Due to all of my traveling I have picked up a fun collection of random skills, such as elephant riding, dogsledding, skiing, surfing, and scuba diving. However, now that I am all settled down in West Hollywood, with my dog – Dinah, I'm focusing more on starting a nonprofit and advocating for LGBTQ equality!
Love you Autostraddle team! And thank you for allowing me to be a part of something so beautiful! Xoxo
+
Robin's Phoner with Mollie
+
What was it like being the first openly gay contestant for Miss CAlifornia USA?!
The experience was incredible! When I decided to run in the pageant I had no idea how much of an impact I would have by running openly.
Had you done pageants before?
Nope! When I ran in January for 2012 I had never done a pageant before. It was completely new to me and I just had to make it up as I went, which made it really fun and exciting, as well as nerve wracking!
You were really comfortable in front of the camera during our calendar shoot. Do you have modeling experience?
I have done a bit of modeling here and there since I was younger. But, I think it was all the photoshoots I would beg my mom to do with me when I was little that really made me love being in front of a camera.
Tell me a bit about your marriage equality and anti-bullying platform, and what that was like being a voice for gay rights.
Well, I have actually taken my pageant platform a lot further then I expected to, partly because of all the media attention my campaign attracted. I now have the opportunity to really speak out and make a difference. I'm using that opportunity to start a nonprofit dedicated to creating positive visibility for the LGBTQ community. I never expected to be in the position I am now, but its really incredible and I'm so grateful for the chance to make a positive impact.
Wow! Mollie, that's incredible!
Thank you! It's SUPER exciting!
Do you have a name for your nonprofit yet? What will the main purpose of it be?
We are calling it Team Equality! The ultimate purpose will be to utilize the power of media to promote a positive image of the LGBTQ community.
So cool, I can't wait to see it take off!
Thanks, me too!
Are you going to run for Miss USA again next year?
Yes! I actually have decided to run again for Miss CA USA! It was such a great experience the first time, I'm really excited to go back again, but with more time to prepare!
Very exciting, we'll all be rooting for you in January! (January right?)
Thanks! And, I'm pretty sure the 2013 pageant will be in January again.
One last fun question. My favorite image of you from the calendar shoot of you is one where you are laying on your back and the sun is casting a really amazing reflection in the water, but in the online version we can't really read your tattoo. What does it say and what is the meaning for you?
The tattoo on my side is actually a verse from the Beatles song, "Across The Universe." It says, "Sounds of laughter shades of life are ringing through my open ears exciting and inviting me, Limitless undying love which shines around me like a million suns, it calls me on and on across the universe." I think I could go on for hours about the personal meaning it has to me!
Ha! Maybe the cliff notes version.
Well, one aspect of it for me: it speaks to my love of travel and experiencing everything the world has to offer!

Special Note: As of December 2010, we request that the comments on Calendar Girls posts, unlike every other post on this site, be exclusively positive. These posts exist to celebrate women, so any shit-talking or criticisms of the model's appearance will get deleted. Direct concerns about the project or website as a whole can be directed to robin at autostraddle dot com or riese at autostraddle dot com!