Last month, the NOH8 Campaign came to New York City, inviting any and all New Yorkers to strike a pose for gay marriage. I only got to spend the few minutes it took to snap my photo with Adam Bouska, but even in that short amount of time I felt serious "good person" vibes. He was bubbly, gracious and generous with each of the hundreds of photo subjects he captured that day. So I was excited to catch up with him last week to talk about the Election night that changed everything, whether he wants to get married to partner [and NOH8 visionary] Jeff Parshley, why the hell Lady Gaga and Adam Lambert aren't all over it yet and gearing up for the hot & sweaty Dinah Shore open shoot later this month.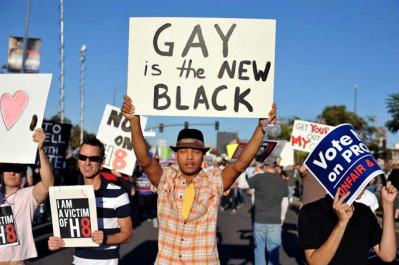 Jess: Walk me through Election night 2008, as you came up with the genesis of the NOH8 campaign.
A. Bouska: Initially, Jeff and I were taking part in the "No on 8" rallies in West Hollywood [leading up to the election], but after the passage of Prop 8 I wanted to something more photography-related since every photographer wants to send a message through their images. So, we went back to our apartment at 2 or 3 am on election night, November 4, 2008, and did Jeff's photo. We did the duct tape over the mouth symbolizing not being heard…  The NOH8 on the cheek came from us seeing "Victim of H8" on Facebook profiles and we wanted to replace that with people's faces.
"Hate" is really what it's all about – using money to fund campaigns to split apart people's relationships – we see that as hate. So, it's very important to have people looking into the camera, to connect and look in their eyes. The white t-shirts help the skin tones and the eyes stand out a bit more. I think the difference in skin tones says a lot because it applies in any respect where the majority votes on the rights of a minority.
Jess: Did you kick around any ideas aside from the white background/t-shirt/duct tape look?
A. Bouska: We did toy around with the "H8″ idea but nothing really stuck.  Looking back, we came up with "NOH8″ pretty early on in the night. We did a few more pictures with other friends but we never intended for it to become this big campaign.  It ended up being a collage of 9 images of our friends posing… that was the intention and as big as it was supposed to get.
Jess: Do you want to get married?
A. Bouska: I always grew up with the mentality that I wanted to get married, and it took me a while to realize that it's still a possibility. It's been a growing process for me because I never felt like I was an activist but Proposition 8 really has turned me into one and inspired me in different ways.
Jeff actually proposed to me on the 1-year anniversary of the campaign since NOH8 was actually established as a holiday in West Hollywood. So, he surprised me on stage at the first anniversary of "NOH8 day" and proposed to me, so we are engaged now, but we haven't set a date. When Proposition 8 is repealed,  then we will look into that. We were initially more upset that the option was taken off the table entirely, though it wasn't a personal issue for us. It just felt like an attack.
Jess: Who is your dream person to join the campaign?
A. Bouska: I always say Oprah would be a dream person to get, but there are really so many people we'd love to have.  Bill Clinton would be great, Barack Obama, Michelle Obama, Al Sharpton, John McCain would be great after his wife did it.  There are so many influential people who we'd love.
Jess: Have you reached out to any other well known Republicans aside from Cindy McCain?
A. Bouska: I know Meghan McCain herself is trying to reach out to a lot of other Republicans for us to try and change that image of Republicans. We're trying to portray that it's not a Republican/Democratic issue.
Jess: I noticed that there are some obvious omissions from the campaign, like Lady Gaga or Adam Lambert. I know you've reached out to them repeatedly via Twitter, why haven't they participated?
A. Bouska: It's tough, I can't speak for them cause I'm not really sure. I haven't had any direct contact with them, I mean there could be publicists in the middle. Many people have different reasons for not doing it because of their publicists, different fan bases that they don't want to alienate. Though I don't think that would be the case with Lady Gaga or Adam Lambert. I assume it's just a busy schedule with them. I know Lady Gaga supports it, we've got pictures of her wearing our bracelets and stuff like that but we've reached out to her publicist and no response.
Jess: Do you have a favorite photo you've taken over the past year?
A. Bouska: The cool thing about the campaign for me is being able to shoot the variety of people, we really shoot people from every walk of life from all over the world. As far as memorable photos, I remember back during one of the LA open shoot days Scott Ian from the band Anthrax just showed up to lend his support. He just came through like everyone else, didn't try to go the celebrity route for a special shoot and made a statement in his own way, which I thought was really cool.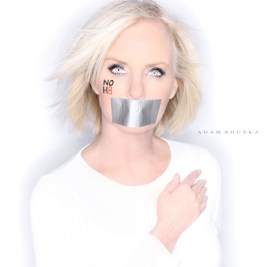 Cindy McCain was a real highlight for me and kind of re-inspired me for the campaign, for what she stood up for in standing up against her husband, knowing what kind of repercussions she would get…
Jess: There have been rumblings of turning the campaign into billboards and magazine ads. What is in the works and what do you hope to become of the campaign?
A. Bouska: We're working on a billboard media campaign; we're looking at different locations now. We're looking to do any kind of mainstream advertising we can get to get the images out there for a mainstream push and get more people involved to let them  know this issue isn't going away even though it happened over a year ago. Other than billboards, we're working on a third PSA, which is a multilingual PSA which reaches out to different elasticities and cultures using the NOH8 brand name to raise mass awareness.
Jess: Are there plans for more open shoots outside of California?
A. Bouska: Definitely. We have many options and are trying to strategize a way to hit up every big city during a national tour. I know we're coming back to New York for sure.
Jess: Have you had any backlash from the Yes on 8, anti-gay contingent?
A.Bouska: We have had backlash in the form of hate mail and it actually really fuels me.  And I'd say 99% of those are  anonymous messages which says a lot because every single person shows their face in our campaign and they don't hide behind anything.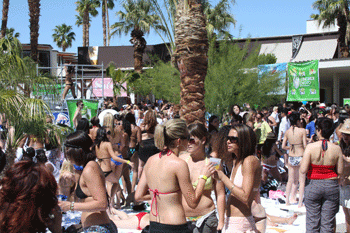 Jess: You guys are gonna be at Dinah Shore. Are you ready for that hot mess?
A. Bouska: Oh god, it's gonna be crazy, crazy!  I'm really excited… it's gonna be really hot and really crowded but I think it's gonna be a lot of fun. We just expect it to be wild… We're gonna do a big group shot at the pool party on Sunday April 4th and we're gonna do an open public shoot beforehand.
Jess: A key ingredient in the photographs are the props used, there have been guitars, microphones, roses, hats, etc… Is there anything you won't allow and what's been the most interesting prop used?
A. Bouska: [Laughs] We've had such a variety of things!  Jeff and I go back and forth on the props cause we don't want to take away from what the images stand for but the props are a good way for people to add a little personality to the shot. We've seen people bring all sorts of crazy things to the open photo shoots, even so far as someone bringing an inflatable toilet, and that was pretty interesting!  Like, flushing the hate!  Another guy brought sock puppets… it's interesting to see how people portray themselves in different ways cause I think it adds a lot of character.
Jess: Do you have any tips for looking fierce in a NOH8 photo?
[Laughs] I'd say the best way to look fierce is to have confidence in the shot. I think a lot of people show up and are nervous and expecting it to be a lot more production than it is. The best way to look fierce is to have fun and own it.
Jess: What other artists or photographers inspire you?
A. Bouska: Herb Ritts is a really big inspiration and he's one I go back to a lot.  Imogen Heap is a big musical inspiration of mine as well. Lady Gaga is so great and that's so cliche, but what she stands for is so amazing, so I think that adds another level to her for me.
Jess: Have you shot any well-known people outside of the campaign?
A. Bouska: Well, I'm going to be shooting Meghan McCain for the cover of her book, Dirty Sexy Politics [to be published in August.] That's something we were working on when Cindy came in for her photo.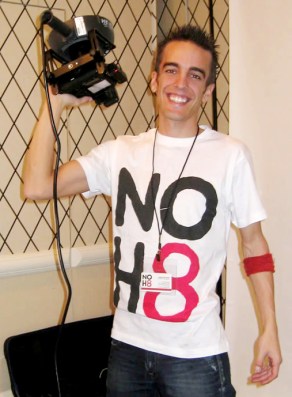 Jess: What was your coming out experience like?
A. Bouska: I found friends to be more supportive than I ever imagined.  I ended up coming out to my mother because of a guy… she's a very religious person, my parents are very religious practicing Catholics and they've taught me a lot how you can still be religious and still support gay rights. They taught me a lot about that growing up in the Catholic church, but it's not a religious issue.  Religion shouldn't be about splitting people apart.
Jess: Where did you grow up?
A. Bouska: I'm from central Illinois, a little farming community of about 7,000 people, in the middle of nowhere.
Jess: How do your parents feel about what you and Jeff have accomplished with the NOH8 campaign?
A. Bouska: They're extremely supportive. They've always been extremely supportive since I moved out to California. They know that LA supports [artists & creativity]. As the campaign has moved on she's really changed… I mean, I've never seen her as an "equality mom" but she's the type of mom now that I could see going to prides and stuff like that. So I think it's really cool how all this has inspired her to get more involved too.
Some of our favorite people doing the No H8 shot:
---
Follow the NOH8 Campaign on Twitter | Facebook | NOH8Campaign.com