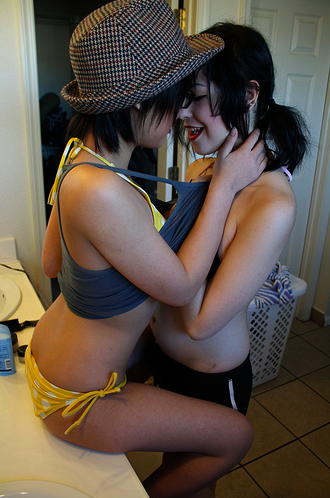 Two weeks ago on NSFW Sunday we talked about what lesbians don't talk about when they talk about sex AND YOU ALL HAD A LOT OF FEELINGS.
A few days before the aforementioned post we'd started an 'anonymous google doc' wherein Autostraddle team members asked their own questions and gave their own answers so that we could 'determine' what people 'want to talk about.'
Today we continue in that mission. Last week we talked about wetness & orgasms and a lot of you ended up bringing up another thing that we'd discussed in the sex doc! So, this week let's see who's on top who's on bottom now?
What do you think makes someone a top or a bottom? Do you hate those labels? Do you define by them, even vaguely?
* I don't. They don't define me or my partner. But if they work for other people, fair enough.
* My only issue with the top/bottom thing is how people assume you're one or the other because of stereotyped characteristics, i.e. "wears a lot of wifebeaters" or "long hair."
* I've become very toppy in the last few years. And I love women who let me top them. But I don't think I'd enjoying topping anyone who wasn't in some way subversive. I think the reason top-bottom dynamics in queer relationship are hot is precisely because of this element of subversion as well as consent. I top women not because I happened to be born with a certain set of junk but because they let me "performwp_posts(in a Judith Butler kind of way) a certain way in bed/life with them.
* I used to find this framing problematic but lately I feel that I've identified more with being a bottom  or just REALLY liking to get fucked. And that makes me feel kind of like a lazy lover, even though I know I'm not.
* I've never felt like this but lately I've been wanting to be more toppy.
* I like being a top, bottom, sideways, upside down, standing up whatever don't confine me to labels!
* I used to think 'top' equated to: 'I do all the work/fucking'. So I identified as a top until I realized it's fun to switch it up — that this is one of the many things that makes lesbian relationships/sex interesting. I have a thing about control, and I like to have it, and I can hold myself up longer than you, so this might make me default top. THAT'S WHAT I AM: default top. Until someone switches it up, which I am totally down for.
* I switch depending on who I'm with. i can be more aggressive or submissive depending on what the situation calls for.
* I  think I like playing with power and can do either way. I like tops who easily surrender control given the option. I can imagine being either/or, depending on what my partner likes, i am flexible. I actually am flexible though, like bendable.
* POWERBOTTOM
* POWERRRRBARRRRRRRRR
* I once thought I didn't like these labels, and now I think I want to be a bottom for a while. I'm tired.
* A friend asked me if I wanted to fuck Shane or wanted to be Shane and I said I'd never talked
* I don't really get them. Sometimes I'm lying down being a "bottomwp_postsand a girl is on top of me and i'm still fucking her or 'doing all the work' but not even? 'Cause ladies like to move their hips sometimes and I think that's work. And what if you're being sneaky and put your hands down her pants while she's cooking dinner or something, WHO'S ON TOP THEN??
An Unrelated Video:
It's not ostensibly queer, or queer at all really, but it's somehow also a thing:
Back to Tops/Bottoms
Alphafemmes produces queer porn about femme Tops and butch/transmale bottoms. Esquire readers want to know: In lesbian relationships, is one partner typically dominant in bed? Sugarbutch gives a sugarbutch star to smut from the femme top. Some lesbians display their top/bottom preferences with a hanky code, as Autostraddle covered briefly in a fashion post not too long ago: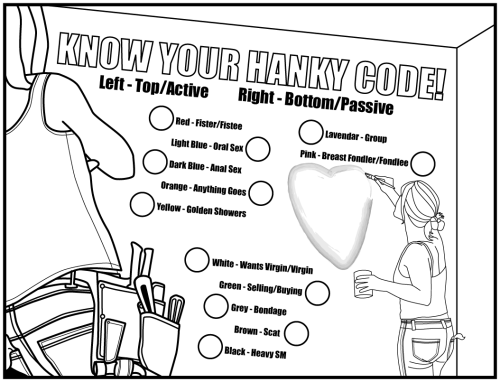 Sugarbutch tries to Define Butch in the Streets, Femme in the Sheets: "I ran across the phrase "butch in the streets, femme in the sheetswp_posts(again) the other day, and it bothered me (again, still). So I started thinking: It generally means – and correct me if I'm wrong – that this supposed "butch in the streets,wp_postsonce taken to bed, liked to or wanted to get fucked. This is operating on an identity alignment assumption: that butches are tops. This notion comes from old-fashioned sexism: that if you are a man – or masculine – that therefore you are dominant."
On the opposite side of the internet, Esquire readers want to know: In lesbian relationships, is one partner typically dominant in bed? This one time, me and Taylor talked about power bottoms and potatoes instead of finishing the NSFW Sunday. Also this episode of Cherry Bomb allegedly will discuss issues including top/bottom and other sex-related gender roles.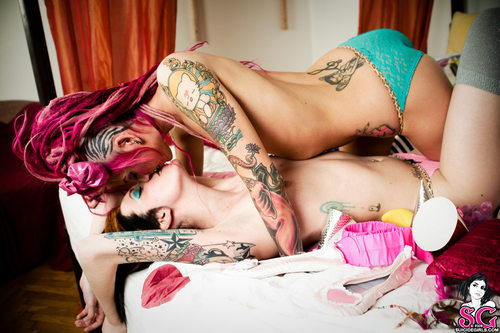 Also, idk if you want to know the top ten most popular places people have sex. Or 8 Racy TV Show Scenes That Shocked the Nation, obviously lesbians are represented. Also Violet Blue has some advice on how to be the best sexual citizen in the world.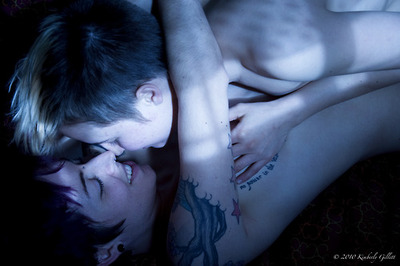 SEXY TUMBLR ALERT:
So someone did this things and it's called LesbiansANDcats.