NSFW EROTICA BOOK CLUB CORNER, ETC.
Most of these books come from Cleis Press, which is an independent publishing company in San Francisco that puts out some of the best books on feminism, gay / lesbian / gender studies, erotica, sexuality and human rights. Highly recommended, obvs!
+++
Best Lesbian Erotica 2009
edited by Tristan Taormino, 2009
It's the best of 2009! You're probably thinking, "I bet this book houses the best lesbian erotica that was published / submitted in the year of 2009," and you'd be correct. Does it have variety? Yes. Will it make you wet? Probably. Is it thicker than the other books of erotica sitting near and around and under my nightstand? Yes. Is there a nipple on the cover? Indeed there is.
I'll be honest and say that, because I'm apparently turning into a doubtful cynic, I half-expected these stories to not be very exciting. I know – it's totally counter-intuitive and goes against the very definition of the phrase 'best of.' Maybe I thought they'd be some weirdo's version of 'best,' which wouldn't fall in line with my own. Or maybe I've just read so much erotica during the past three weeks that I couldn't comprehend the idea that one book would be so … good.
I'm sorry I ever doubted you, Tristan Taormino. Please let's have coffee and maybe you could share the stories that didn't make the cut? "Pretty Damn Good Lesbian Erotic 2009" ??
Dream Date, by Radclyffe
"Open the door, Ryan." Kay tightened her grip on Ryan's hand and stepped inside.
A small blonde sat reading in a large upholstered chair on the far side of the room. She wore nothing except black bikini panties and a see-through black silk tank top. The outlines of her breasts and nipples were clear. She put her book carefully aside, her gaze shifting from Ryan to Kay. She smiled softly. "Hello."
[Um hey guys, this one's about a threesome.]
Hard To Get, by Rachel Kramer Bussel
She stopped outside the club door, unsure where to turn, and I tucked my hand under the waistband of her skirt, my knuckles pressing against the small of her back. "I'll guide you," I said, and felt her melt against me. That moment, when a woman lets her body sink just so into my arms, lets me lead her, lets me control the dance we're about to do, is the one I live for.
[Sounds sweet, right? Y'all, they're about to do it in the parking lot.]
JIZ LEE:
Hot queer porn star Jiz Lee basically has a NSFW Sunday on her blog. Highlights include a link to check out Crash Pad Series' art director, Alyssa Jone, as the featured photographer/artist at Art Scene Today and updates from all the hawt alt-queer porn makers.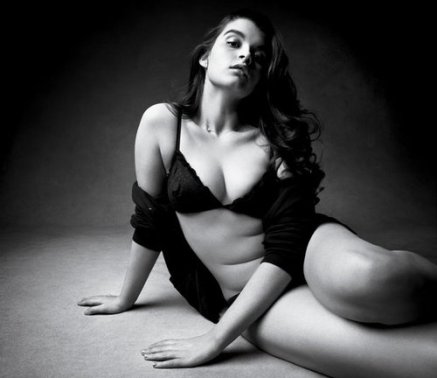 SARAH SILVERMAN:
Sarah Silverman Loses Her Virginity: "As it turned out, there's a reason thirty-year-olds sleep with nineteen-year-olds." (@nerve)
LISA FRANK IS SEXY NOW SURPRISE:
Say It Ain't So: Lisa Frank Goes Sexy: "while I'm sure interest in the Lisa Frank line may have waned since the color-saturated '80s and '90s, I have to wonder if little girls really are more interested in bizarrely proportioned nymphets dressed like sexy hippies than a righteous day-glo tiger cub. And if they aren't, who are these re-designs really for?"
SEXY TUMBLR ALERT:
lovely lady lumps: "for women who fancy other women." The women at lovely lady lumps have lady lumps (tits, ass, hips, stomach, hip-bones, shoulder-blades) and they also have feelings. Face-palming feelings, bed-writhing feelings, standing at the window basked in sunlight feelings, feelings like those kinds of feelings. Sometimes they wear nothing or kiss other girls and sometimes they wear Legalize Gay t-shirts.
PORN:
Online Porn is Bigger Than You Think: "70% of men aged 18 to 24 visit porn sites in a typical month. And ladies, don't be acting all smug now, because one in three porn viewers are women."
RANDOM GALLERY:
two half-naked women in jeans, touching each other.
365:
A PICTURE OF TWO GIRLS: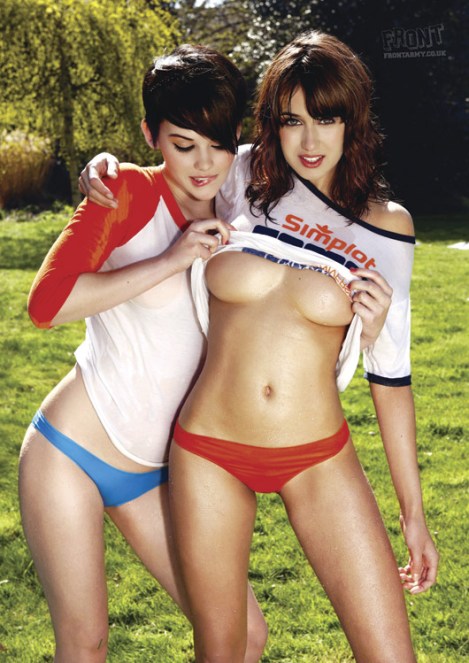 SLUT SHAMING:
Shame Shame Go Away: If you were to ask me what my biggest takeaway from our panel (which was lovingly nicknamed and introduced on the day as "The Slut Panel") it would be that when it comes to virginity, sex and slut-shaming, women are in a real bind. (@feministing)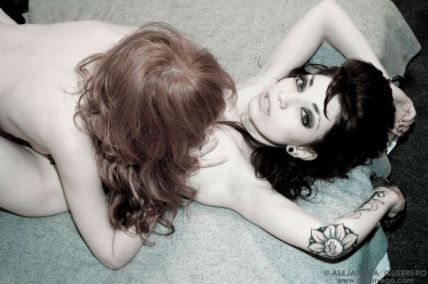 PORNOGRAPHY:
Lost masters of Pornography:
+
G-CHAT:
Taylor: my friend claims people actually identify as 'power-bottoms'
Riese: really? i feel that's really specific
Taylor: i think it's hilarious
Taylor: and confusingunnecessary
Riese: can i cut and paste this conversation into the nsfw sunday instead of finding actual links
Taylor: oh yeah, def
Riese: (@g-chat)
Taylor: we can have a contrived sex conversation about any outlandish thing of your choosing
Riese: oh maybe that's what i should start doing
every week
sex chats that i cut and paste
Taylor: yeah, that'd be good
Riese: actually i'm being semi-serious
Taylor: me too
[later on in the conversation]
Taylor: i'll have sex all day long if i get mashed potatoes
Riese: word