Miley Cyrus Kissed A Girl, No One Liked It :
"I'm a little hesitant about headlining this because actually I was kind of hoping we could avoid talking about it altogether, but maybe this is "important" somehow, or at least kind of funny. So anyways, yes, Miley Cyrus "kissed a girl" on UK television. First of all, did you see it yet? Would you like to? Here, here it is. (@queerty)
This was dumb (hilarious?) for a lot of reasons. First of all, as you may have noticed, Miley didn't actually kiss anyone? Like, she kind of hovered her mouth above someone else's mouth, like there was a force field, or she was a Dementor or something. Even Katy Perry could tell her that is not how you do a fake lesbian kiss. Also, speaking of Perry, one would assume this is part of the sexytime image revamp that started with the video for "Can't Be Tamed," (which if you haven't seen it is also hilarious, like tears in your eyes laughing). But if it is, she's doing a pretty shitty job, because she wrote in her blog that "I supposedly kissed a girl… I promise you I did not kiss her." Is hovering your mouth over someone else's mouth a thing on its own, then? Is that what people are doing now? Like at parties? (@ninemsn)
Critics are, in general, not pleased with this development; it is generally being regarded with a lot of eye-rolling and head-shaking by people who have opinions on what pop stars do with their tongues. Partially this is troubling and problematic, because it comes from a place of cultural discomfort with any sexuality at all (see: Adam Lambert) and a desire to police teenagers' sexual expression. Partially, though, this is awesome, because it makes me wonder if we're perhaps getting to a point in time where when the next Katy Perry comes out with the next "I Kissed A Girl," and people will just change the channel because it's dumb. Headlines are calling this Miley's "simulated" or "faux lesbian kiss." This could be because it wasn't actually, you know, a kiss, but look at the placement: it's not "lesbian fake kiss," it's "fake lesbian kiss." Have we finally reached the day where mainstream culture recognizes lesbianism-for-show, and by extension, acknowledges that there exists lesbianism that's not for show? I don't know! Stay tuned to find out!
GAY? WHATEVER DUDE:
The New York Times's Gay? Whatever, Dude looks at the recent Gallup Poll showing that people like gay people now more than they used to, and a particularly fascinating aspect of the research that hasn't yet been addressed:
This new alignment is being led by a dramatic change in attitudes among younger men, but older men's perceptions also have eclipsed older women's. While women's views have stayed about the same over the past four years, the percentage of men ages 18 to 49 who perceived these "relationswp_postsas morally acceptable rose by 48 percent, and among men over 50, it rose by 26 percent.
PAQUIN:
Despite that fact that I don't think anyone at AS knew about it, and we care a lot about these things, Anna Paquin is now saying that even before she came out as part of Cyndi Lauper's True Colors campaign, her bisexuality was always kinda out there. "It was just a cause I cared about and privately supported, but not one that I had ever had an opportunity to speak out about in a way that would be useful."(@theadvocate)
KSTEW:
It was a seriously unclassy move when Kristen Stewart compared being harassed by paparazzi to rape, but it was pretty classy of her to apologize sincerely. ""I really made an enormous mistake – clearly and obviously," Stewart, currently in Korea to promote the new installment of the Twilight series Eclipse, [told] PEOPLE exclusively. "And I'm really sorry about my choice of words." (@people)
LILO:
Has a new friend! We're happy for her. She's been hanging out with Lady Victoria "Lady V" Hervey a lot lately.Hervey was friends with the late Casey Johnson and also with Courtenay Semel, and also, uh, has her own line of electronic cigarettes. Awesome? (@ohnotheydidnt)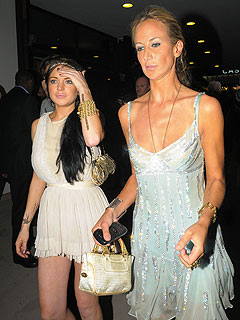 SHIT MY DAD SAYS:
Remember when we told you there would be a TV show of the popular Twitter feed? Well, that's still a thing, and here's a trailer. (@bestweekever)
PRIDE:
Are you going to a Pride event this weekend? Wear sunscreen! Also, read AfterEllen's Pride Guide. (@afterellen)
CONSTANCE:
A benefit for Constance McMillen headlined by Ronnie Spector will take place in Woodstock, NY on June 25. Proceeds will go to her college fund and to the ACLU. Check it out if you can! (@theadvocate)
WESTBORO:
The "Christian" hate group is slowly morphing from something we hate into something bringing laughter into our lives. Here's the top five most hilarious Westboro Baptist music videos, which contain way more Michael Jackson parodies than one might have predicted. (@buzzfeed)