Back at The Aloce Show, Sophie's doing some research for the segment, probably figuring out some introductory whale facts and yellow wallpaper ideas. Just something to keep her little mind busy! She tells Alice it's okay if she doesn't give her the segment job, Sophie's just happy to be here doing research to help the incoming Segment Job Person. Alice is like you know what kiddo, take the segment! The world is your segmented oyster!!!!
Also, she invites Sophie to poker night and I hope there's some liquor in the rear tonight if you know what I mean!!!!
---
We return to Daddy's Manor where Micah's arrived to deliver some important items from The Apartment Formerly Known as DaSoMi's. We don't get very far into this encounter before we embark upon yet another round of fight club!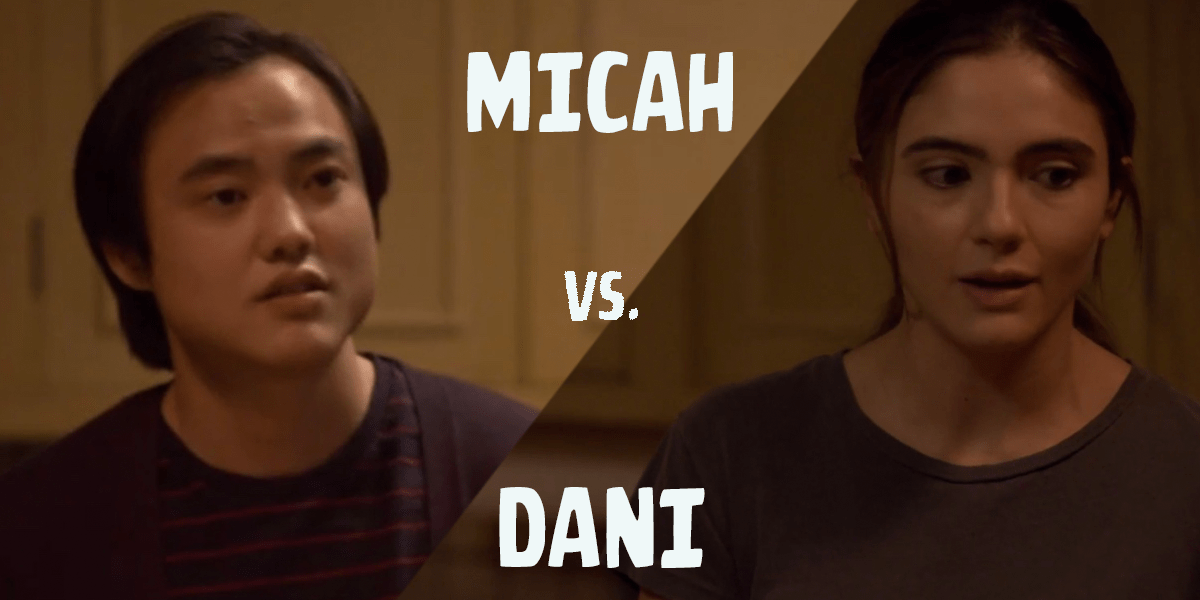 Gay Squabble #8: Where Did The Goods Go
In the Ring: Dani vs. Micah
Content: Dani does not feel she owes Micah a 'thank you' for bringing over her stuff 'cause Micah didn't tell her that Sophie was a cheater! Micah says he thought they were happy and Dani says they were, or she thought they were? Or she thought they'd be happy together forever? Micah suggests that they still could be happy if Dani were for example to forgive Sophie.
Micah: "I know it doesn't feel like it but you have all the power right now, trust me. If you don't wanna be with her, that's one thing. But if you wanna forgive her, you could. And I won't judge you."
Dani: "How would I even begin to—"
Who Wins: Micah. Dani's just angry and needs an outlet for it, which's completely understandable and 100% forgivable, but it will not earn a win!
---
Friends, get your poker ducks in a row because it is time for Round 500 of The L Word's conviction that lesbians in Los Angeles are obsessed with poker!
IT'S TIME FOR FANCY POKER NIGHT. Gigi's boobs are out and Bette and Gigi are hot and Bette is skeptical of Finley's presence. Shane announces that all the pokers have arrived and Bette feels moved to mention that she invited Dani but she's still "too shattered" to go out. POINTED STARE AT SOPHIE.
Luckily we are able to hurdle right over that tension and avoid the steeplechase puddle (for now) as the music ramps up and the cards are shuffled and distributed and evaluated and everybody's teasing each other and Finley and Sophie make eye contact without turning into pillars of salt! Intergenerational poker party is underway and G-D IT'S JUST SO GREAT.
---
Meanwhile guess who's walking down the street, it's my NUMBER ONE SHIP Maribel and Micah!!!!!!!! MICABEL FOREVER. Micah's feeling good because he told Jose to go fuck himself in a swan boat and kinda patched things up with Dani. He would like to thank Maribel for being a friend.
Their dynamic is so cute!
---
At Papi's Poker Palace, Alice says her editor wants her to spill all her messy stories, as if there is any other way to write a good book? Once upon a time when not many celebrities came out so Autostraddle still covered male celebrities coming out, Don Lemon came out, and I read his entire autobiography on an airplane waiting for some messy gay shit and the whole thing was just about his career! I am glad someone is not letting Alice make the same mistake.
Bette jokes, "Don't put me in the book"! As we all recall she has already been in one (1) book (Lez Girls by Jennifer Schecter) and does not want to relive her Bev Trauma again. I would like to request, of course, that Alice devote an entire chapter to Fingerbanging At The Opera. Anyhow, speaking of Bette and sex, it turns out Bette was actually not done doing her little pot/kettle thing with Sophie during this otherwise congenial group activity.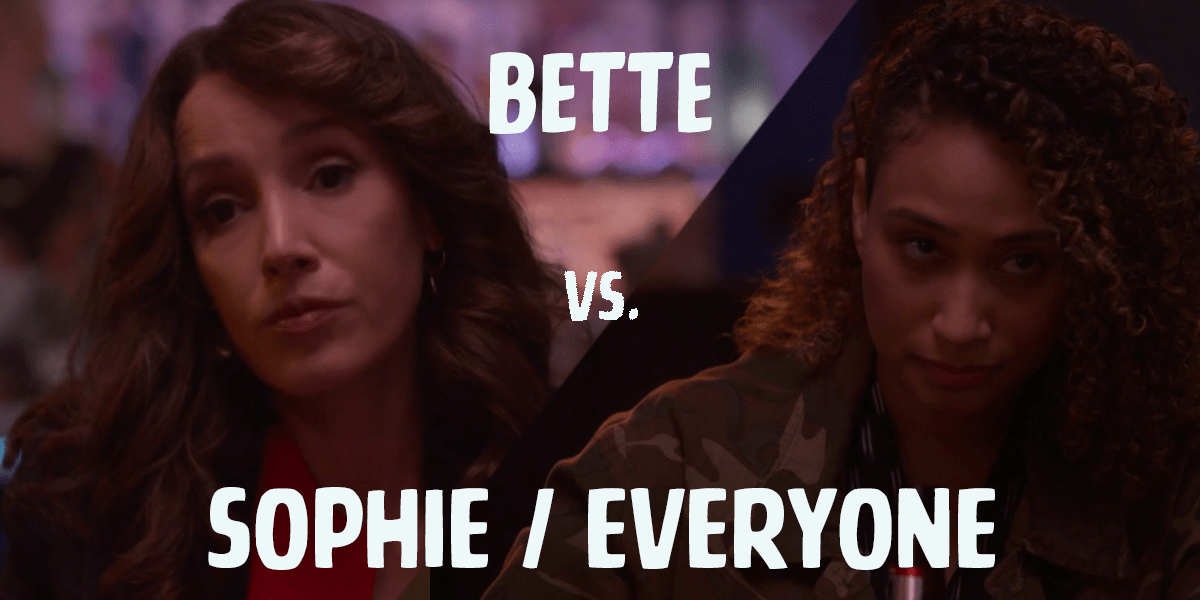 Lesbian Squabble #9: Justice for Jodi
In The Ring: Bette vs. Everyone / Her Internal Demons
Content: Referring to Alice's impending memoir, Shane declares that it's good that she's digging into the tough stuff because "the messy parts are the relateable parts," which's true. Sophie agrees emphatically. Then Bette, shooting stern daggers right out of her retinas, declares:
Bette: Well it's fine when it's your mess, but when your mess is the cause of someone else's pain it's not quite so—
Sophie: Was that at me?
Bette: Did it feel that way?
Sophie: I know I fucked up, you don't need to keep throwing it in my face.
Tess: It's probably best not to judge.
Alice: Yeah…
Sophie: And I'm sorry. If you see her before I do, just tell her I'm sorry.
Shane: Everybody makes mistakes, right? (To Bette) Including you.
A hush falls over the crowd. Bette admits… that she cheated on Tina 17 years ago and will regret it for the rest of her life UM BITCH THAT IS NOT ALL YOU DID.
Firstly before I begin this list of Bette's sins, I would like to say that I am itemizing these sins not to pass judgment but simply to fill in some backstory on some PRETTY BIG MISTAKES  made by Bette because as mentioned, we all make mistakes. Bette:
Cheated on her girlfriend Alice with Tina, who had a boyfriend at the time
Cheated on Tina, her partner of seven years who was at the time processing the emotional fallout of her miscarriage, with The Carpenter
Slept with her T.A. Nadia, who was clearly in love with her
Cheated on her girlfriend Jodi with aforementioned Tina for a significant period of time, actively lying to Jodi and keeping her around despite her clear preference for Tina, denying anything was going on when Jodi inquired about it, therefore essentially driving Jodi insane with the gaslighting! Cheating is bad. But the ongoing betrayal? Denying Jodi the information she needed to understand the landscape of her relationship? SIMPLY NO. "Sneaking around" is a whole extra level, it is really hard to recover from that.
Had an affair with a married colleague that she continued after it was exposed that said colleague was married, despite it putting Bette's mayoral campaign at risk, which would potentially have negative repercussions for everybody else working on the campaign
In 2007, banged a folding chair on the floor of The Planet and yelled ARSON! ARSON! without knowing if there were any arsonists in the building
And yet only cheating on Tina with the carpenter is what she brings to bear upon this argument. Perhaps she is simply projecting her situation onto Sophie's.
Anyhow, Gigi throws her chips in on Team I Have Cheated, Alice name-checks Nat's trust issues, Tess says people can change 'cause her and Shane are friends now and then Shane declares "we're all a bunch of fuck-ups." And this is the thing! That's what we want out of these intergenerational dialogues is the olds telling the youngs that we are all fuck-ups and change is possible!
Who Wins? Alice closes out this conversation by literally winning the poker game, so.
---
Alice returns home to where her dearly beloved girlfriend Nat says dinner's in the fridge and Alice takes a HAMBURGER AND FRIES out of the fridge and starts eating it without heating it up? Is she a sociopath???
She presses Nat to tell her what's wrong, and finally, Nat does so. Which brings us back into the ring!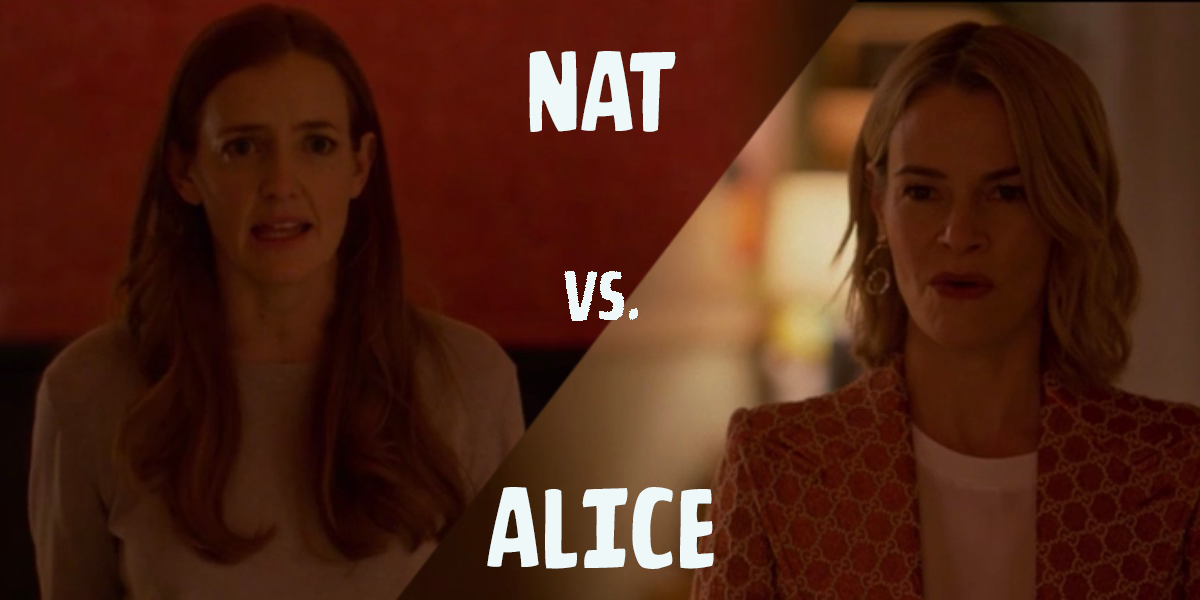 Lesbian Squabble #10: There's More Than One Way To See The World
In the Ring: Nat vs. Alice
Content: Nat is polyamorous. She was afraid to broach this topic with a woman who didn't heat up her dinner, and that was a good call because Alice could not possibly have a more appalling reaction than she has in this scene! She's disgusted, she's betrayed, she's refusing to believe Nat's reality. And then?
Nat: It's no different than you being bi!
Alice: What?
Nat: Yeah, I'm poly and you're bi.
Alice: That is not the same.
Nat: It's actually exactly the same. It's part of our identities that need to be explored.
Alice: I don't want to be with a guy! I don't even think about guys.
Um, what? Who wrote this scene!!! Giving Nat as much latitude as is currently possible on the world globe, it could be argued that when somebody realizes they're bisexual, if they've only ever been with one gender, they might feel the need to explore the possibilities of dating or fucking other genders. I felt that way personally when I was 23! Not everyone does but I did! Nat taking this statement into the present tense, though, is confusing.
It's similar insofar as Nat feels polyamory is not something she can change about herself, which is the same way many bisexuals feel about bisexuality.
But Alice's response suggests the implication isn't either of those things — that somehow this is about desire for people outside of your primary relationship. And that's a really pernicious bisexual stereotype that should not be alluded to so dramatically and/or clumsily!
Who Wins? Um
---
Over at the Suarez Homestead, Sophie's Mom is lamenting the expensive kitchen accessories that now must be returned to the wedding guests when Dani creeps in like a ghost doll to return a dish and before she can escape, Sophie spots her and chases her outside for a heart-to-heart.
Lesbian Squabble #11: And I Know We Weren't Perfect But I've Never Felt This Way For No One Else
In the Ring: Dani vs. Sophie
Content: Dani feels humiliated. "I was holding you that night, wasn't I?" she asks.
"When?"
"The night you were with her," Dani says. "You were crying in bed and I was holding you. Right?"
Yes indeed, the night she was crying and you didn't ask her why she was crying was indeed the night she fucked Finley in the green room.
Dani: The thought of losing you isn't something I thought I would ever have to face.
Sophie: I fucked up. I fucked up. But I will spend every single day of the rest of my life making it up to you, I promise. Just come home with me.
Dani: I wish I could, but I can't. I know myself.
Sophie: We can go to therapy —
Dani: It's not gonna help.
Sophie: We can just slow things down —
Dani: I will never be able to trust you again. Do you understand what that means?
That means it's over!
Who Wins? Dani. She's right! She will never be able to relax, to settle into this relationship, ever again. The cheating is one thing — Sophie could've confessed and maybe they'd have worked through it. But it's the ongoing dishonesty that really seals it. Knowing Sophie could keep a secret like this for months, could be ready to tie the knot and have babies without ever revealing it, let alone addressing the conflicts that led to her feeling unloved by Dani in the first place. So, Dani wins insofar as she is correct about losing.
---
So it's time for a slow montage! For Sophie to cry in her mother's arms…
For Dani to truly win the night by having her emotional vulnerability cradled in Bette Porter's loving arms…
And then, for Sophie to go home. Finley's eating cereal in the kitchen. She apologizes for existing and explains she thought Sophie was staying with her family and that Micah was letting her crash in the back room, which Finley loves because "it's like a little prison, which is fitting."
Sophie says she'll take a bowl of cereal. Finley says she's sorry for totally fucking up Sophie's life.
"You didn't," Sophie says. "It was all my fault."
Finley says she'll be out of there in the morning.
Sophie says "No, I want you to stay."
They say goodnight. And scene.
WELL GUYS EVERYTHING IS IN TURMOIL SO WE'RE OFF TO THE RACES FOR A JUICY SEASON TWO
---
In Summary:
Lesbian Sexy Moments: 1, 2 all season
Gay Squabbles: 9, 11 all season.
Quote of the Week: "You know what the weird thing is? I don't even think Finley has seen The Graduate."
Pages: 1 2 3See entire article on one page